17+ Healthy Snack Ideas Kids Will Love
By: Vickie | Updated: 29th June 2022
Need some healthy snack ideas your kids will eat? Even if they're picky eaters? Kids of all ages will LOVE these healthy snack ideas below.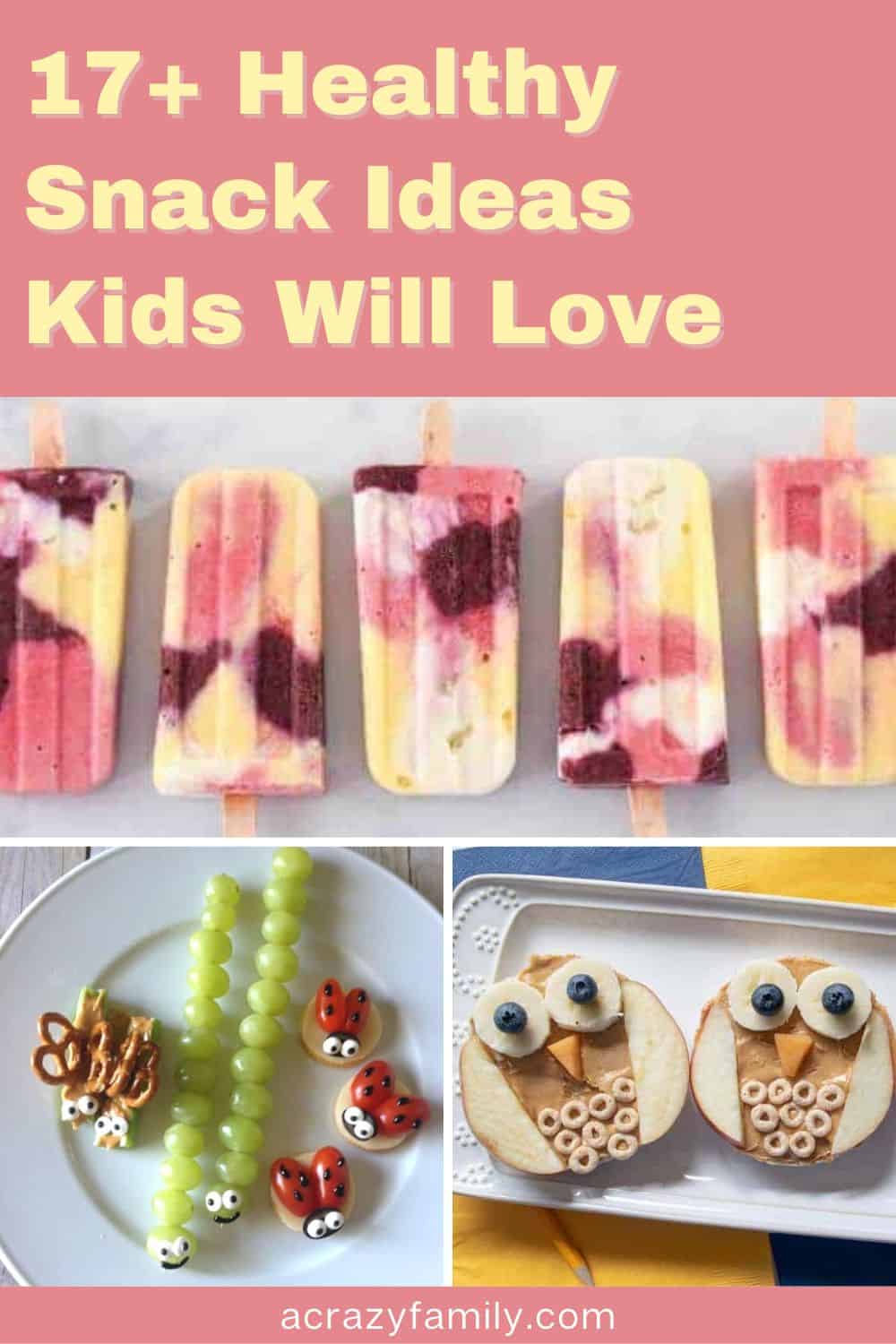 Children love to snack, but they usually turn their noses up when it comes to healthy snacks or any food that is good for them.
And that is exactly why I went on the hunt for snack ideas that kids will enjoy that also are healthy too!
These snack ideas are creative, the recipes are quick, easy, and super healthy snack ideas, and some are fantastic food crafts as well!
Easy healthy snacks are usually just hiding right under our noses. If you can't think of anything, look around your fridge and kitchen. There are thousands of healthy possibilities!
Fun After School Snack Kitchen Gadget!
This fun gadget will make even the most ordinary foods into fun after-school snacks by cutting them into fun bite-sized pieces. Use it on pancakes, deli, grilled cheese, quesadilla, burgers, and more to make them instantly snackable!
Healthy Fruit Snack Ideas Kids Love
Most kids cannot resist a bowl full of fresh fruit. Why not try some fruits that they have never tried.
A variety of fruit is bound to appeal to even the pickiest eaters. Take the kids shopping and let them pick out fruit that looks interesting to them.
And for special treats, you could help the kids to make chocolate-dipped fruits or banana popsicles.
Smoothies for Kids
Smoothies are an awesome alternative to milkshakes and are super easy to make healthy.
My son is very fussy with fruit, but he cannot get enough when I blend fruit such as strawberries and blueberries with some milk! So, yes, smoothies make easy healthy snacks that kids love.
Use yogurt, fresh fruit, and milk, and whip up a smoothie in the blender in seconds.
Older children will enjoy making their own smoothies and younger ones will still enjoy choosing their favorite fruits and helping prepare them.
Getting Kids to Eat Vegetables
Children are more likely to eat vegetables if they grow them themselves. I know, right, that's a little hard to believe, but it's true.
Gardening is an excellent thing to do as a family and a positive way to spend quality time with your kids. With all the delicious vegetables you have grown and picked, why not prepare a snack tray with veggies and dip.
Healthy Popsicle Snacks for Kids
This is the easiest snack to prepare! Just use store-bought popsicle makers or containers and fill them with 100% fruit juice. Freeze them, and don't forget to stick a Popsicle stick in it if it doesn't have one already.
They're healthy, and you can make many at a time and in various flavors.
Fun After School Snacks
What's one of the first things your kids say when they get home from school?
I'm hungry!
Well, with these fun and healthy snack ideas, you'll be ready. Not only are they nutritious, but we have ideas for ones that you can make with your kids as a fun after-school activity.
Then instead of "I'm hungry," it'll be "What snack are we making today?"