Craft Kits for the Whole Family Gift Guide
Families that craft together, stay together. Crafting is a great family activity that creates memories to last a lifetime. This gift guide will showcase the perfect craft kits for the whole family starting with the youngest little crafters.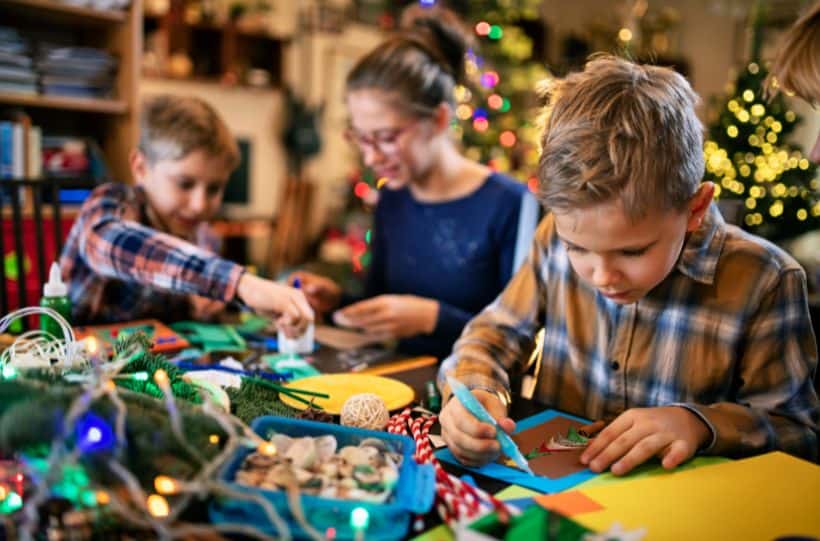 Craft Kits for Kids
Kid DIYers love to explore and try new things with crafts. It is fun to watch their imaginations come to life and see what they come up with.
Sometimes it's nice to not have any instructions; just freedom to make what you want. The All-in-One Kids Craft Set gives you just that freedom. Plus a bunch of supplies. Appropriate for kids' crafts, this has a little of just about everything.

Another free-form option is this Rock Painting Kit. It's not quite as open as the other kit but still lets your child choose their own path.
Origami is a great project for slightly older kids. It takes a bit of patience and precision, but if your child can follow instructions, it's not out of the question. This Origami Paper Set has a nice bonus feature, in that some of the paper is printed with details to make projects stand out even more.
The birdhouse is a classic project, but it is for a reason. The Build A Bird Bungalow is a great option to go with and produces a really nice-looking end result.
String art is a very interesting art form that produces some really unique creations. This 3D String Art Kit will help your child get into the craft and make something nobody else has.
On to the fully structured projects, this Wooden Car Model Kit lets your child build six different vehicles. They can also learn about how mechanical processes work.
Craft Kits for Teens
Crafting kits are the perfect gifts when it comes to teens. They are still trying to figure out the world around them and explore new things. This lets them figure out if they want to expand deeper into a craft.
The first two go hand-in-hand. Wood burning is a fun and engaging way to produce some truly beautiful art. A good Wood Burning Kit could open your teen up to a whole new world of creativity.
Also, metal stamping is another art form that has been around for some time, but needs to be reintroduced to new generations. The Hand Stamped Jewelry Kit can let your children try something new to them. These two kits could really open things up for them.
This project allows your teen to create some wall art that brings a bit of life to any room. The best part? The plants in this Mini Terrariums Craft Kit are made of felt, so they don't need any upkeep.
Speaking of wall art, Dreamcatchers look great hanging on the wall. They are so much fun to make and might inspire your teen to learn a bit more about the customs that inspire them. This Dreamcatcher Kit has everything needed to make two beautiful dreamcatchers.
This Pillowcase Kit makes something pretty unique. It uses a technique called ice dying to make two mermaid pillows that your teen is going to go crazy over. They can use those pillows to curl up and write in their diary.
Speaking of diaries, they are a big part of being a teen. But who says they have to be boring? With this Journaling Kit, your aspiring writer can make a unique diary that is all theirs.
Craft Kits for Mom
Moms love to craft; it just seems to be a Mom thing. But finding the time with all the other "Mom things" is almost impossible. DIY kits can be just the answer. Not only do they have all the necessary tools and materials, but it would be a shame to let them go to waste.
Morning coffee is never more satisfying than when there's a pretty coaster to protect the table. Doubly so when she made the coaster herself. This Glass Mosaic Kit results in some pretty, elegant coasters.
The next gift idea on our list is a fantastic gift for any crafty wine-lovers on your list. The Wine String Art Kit produces a really elegant piece of string art that the recipient would be proud to hang on their wall.
If string art or wine is not really her thing, the next idea allows the mom in your life to create a framed floral arrangement easily. And the best part? In this DIY Flower Art Kit, all the flowers are pre-cut. So no painstakingly trying to cut them out and not leave too much border, but not cut into the image either. The end result comes out looking amazing.
Much like the woodburning and metal stamping kits above, this project is an older art form that still has staying power. These Embroidery Kits allow for some really pretty finished products; not like the old cross-stitched motivational pillows of the past.
Craft Kits for Dads
Dads don't always respond well to the term "crafting." But just call it DIY, and Dad will get right on board. These kits are engineered to help dads make projects that will interest them and get them motivated.
Marble runs were a blast as a kid. But the dad in your life is too old for that. Or not! With the 3D Wooden Puzzle Kit for Adults, Dad can build the marble run, and that's all the excuse he needs to play with it afterward.
Everyone needs a little time to slow down and relax, dads are no exception. This Bonsai Tree Seed Starter Kit doesn't just allow him to slow down, it requires it. Bonsai trees have to be cared for regularly to turn out properly. The kit comes with four beautiful seedlings, plus everything needed to care for them.
Ring-making is a hobby many fathers would love to get into, but just never quite manage to try it. This Ring Craft Kit will be all the excuses the dad in your life needs to finally take that leap.
Homemade hot sauce is another thing many dads want to dabble in, but they just need that last little push. This Hot Sauce Kit will be that push. Homemade hot sauce will be on the way soon after.
With just a few items from this list, the whole family can craft together, and compare projects after. It's a way for families to come together and produce something really unique. Maybe even a family heirloom. And these kits give you all you'll need to see what you can do.