10 British Christmas Traditions For Your Family To Enjoy
By: A Crazy Family | Updated: 16th July 2023
Every country has its own traditions to enjoy with family and friends at Christmas and Britain is no different.
The British absolutely love Christmas time.
You'll see streets filled with Christmas lights, Christmas day smelling of a traditional dinner, and families surrounding the TV fighting over the last quality street chocolate.
In Britain, Christmas is a time spent with those you love most, your family and friends. Memories are created over-rich food, crackers filled with Dad jokes, and games such as charades.
If you are looking to add Christmas traditions from around the world this year, here are 10 British Christmas Traditions for your family to enjoy.
Christmas TV Adverts
Is there anything more British than waiting for the Christmas TV adverts to be released?
The British thoroughly enjoy watching different large supermarkets' Christmas adverts and comparing them to previous years and how much they instill the Christmas spirit.
Company adverts such as John Lewis, Aldi, Sainsbury's, and Tesco are all firm favorites that are looked forward to every year.
When the Christmas TV adverts start to come out, it's a sign Christmas is on its way and helps start off the exciting build-up to Christmas.
Pantomimes
Pantomimes are a classic Christmas tradition to do with your family. They are funny with classic, old-fashioned comedy and are often themed around British fairytales such as Jack and the Bean Stalk or Goldilocks and the Three Bears.
They are usually appropriate for all ages but are best when children are old enough to sit through the show. Pantomimes always involve the crowd and can captivate your child's attention through this interaction.
Mince Pies
Mince pies are a firm favorite Christmas treat among Brits during the holidays. A mince pie is a sweet, short-crust pastry filled with a mixture of dried fruits and spices known as mincemeat.
Though a sweet treat now, this festive pie originated as a meat pie from as early as the Middle Ages in Britain. It used to be a great way to preserve meat without having to salt or smoke it.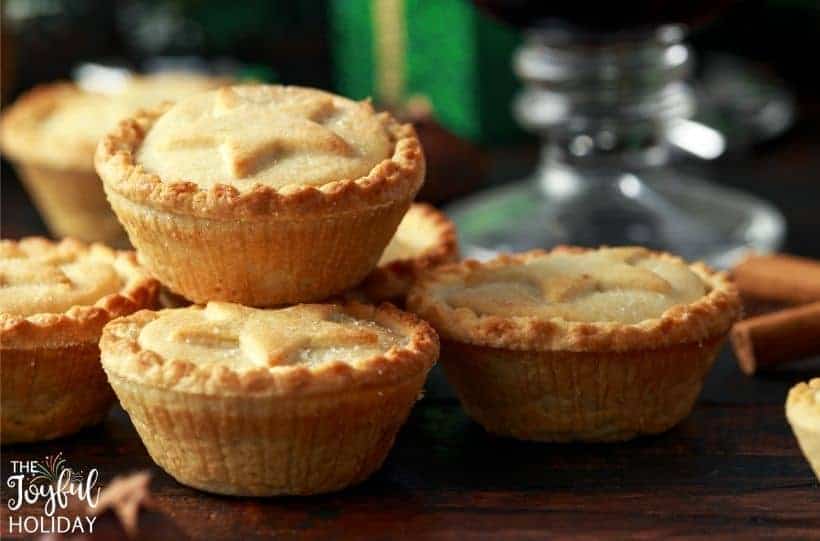 Modern-day mince pies are individually-sized and often have pastry all around or have the top open to reveal the mincemeat mixture inside, with a star-shaped pastry on top.
If you fancy making your very own mince pies at home, here is an easy recipe to follow.
Traditional Christmas Dinner
Christmas dinner is something every household looks forward to in Britain. It is a meal to not hold back and plates are often piled high.
A traditional British Christmas dinner usually centers around meat, most often turkey, but can also be pork, beef, or a three-bird roast. If you are vegetarian or vegan, a popular alternative is nut wellington.
With the main item of the meal sorted, you then have all the trimmings which often consist of:
Roast potatoes
Brussel sprouts
Pigs in blankets (small sausages wrapped in bacon)
Cranberry sauce
Yorkshire puddings
Gravy
Choice of vegetables e.g. peas, broccoli, carrots, parsnips, mashed potato, or cauliflower.
In Britain, everyone looks forward to Christmas dinner. Consider it similar to a traditional Sunday roast but with extras, along with the obligatory Christmas crackers.
Mulled Wine
Mulled wine is enjoyed during Christmas in Britain for its taste and warm sensation. Unlike most wines, mulled wine is often heated up and drunk warm.
It has a fresh, fruity, and sweet flavor due to the added sugar and fruits used to make it. Mulled wine can be made at home using a bottle of red wine and the right combination of spices. Take a look at this recipe here to incorporate this British Christmas tradition for your family this season.
Christmas Cake
If you like fruit cake, you will love traditional Christmas cake. Christmas cake is enjoyed by many in Britain and family households are often homemade.
Families who make their own Christmas cake usually start around 2-3 months in advance of Christmas. This helps a Christmas cake gain its flavor and structure as the mixture has time to mature.
Once the fruit cake has matured, it can then be cooked. Christmas cake is traditionally wrapped in marzipan followed by royal icing. It can then be decorated as you please often with Christmas-themed fondant or dried fruit and cinnamon sticks.
Take a look at these fun Christmas cake recipes for something a little different this Christmas. Or if you don't fancy making a Christmas cake you can always buy one ready-made from your local supermarket.
Christmas Pudding
Have you ever seen a video of a round fruit cake set on fire at the dinner table? That's a Christmas pudding!
Quite different from a Christmas cake, a Christmas pudding is round and soft. It is a steamed pudding made with flour, dried fruits, and suet.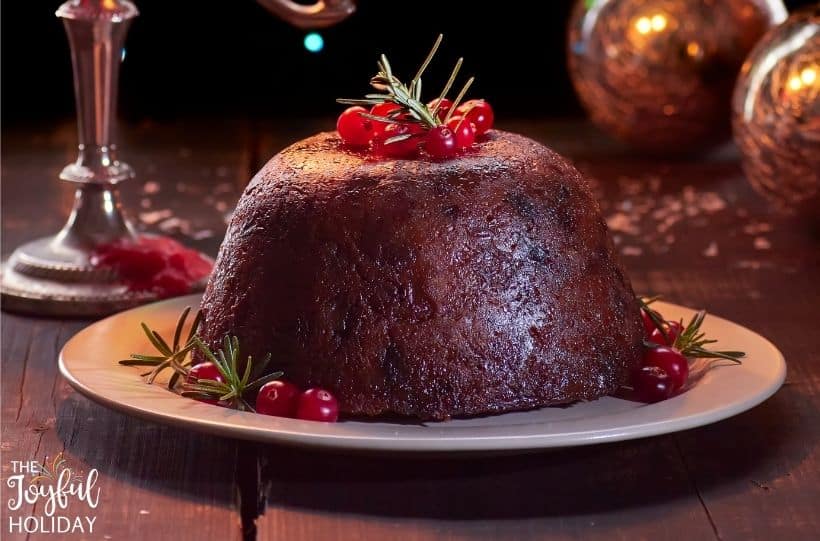 They are often left without icing or any decorations however are often served with a ladle of brandy on top. The brandy is then set alight, which originally symbolized the Passion of Christ. However, nowadays, it is likely lighted for show.
Watching the Queen's Speech
Many Brits tune in at 3 pm on Christmas day to watch the Queen's speech, over 8 million watched the Queen's speech in 2020.
The speech is given by the Queen herself where she summarises the ups and downs of the past year. She provides a message of hope, love, and the importance of working together as a community.
Christmas TV Sitcoms
Every year, a range of popular British TV sitcoms release a Christmas special episode. Shows such as Hollyoaks, Gavin and Stacey, Mrs. Brown's Boys, and Only Fools and Horses.
If you want to get a feel for past and present Britain and British comedy, these shows are excellent to tune into.
Watching The Snowman and Snowdog
Christmas movies are a wonderful Christmas tradition to enjoy with your family throughout December. But none compare to two famous British children's movies, The Snowman and The Snowdog.
The Snowman is an all-time classic Christmas movie most often played on TV every year on Christmas day. The musical captures your heart and innocence whilst you watch a friendship emerge between a boy and his snowman and the magic unfold before your eyes.
The Snowman was so popular that a sequel was made called The Snowdog. This new short movie is potentially even more heartfelt than the original and both are excellent traditions to start with your family at Christmas.
These 10 British Christmas Traditions will certainly be enjoyed by your family on Christmas day. From extravagant food to hilarious Christmas comedy, there is something suitable for all ages and generations.
The British love Christmas and the opportunity to spend time with family and friends. These traditions are the icing on the cake and offer a great opportunity to have an amazing Christmas at home.
For more Christmas traditions, take a look at these posts: