The 12 Best Things to Do in Key West, Florida
This post and its photos may contain affiliate links. As an Amazon associate, I earn from qualifying purchases.
Key West is the southernmost point in the continental US as well as the westernmost island in Florida. For decades, it has been a favorite destination for many, especially for those looking for a dreamy beach destination.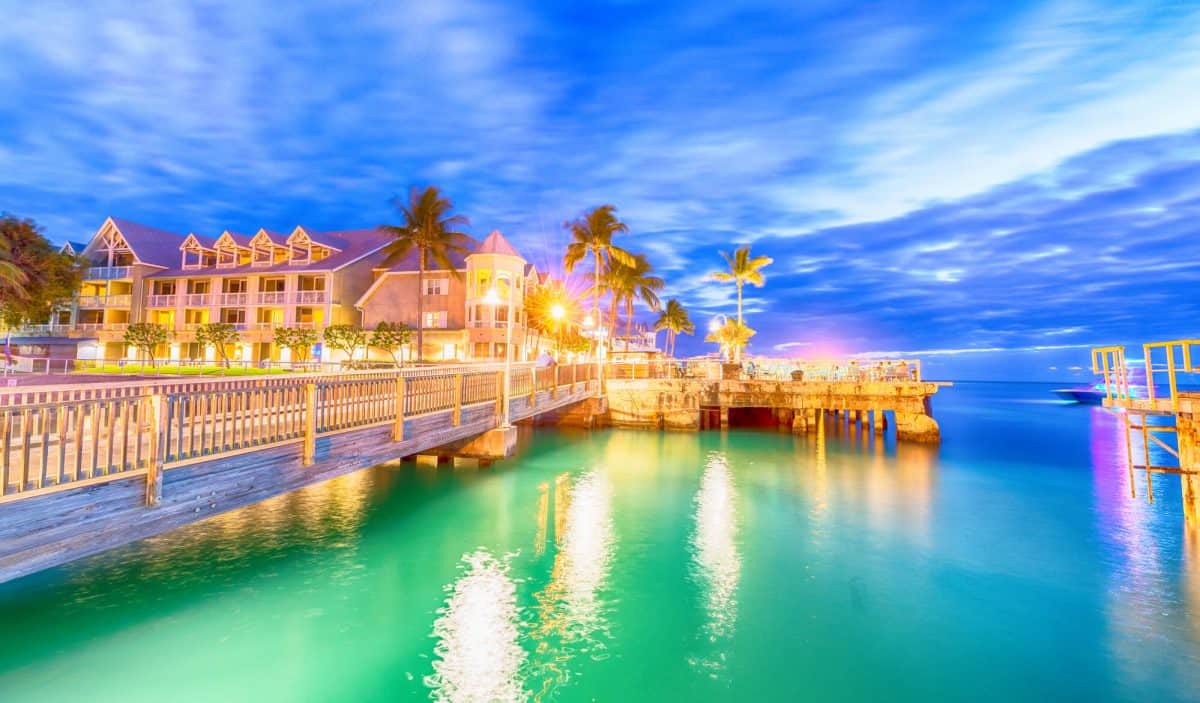 The beaches here are absolutely gorgeous, so much so that they easily rival those in the Caribbean thanks to their shallow turquoise waters, colorful tropical fish swimming close to shore, and a laid-back but lively party atmosphere.
Best Things to Do in Key West
Key West in Florida is full of natural beauty and there are many amazing places to visit. If you're wondering what to do during your time here, here's a list of the best things to do on your next Florida vacation.
Watch a Sunset in Mallory Square
Located in Key West's historic Old Town, Mallory Square is a seafront plaza that faces west towards the Gulf of Mexico, something that translates into dreamy sunsets.
Not only are they spectacular from this point, but this spot is where a daily "Sunset Celebration" takes place every day! Every afternoon, around two hours before the sun begins to set, locals and tourists gather in Mallory square to view the fantastic sunset in what is a fun celebration that began in the 1960s.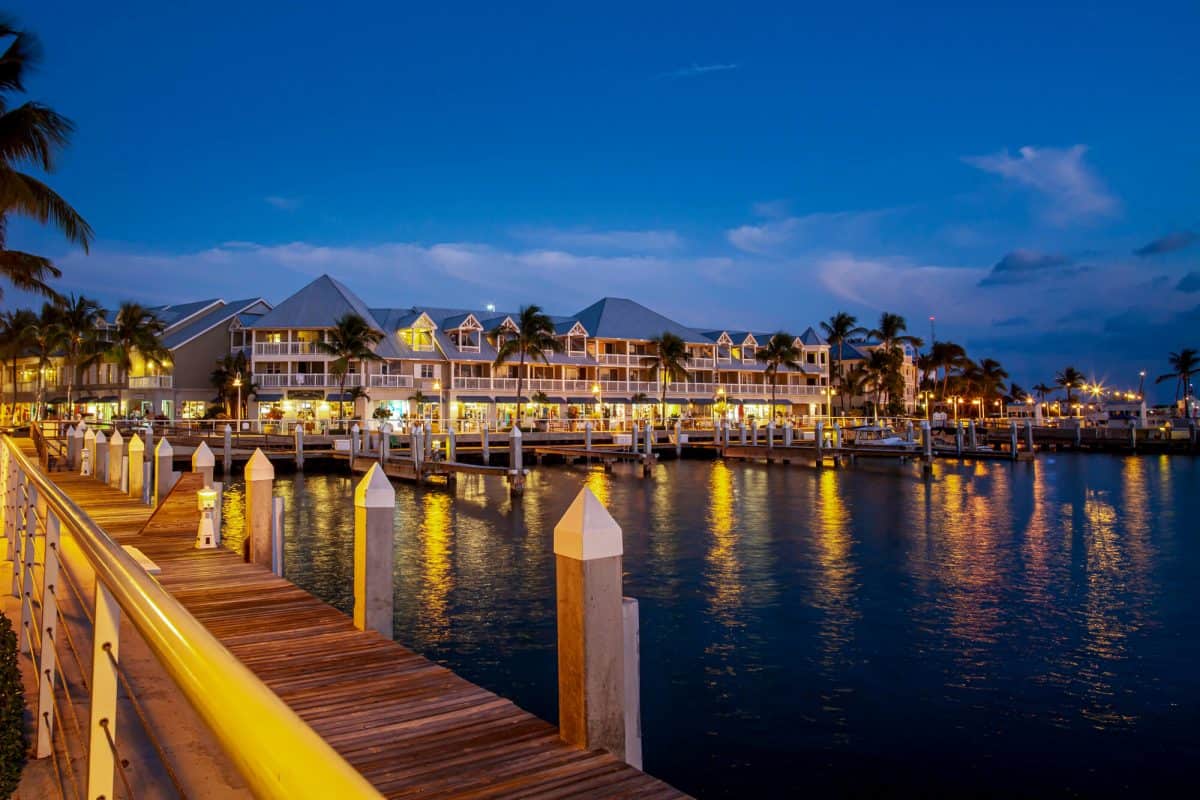 Street food vendors, jugglers, clowns, magicians, and musicians all contribute to making this daily festivity even more enjoyable. Be aware that it does get crowded, but there is something almost magical in watching this natural phenomenon with so many people.
Popular Key West attractions are located in Mallory Square as well, including the Shipwreck Treasure Museum, Key West Aquarium, Waterfront Playhouse Theater, and others, so plan accordingly and make a half day out of your visit!
Eat Key Lime Pie
Eating a dessert is not your usual recommendation for a beach destination activity, but Key West is where the world-famous Key Lime pie originated, so it well deserves to be included on this list.
Legend has it that a woman known as "Aunt Sally" crafted the first pie in the kitchens of Key West's Curry Mansion, where she had access to sweet condensed milk, which she mixed with key limes that grow in abundance there.
You'll find plenty of shops and cafes serving Florida's official dessert. In fact, you'll find a whole slew of variations boasting its flavor, including donuts, ice cream bars, and even cocktails!
Visit Ernest Hemingway Home and Museum
One of the most popular things to do in Key West, Florida is to visit the house where famous novelist Ernest Hemingway lived for nine years. Word has it that he completed 70% of his literary work during his time in Key West, including A Farewell to Arms and For Whom the Bell Tolls.
Hemingway loved Key West so much that he kept his house there even after moving away to Cuba and then on to Idaho, spending as much time there as he could.
Today, you can tour the house and grounds, where the family's 17th and 18th-century Spanish furniture is on display as well as an array of gorgeous Parisian chandeliers, personal pictures, and art.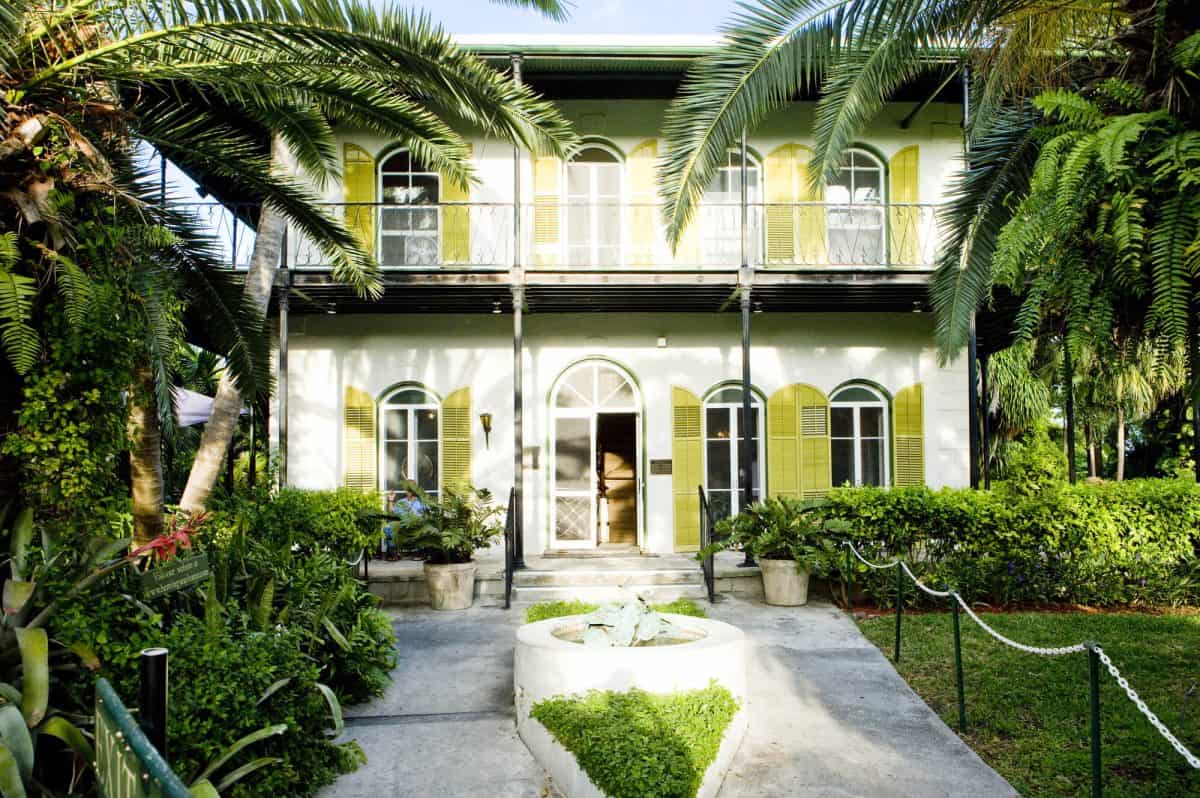 The big draw, however, are the cats that dwell around the house and garden, some of which have six toes! These are said to be descendants of Hemingway's six-toed, much-loved kitty, Snow White, given to him by Captain Harold Stanley Dexter.
Spend a Day at Dry Tortugas National Park
Situated about 70 miles from Key West, Dry Tortugas National Park is a must-visit for sun worshippers, water adventurers, and history buffs alike. Composed mostly of wonderfully blue waters and seven small islands surrounded by coral reefs and fantastic marine life, this national park has something to offer everyone.
You can get to the park via your own boat, ferry, or chartered boats and seaplanes. Once there, take a tour of Jefferson Fort, which was built in the 19th century to protect a strategic boat anchorage in North America and later used as a military prison during the Civil War.
After getting your dose of history, you'll have a few hours to decide whether to snorkel, dive, swim, partake in a boat adventure, or just relax at the beach while enjoying the views.
Learn How Rum is Made
If you want to learn how rum is made, you can tour a distiller and get a tasting while you're at it. Better yet, you can learn how to make your own rum cocktails!
The most traditional rum distillery in Key West is Key West First Legal Rum Distillery which offers free 20-minute tours. On Fridays and Saturdays, you can take a Mojito class. Another option is Papa's Pilar, which offers a longer tour at $25 dollars and daily rum cocktail classes. In both cases, no reservations are needed for tours, but it's best to reserve if you plan on taking a class.
Lounge at the Beach
It almost goes without saying that a getaway to Key West involves at least a few hours of lounging on the beach, and there are plenty of beautiful stretches of sand to do just that.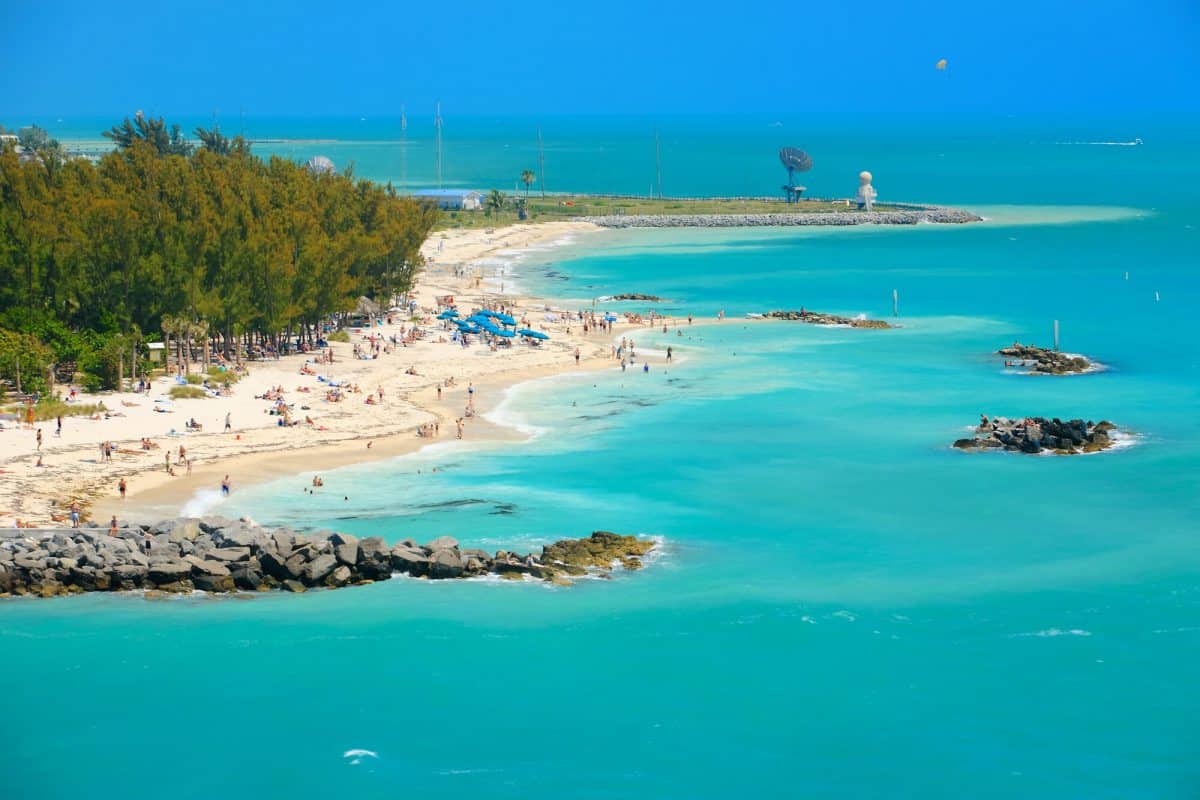 Smathers Beach is one of the most popular beaches in Key West. Located on the south part of the island, Smathers Beach is the place to see and be seen. You'll find beach chairs, lounges, umbrellas, paddle boards, and kayak rentals, as well as beach volleyball courts in case you decide to take a break from simply relaxing.
Fort Zachary Taylor Beach is another option, which you can combine with a visit to the fort. The park is open from 8 am to sunset, with a $6 dollar fee per vehicle.
Sunbathing, snorkeling, paddle boarding, fishing, and swimming are popular activities here. Cayo Hueso Cafe serves drinks, snacks, and small meals, so you can plan on a full day here.
Higgs and Rest beaches are great spots too, especially if you plan to view a sunset at Edward B. Knight Pier. They sit side by side, so you can experience both of them in one go.
Bar Hop in Duval Street
Duval street is a big draw for the over-21 crowd looking for endless days of bar hopping.
Running north to south from the Gulf of Mexico to the Atlantic Ocean, Duval Street is a little over a mile long, but what it lacks in length, it makes up for in bustling activity.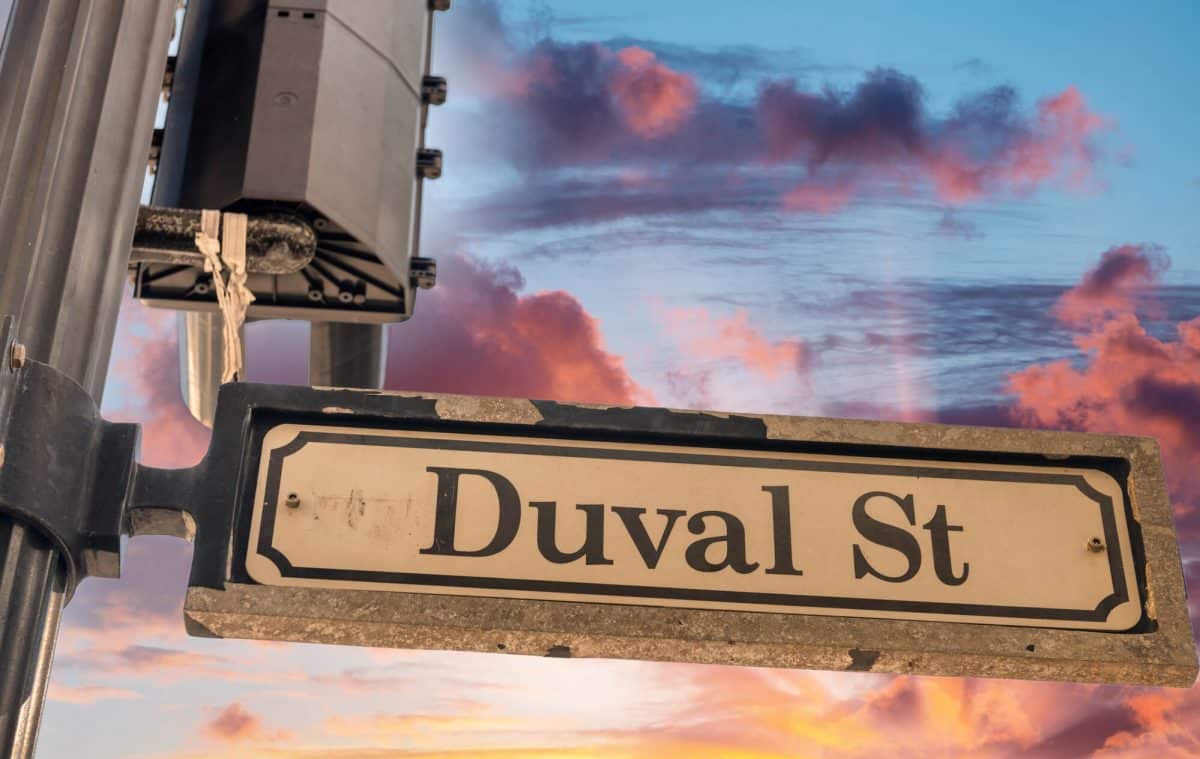 With more than 40 bars and pubs lining the famous street, including Ernest Hemingway's famous and infamous Sloppy Joe's, there is a lot of room for partaking in a bar-hopping venture.
If partying is not your jam, Duval Street features plenty of shops, art galleries, cafes, and restaurants too. The most bohemian street in Key West is also a great spot to admire the beautiful Victorian buildings that have been turned into flourishing businesses.
Explore the Key West Aquarium
Located by Mallory Square, Key West Aquarium is one of the oldest aquariums in Florida and the only public aquarium in Key West.
Originally opened as an open-air aquarium, it features amazing exhibits such as the Jellyfish Exhibit, the American Aligator Exhibit, and the Atlantic Shores Exhibits.
Key West Aquarium is a great place to learn about the wondrous marine life that lives around the area. Offering regularly scheduled tours daily, it also features educational programs such as the Sea Turtles Conservation Tour, Shark, and Stingray Interactive Feedings, and Touch-Tank Aquarium History.
Climb the Key West Lighthouse and Keepers Quarters
Built in 1848 to light the way for the Key West US Navy base's ships, Key West Lighthouse and Keepers Quarters helped to better navigate around the shallow waters and coral reefs present around the key.
With the advent of newer technologies, the lighthouse and its keeper were no longer needed, so the city decommissioned the structures and turned them into a museum that displays the photographs and furniture of the former keepers.
If you're up to it, you can climb the 88 lighthouse steps to be rewarded with spectacular views of the ocean!
Explore Harry S. Truman's Little White House
Having served as the headquarters of the command of the naval base during the Civil War, WWI, and WWII, the building was turned into President Truman's winter headquarters in 1946 and renamed Harry Truman's Little White House.
While the house is still used as the American president's winter retreat, it also serves as a museum that's open to the public, exhibiting interesting documents and other fascinating memorabilia from the 175 days the former president served office from Key West.
Take a Photo at the Southernmost Point
Located in an old Key West neighborhood, Key West's Southernmost Point is a colorful concrete buoy on the corner of Whitehead and South Streets. It is a marker of what is – arguably – the southernmost point in the continental US.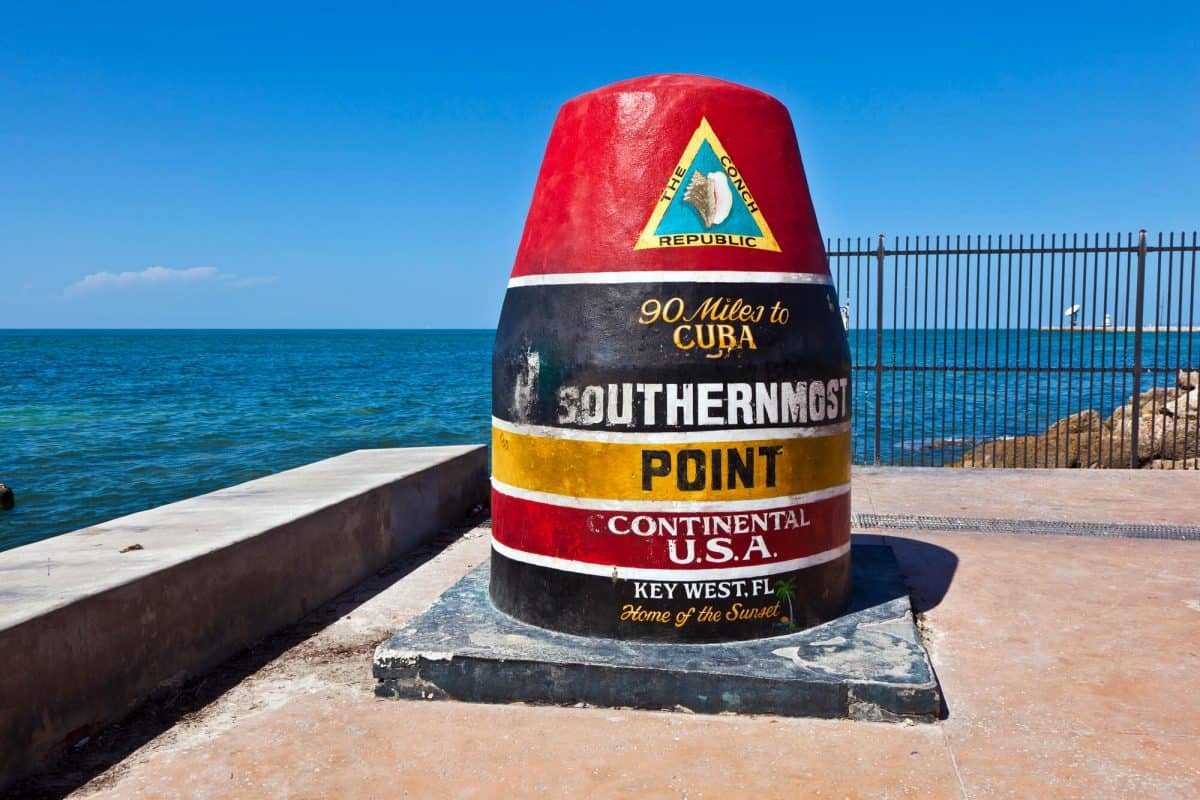 Many tourists aim for a photo by the Southernmost Point. Cliché​? You bet! A tourist trap? Somewhat, because of the long lines, but the desired photo is worth the wait for many people.
As a bonus, there are plenty of restaurants in the surrounding area, plus you'll take in great ocean views as well as the opportunity to observe locals going about their daily life as you pass their houses on your way there.
Discover the Shipwreck Treasure Museum
Travel back in time to the 1850s and the world of shipwrecking that made Key West so rich. Learn about the dangers of wreck salvaging in the Florida keys, climb a 65 ft Captain's Observatory, and hear about the sinking of the legendary Isaac Allerton.
Live actors, artifacts, and laser technology all contribute to making this a unique experience while you learn about the perils and rewards of this treacherous industry.
Getting Around
You have several options for transportation while in Key West. Whether you prefer to walk, bike, or ride around the island in a trolley or pedicab, the choice is yours.
If you're feeling adventurous, you can also rent a scooter or a motorcycle to get around the narrow streets of Key West. Keep in mind that traffic can be hectic, especially during peak tourist season, so make sure to wear a helmet and follow all safety precautions.
Another popular mode of transportation is bicycles. Many hotels offer bike rentals, and there are also several rental shops throughout the island. Biking is a great way to explore the key at your own pace and get some exercise.
Flights and Ferries
If you're traveling to Key West from another city in Florida, you can also opt for a quick flight with any of the major airlines that serve the island. The tiny airport is conveniently located close to downtown, and flights are relatively affordable.
For those looking for a more scenic route, there are also ferry services available from Miami or Fort Myers. This option takes a bit longer but offers beautiful views of the ocean and the chance to spot some marine life along the way.
Best Time to Visit
Key West is a popular destination year-round, but the best time to visit really depends on your preferences. If you're looking for warm weather and fun in the sun, then the summer months from June to August are ideal. However, be prepared for higher temperatures and humidity.
If you prefer milder weather and fewer crowds, consider visiting during the spring or fall months (March to May or September to November). The temperatures are still warm, but less intense than in the summer. Plus, you'll find better deals on accommodations and activities during these shoulder seasons.
So Many Reasons to Visit Key West
Key West is a must-visit destination for anyone looking for a tropical escape filled with history, culture, and adventure. Whether you're interested in marine life, historical sites, or simply relaxing on the beach, this island has it all. And if you're feeling adventurous, why not try a sunset cruise or night-time ghost tour?
And don't forget to try out some local cuisine while exploring the island! From fresh seafood to Cuban-inspired dishes, and of course the famous key lime pie.
Which Key West attractions have you experienced? What other things to do in Key West are you aiming for during your next vacation there? Please share in the comment section below.