First Quarter Journaling Tips and Ideas (A Year of Journaling: Week 2)
Welcome to the second post in our "Year of Journaling" Series. Every Monday you will find a new post that relates to journaling and how it can help you.
Last week we went into detail on how to start your journal with a positive headspace.
In the year ahead we shall be covering things such as:
How Journaling Can Help Your Relationships
Preserve Memories With Your Journal
Boost Your Confidence With Your Journal
And so much more…
So be sure to pop back every Monday for your next installment.
---
How are you making sure you start the year off right?

This weeks journal prompt
---
First Quarter Journaling Tips and Ideas
With the start of the year, comes that feeling of new beginnings and starting over in whatever area of your life you feel needs improving. This also means focusing on the first quarter if you run your own business, which includes the first three months of the year.
Here are some ideas for what to journal about in the first quarter of the year.
What Do You Want to Get Done During the First Quarter?
To make it simple, start with figuring out what you want to get done before the first quarter ends. So, think about what you want or need to accomplish before April of this year.
If you have already been working on your big goals for the year, you probably have a good idea of what needs to be done in the first few months of the year. If you fail to do this type of planning, the quarter will be over, and suddenly you realize you haven't gotten any closer to whatever your personal or professional goals are.
And remember they don't have to be big business goals either.
Maybe there is a small vacation you want to plan, you want to visit a friend you haven't seen in awhile, or you are trying to save money. You can include all these in your first quarter planning as well.
Working on Your Goals and Small Accomplishments
Once you know what you want to accomplish in the first quarter, you can start creating goals, tasks, and figuring out what small things to focus on.
Are you trying to save a certain amount of money before the second quarter? If so, figure out what you will do to save that money. Are you getting a second job or will you be cutting your expenses and changing your budget? How much do you need to save weekly or monthly in order to reach your goal?
What Didn't You Get Done Last Year?
The first quarter is also a good time to catch up with what you didn't complete last year. This can give you an idea of what you need to work and what areas of your life you are neglecting a little bit.
For some, it is their personal life that gets left behind, for others, it is menial tasks like organizing or filing taxes on time.
When you know what you didn't get done last year, you know where your focus should be in the first quarter.
Your journaling works so well for keeping track of this.
'Year of Journaling' Printable Journal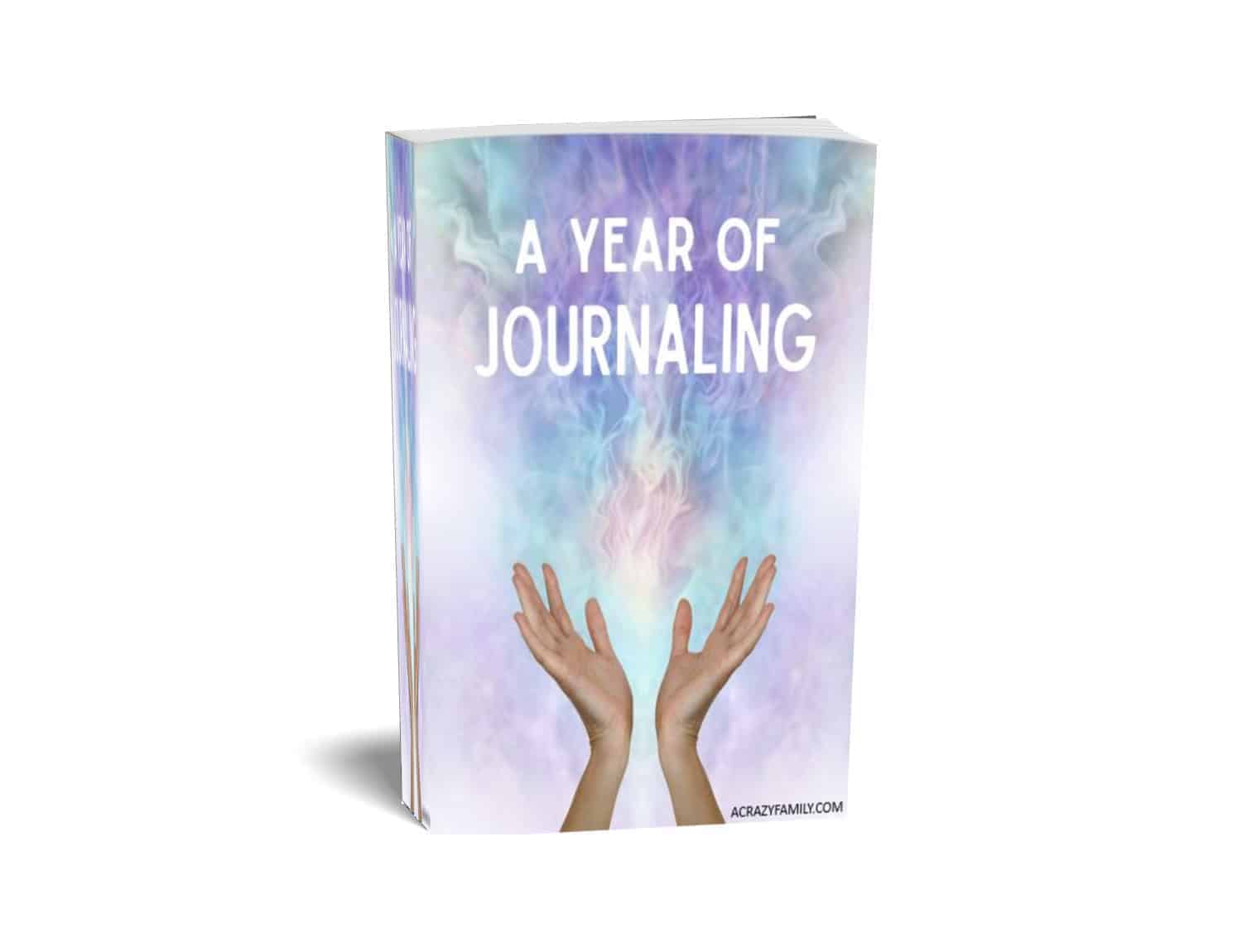 This is the journal for the whole year, with 53 weeks of journaling pages, one for every week of the year.
It has a total of 373 pages, including 7 pages for every week, plus the cover page and the 'This Journal Belongs to…" page.
Every one of our journaling prompts was turned into a journaling page, plus you get a variety of other lined and doodle pages as well.
Journal Pages Include:
Cover Page
"This Journal Belongs To" Page
Journal Prompts Pages (1 for every week)
Lined Pages
Lined Pages with Image Spaces
Doodle Pages
Stream of Consciousness Pages

I would love to hear from you!
Please let me know what you think of journaling and how you journal with a positive headspace in the comments below.
And please remember to come back next Monday for more.
Check out all the Year of Journaling posts
[/et_pb_text][/et_pb_column]
[/et_pb_row]
[/et_pb_section]
Hello, I'm A Crazy Family!

A Crazy Family strives to be the go-to destination for modern, savvy moms. Our aim is to share great tips, good food, recommendations, and helpful info for smart, busy moms just like you!