Skip the Wrapping Paper with These Beautiful Gift Boxes
This post and its photos may contain affiliate links. As an Amazon associate, I earn from qualifying purchases.
One of the best parts about the holiday season is giving gifts to your friends and family.
But wrapping each gift can be a cumbersome task.
This Christmas, save yourself a ton of time by skipping the wrapping paper and packaging your gifts in some beautiful gift boxes instead.
Haven't got the time to read this now? Click here to save them for later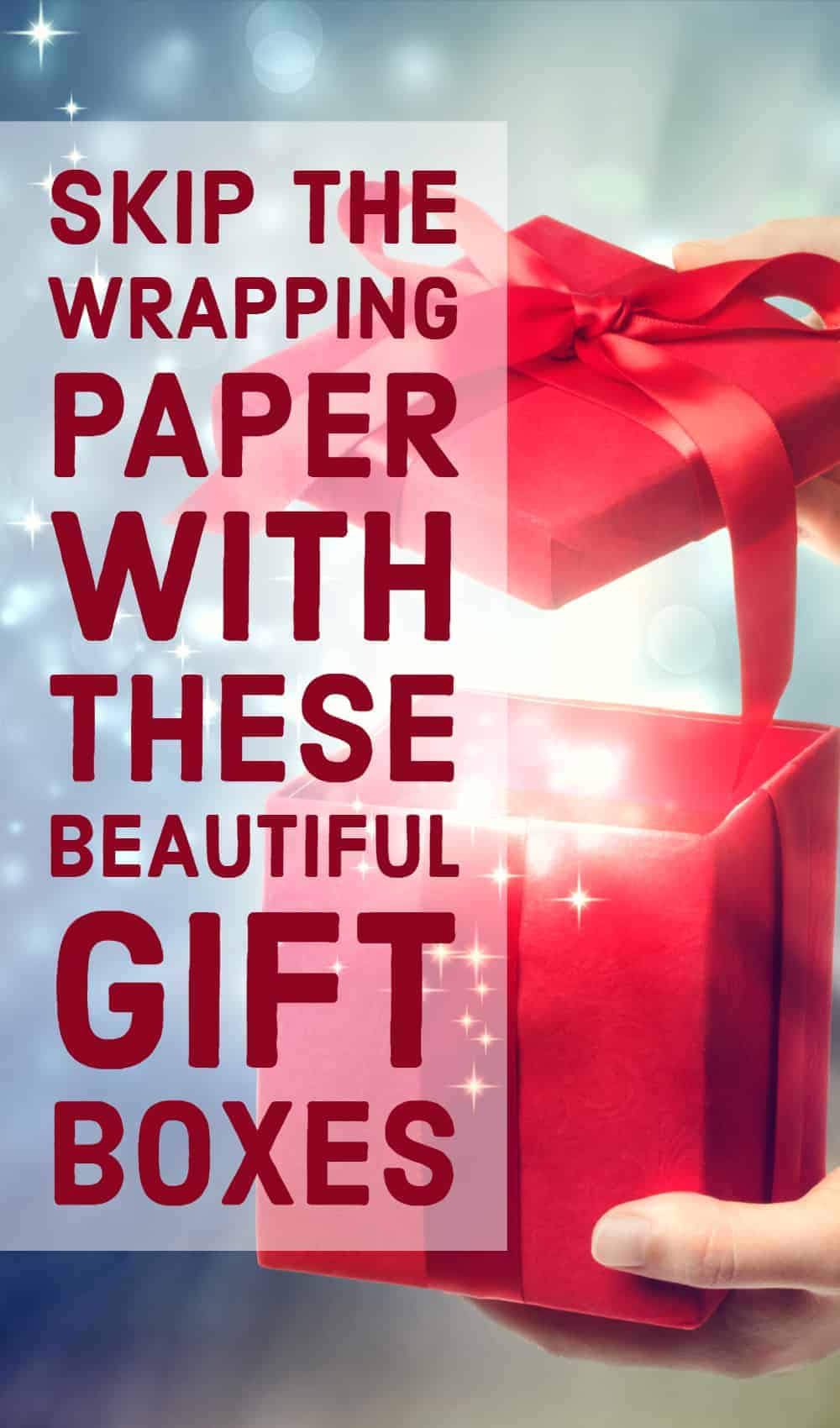 So get comfy, sit back, relax & imagine the faces of your gift recipients lighting up when you hand them one of these delightful gift boxes with their gift tucked nicely inside.
Glittery Ornaments
Featuring sparkling ornaments against a dark background, this beautiful gift box is sure to make a statement. This handy box comes compact, making it simple to store until you're ready to package your gift. And you won't need anything else to make your present look beautiful – it also comes with a decorative satin ribbon, matching tissue paper, and a gift tag.
Rustic Solids
This set of brown, red and black gift boxes is will make the perfect base for beautiful Christmas packaging. Whether you're gifting cookies or bath products, these rustic solid gift boxes are the perfect option. Each set of boxes comes with matching tissue paper. Just add some decorative ribbon for a simple, yet elegant gift package.
Really Red
Your gift recipients will probably want to use these beautiful boxes in their home after they unwrap their present. Constructed of thick cardboard, these pretty red decorative gift boxes have a cute red bow on the front and a magnetic closure. They'd make a beautiful storage box after the gift-giving season is over.
Patterned Boxes
The fun patterns on these cute gift boxes make it look as though the packages were wrapped with wrapping paper. Featuring cute polka dot and chevron designs in red, white, and green, your gift recipients will think you took the time to wrap each gift, but all you need to do is place your present inside the box and tape it shut!
Nesting Gift Boxes
These pretty coordinated gift boxes are the perfect choice for a set of gifts. With three different size options and unique, yet color-coordinated designs, this set of nesting gift boxes is a wonderful way to package your Christmas gifts without wrapping paper.
Chalkboard Labels
For small gifts or baked goods, choose these cute boxes with fun chalkboard labels. You won't even need extra gift tags when using these small gift boxes – just write the name of your gift recipient right on the box.
Gift Card Tins
Dress up your gift cards this year with a set of adorable gift card tins. With four fun holiday designs, this set of gift card tins is a great way to add a fun holiday touch to a simple gift. Your family and friends will love popping open these cute tins to see what's inside.
Before You Go…
Wow… you loved all these Christmas gift boxes, didn't you?! I know I did!
Gift boxes are the easy way to beautifully wrapped presents sitting proudly under your Christmas tree this year…
Spread the festive cheer far and wide & never lose this post by clicking here to easily save these ideas to Pinterest!