9 Tips To Become A Successful Mompreneur
By: Vickie | Updated: 9th July 2022
Before I became a mompreneur, I used to look at those moms that worked at home with a mixture of jealousy and awe. I remember thinking how cool it must be to run a business from home.
I just knew I would be able to rock it once I had kids. Then I actually had kids and started my own business from home.
I cannot tell you the number of ways that I misunderstood the struggle involved with running a successful business from home. It was much harder than I expected.
However, my own trials and tribulations have led me to some truths about how to be successful as a mompreneur.
I've put together a list of 9 steps to achieving success as a mompreneur.
Mompreneur Tip #1. Don't Underestimate Your Time
I promise, the first year, you will not get things done on time. You will underestimate how long the baby will nap. You will underestimate how much you can get done when the baby is napping. You will underestimate how long it takes to cook dinner and how long you will spend at the doctor's office…after which, your baby will fall asleep on the ride home, leaving you zero time to work.
If you think that your baby will nap for an hour, deduct 20% of that.
If you think you can get a month's worth of social media posts scheduled in the hour that the baby will sleep, deduct 20% of that. Pay close attention to how much time everything takes.
Mompreneur Tip #2. Follow Your Bliss
Some of us jump on the first business opportunity that comes our way because we're in a hurry to get down to the business of running a business. But given the difficulties involved with this mompreneur gig, it's important that you follow your bliss.
Pick a business opportunity that you will love, even if that means it will take you longer to get started.
Mompreneur Tip #3. Realize that You Will Need Help
When we think about women running a business from home, we think about a mom wearing a business suit, typing on her phone while her kids play nicely together in the living room.
The reality is, you're probably going to be wearing your pajamas because you haven't had time to change. You've sat down to draft a blog post, but you've had to get up twenty-seven times to get juice, referee arguments, and find the toy that got lost.
You can't remember the last time you put stockings on, much less wore something other than yoga pants.
The truth of the matter is, you're going to need help. That help can come in many forms. Maybe you'll work in the evenings and let your partner handle bedtime chores.
Perhaps you'll trade babysitting with the mom down the street who is also running her own business. Maybe you will need to hire a sitter or use daycare a few times a week.
Mompreneur Tip #4. Realize that Help can come in Many Forms
Help doesn't always mean daycare. When I talk with other successful mompreneurs, one of the first types of outside help they hire is a housekeeper.
That frees up a few hours a week to allow those mompreneurs the chance to hang out with the kids or catch up on work rather than clean house.
Help may also mean hiring a social media manager or blog post writer as your business starts to grow.
Mompreneur Tip #5. Become a Planner
Before I had kids, I was a fly by the seat of my pants kind of girl. I remembered everything; I bought birthday cards in advance and got them in the mail with plenty of time to spare.
Today?
Today I forgot to brush my teeth.
I use a paper planner, along with Google Calendar, Drive, and Keep on my phone to help me stay organized. I can block off work time, include project deadlines, and keep track of important events like doctor's appointments and when it's my week to bring a snack to soccer practice.
Without being a planner, bills would not get paid and I would miss client deadlines.
Mompreneur Tip #6. Communicate with Your Partner
As your business grows, your needs are going to change. This is the natural evolution of any business. Make sure to keep your partner in the loop.
It's important that he knows that you're hiring a babysitter, or that you need him to be responsible for dinner a few nights a week.
Don't wait until you're arguing because you're folding laundry at one in the morning. Have the discussion before things get to that point.
Mompreneur Tip #7. Find a Business Bestie
You need someone else who understands exactly what you're going through.
There are a ton of Facebook groups for women entrepreneurs. Finding ones that meet your needs will put you in a great position to meet other women who can support you, motivate you, and call you on your attitude when you need that to happen.
Mompreneur Tip #8. Treat Your Business Like a Business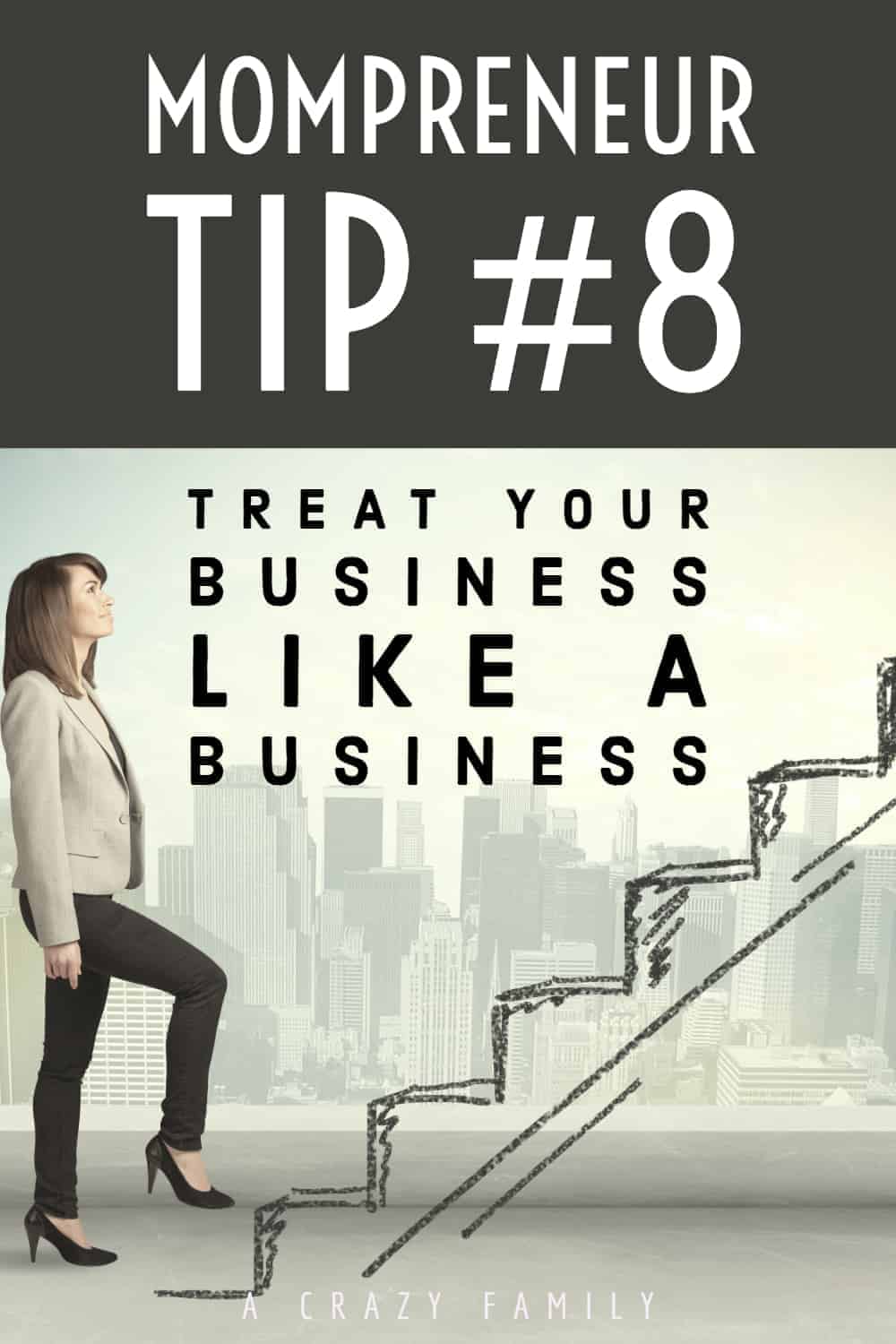 I cannot tell you how many times I've heard a woman say "Oh, I just run a blog" or "Well, I sell a little makeup."
No.
You publish a blog. You plan out and put together weekly, daily, twice-weekly, or whatever, content. You write, source material, take or find just the right pictures, and then do all of the promotion necessary to get traffic to what you publish. You're a badass blogger. Own it.
The same holds true for any industry you're in. Whether you're building an agency or participating in an MLM. This isn't a hobby for you; don't treat it like one. Own it.
Mompreneur Tip #9. Be True to Yourself
This is the single most important business advice someone gave me. I've been approached countless times for blog collaborations that would have definitely been a financial benefit for me.
But they didn't fit with what I want to be doing with my business. Write our your goals, then plan paths to make those goals a reality. Make sure those goals align with what you really want to do.
If you are allergic to certain scents, then selling candles probably isn't the best business plan for you. But if you adore makeup, you better believe you can carve out a niche for yourself in the cosmetics industry, whether that is as a beauty blogger, selling a product like Avon, or doing social media management for beauty bloggers.
The important thing here is that you're becoming a mompreneur on your own terms. Go forth and do just that!