6 Morning Hacks to an Organized Morning Routine
By: Vickie | Updated: 9th July 2022
Do you struggle with keeping an organized morning routine?
Whether you're a morning person or a night owl, sometimes getting everything finished in the morning can be an impossible task.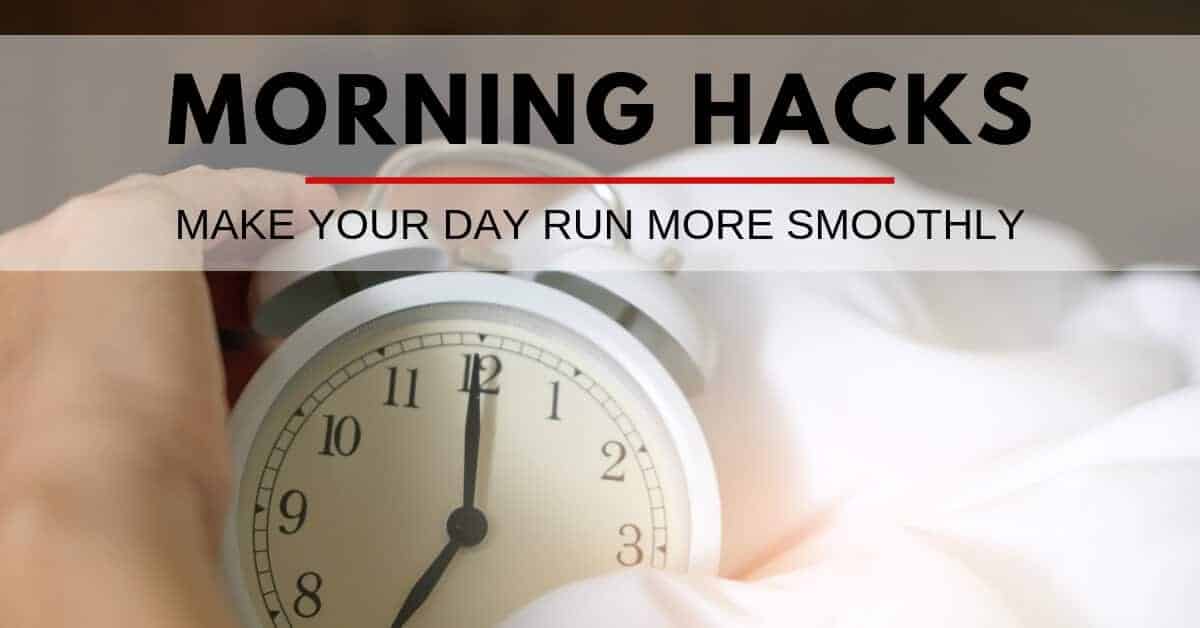 If your morning routine needs a revamp, you're not alone. Everyone can benefit from a few morning hacks to make their day run a little more smoothly. Here are a few tips to have a more organized morning routine from this severely disorganized mommy.
6 Life-Saving Tips for a more organized morning routine
Make your morning a little more doable with these six simple morning hacks to improve your routine.
Set Up a Drop Zone
If most of your morning is spent searching for things you need to take with you when you leave, you can save a ton of time and stress by setting up a drop zone near your door. Set up a box or bin for each member of your family where you'll toss everything they'll need to take with them when they leave, including backpacks, purses, lunch boxes, briefcases, keys, cell phone, wallet, etc.
In addition to helping you round up all the essential items for each member of your family, a drop box for each family member will allow you to easily see if something's missing. Simply do a quick scan of the box to make sure everything is there and retrieve any missing items before you head out the door for your day.
Take Care of Yourself First
As a mom, you're the ringleader of your morning circus. So, if you're not at your best, the rest of the family will follow suit. That means waking up 15 minutes before the rest of the house and doing a little self-care each morning.
To make the most of this me-time, figure out what gets you going in the morning and do that first. Can't function without a cup of coffee? Start the coffeemaker and enjoy your hot drink in peace. Need a shower before you feel human? Hop in before the morning rush starts so you can enjoy the steam for a few extra minutes.
Unload Your Thoughts Before Bed
Even if you do everything right before going to bed – avoiding electronics and going to bed early, for example – you still may be sabotaging your sleep with lingering thoughts. And we all know how rough the morning can be if you haven't slept well the night before.
To ensure you get a good night's sleep each night, take the time to unload your thoughts before your head hits the pillow.
A great way to get your thoughts out of your head is to put them on paper. Keep a notepad and pen next to your bed, making it easy to write down your thoughts and worries before you go to sleep.
The key to making the most of this exercise is to let your mind wander and write down anything that pops into your head. These lingering thoughts are the ones that have the potential to keep you up at night, so letting them pop up before you try to fall asleep will allow you to get those worries off your mind as you lie down to rest.
Make a List
It's easy to get distracted by that pile of laundry that needs folding or those dirty dishes hanging out in the sink, but if those aren't a morning priority, you should probably skip them. Jotting down a morning to-do list the night before is a great way to keep everyone on task and make sure you get out the door on time.
Your to-do list should include only essential tasks, like taking a shower, brushing your teeth, eating breakfast, and so on. To make the most of your mornings, stick to the tasks on your list and leave everything else until later in the day.
Start an Evening Routine
If you're not a morning person, creating an evening routine is a great way to make sure everything runs smoothly each morning. Your evening routine can include a variety of different things that will make your morning a little bit less hectic.
One great way to reduce stress in the morning is to lay out your family's clothes the night before. In addition to saving your time in the morning, you'll also have a little bit of extra time to plan out your outfits each evening.
Another easy time saver you can do in the evenings is meal prep. In addition to preparing lunches each night before bed, it's also a good idea to prepare for breakfast. Whether you bake a few muffins to grab on your way out or cut up fruit for morning smoothies, doing a little bit of prep work the night before will help you save time in the morning.
You can even get your coffee maker ready the night before so you can have fresh coffee with the push of a button! No matter what steps you take to reduce your morning workload the night before, you'll be happy to cross off those items on your morning to-do list the next day.
6 Morning Hacks to an Organized Morning Routine
Did you enjoy these hacks to improve your morning routine? Save THIS PIN below to your Life Hacks or Parenting board on Pinterest so you can refer back to it!