7 Legitimate Jobs for Work at Home Moms
This post and its photos may contain affiliate links. As an Amazon associate, I earn from qualifying purchases.
Are you a stay at home mom looking to make money from home? Here are 7 legitimate jobs you can do from home that allow you to make money while being at home with your kids.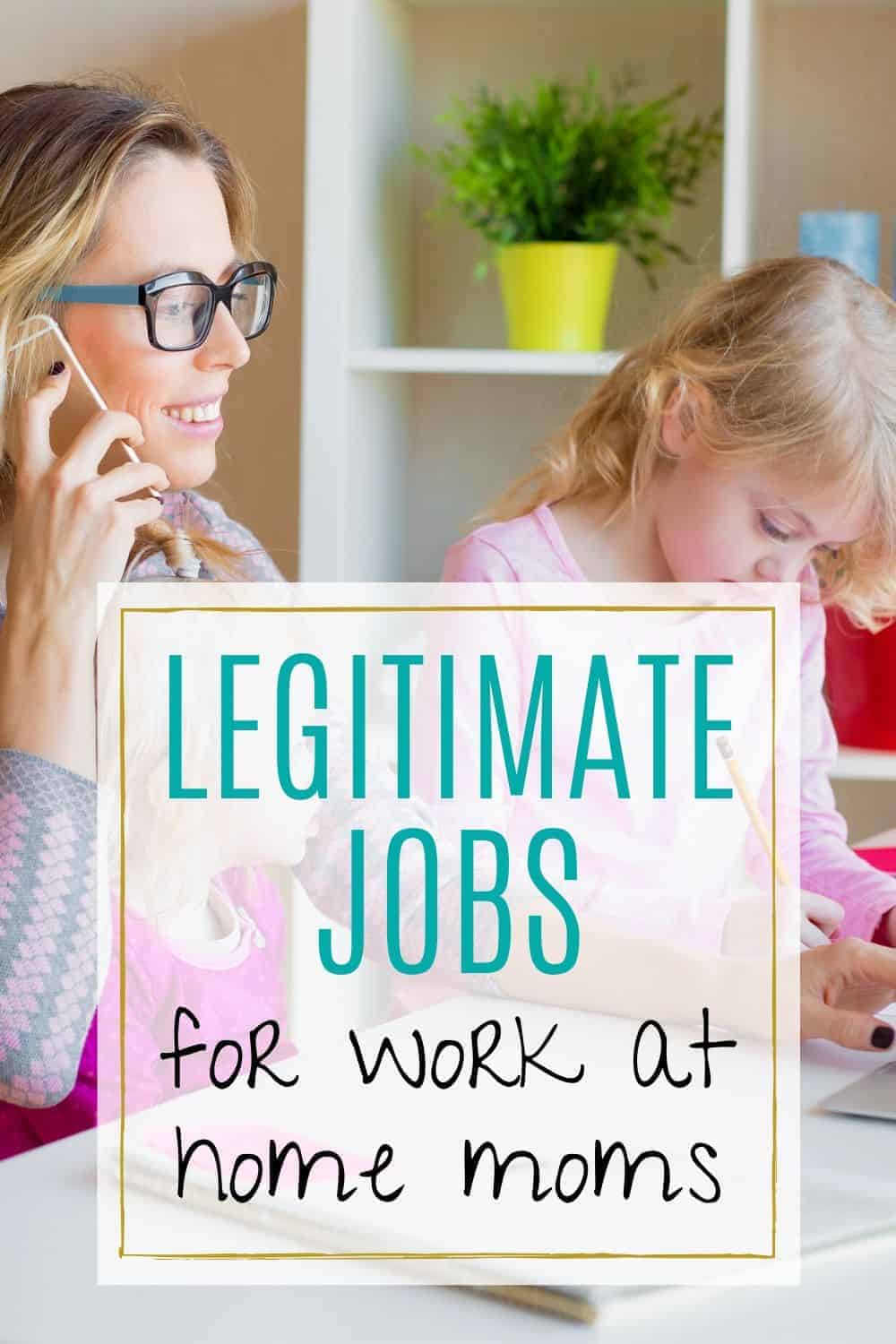 *Please note that this article contains affiliate links. You can read my full disclosure at the bottom of the page*
There may come a point in your life where you decide you want to work from home. As you search for a work at home job, you may be wondering which one works best for you.
In this day and age, there are still scams out there, which is why you must remain vigilant in looking for opportunities that are legit.
I've gathered several legitimate jobs for work at home moms that will help you settle on which career path to take.
Top Legitimate Jobs for Work at Home Moms
You're a mom, you don't have endless hours to comb through all the job opportunities that could be legit or not.
It's nice to find a resource that helps you figure out WHAT is legit and what is not legit. Keep reading to discover some of the best work at home jobs for moms that are also legit.
1. Start A Blog
I have to start with blogging as this has been a life-changer for me and my family.
Starting a blog is a great way to work from home and make a great living. My blog now earns enough that it allows me to continue being a stay at home parent.
Starting a blog isn't very difficult, even for absolute beginners. If starting a blog and making money with it is something that interests you then these posts might interest you.
The Ultimate Beginners Guide To Starting A Blog – If you would like a step by step tutorial to walk you through the process of launching a blog this post is what you need.
And, if you're interested in how bloggers actually make money this Guide To Making Money With A Blog can help you understand how bloggers monetize and make money.
So, maybe you're not interested in starting a blog, then check out these other great ideas.
2. Writer
Perhaps one of the best and most flexible legitimate jobs for work at home moms is becoming a writer. Writers can start and stop when they want, which is helpful when you have little ones to look after. There are a lot of ways in which you can become a writer.
Start your own copywriting business and look for private clients.
Work for websites like Textbroker
Get upfront pay for your writing, check out these websites that will pay you upfront to write for them.
When it comes to being a writer, most are paid through PayPal. You don't need to be an expert to be a writer. Over time, you get better and more people will hire you because of your experience.
3. Editor
If for some reason you don't want to be a writer, but you love editing, this is also one of the many legitimate work from home jobs for moms. You can work for writers, editing their content. You can work for bloggers, editing their blog posts.

You could work for companies, editing their content. Whatever kind of editing you enjoy doing, you can find a work from home job doing that! Here are some companies that hire editors:
If you enjoy editing, then this may be a work at home position worth pursuing.
4. Social Media Manager
Are you looking for something that is a bit of a challenge, but that you can also do from home? Becoming a social media manager is a legit job for work at home moms. Social media is a big deal to companies and they are hiring people left and right to help them!

Being a social media manager, you manage the social media accounts of your clients. You'll manage platforms like Instagram, Twitter, Facebook, and Pinterest. Choose which platforms you'd like to work on.

You can offer your services as your own company or you can join forces with another company. If you're looking for a possible company to work with, check out 99 Dollar Social.

Many moms find that being a social media manager is very flexible and works well with their everyday schedule.
5. Virtual Assistant
A fast-growing legitimate job for work at home moms is becoming a virtual assistant. This is when you assist business owners in whatever they may need to be done to help make their business successful. A virtual assistant is someone who may work as an online assistant to a business owner.

A virtual assistant may be able to:
Make phone calls
Answer emails
Reply to clients
Set up appointments
Etc…
A lot of people that want to be a virtual assistant, start their own VA business. However, you can also opt to work for a company. Here are several companies that hire virtual assistants:
6. Transcriptionist
What if you don't want to be a writer, editor, or virtual assistant? That is where becoming a transcriptionist comes in! You can transcribe for clients, from the comfort of your own home. I feel as though this isn't the highest paying work from home option, but it's still a really good one.

There are several companies out there that will hire you to work from home as a transcriptionist. As a transcriber, you will need to be able to type fast and have decent computer skills. The files that you work with will vary in length. Here are some companies that will hire you to transcribe for them (if you get hired).
7. Customer Service
Perhaps one of the fastest-growing work from home job opportunities for moms is customer service. Working from home with a phone job isn't always the easiest thing to do, but it does work for some people. You may be wondering what type of companies hire someone to do customer service for them. Well, BIG companies hire people like you! Here are some of the top companies that hire customer service agents who work from home.
This is not an exclusive list. Working from home as a customer service agent means that you will spend time talking to customers. You may have certain tasks you need to perform during your shift as well. Each company has different requirements.
How Do I Start Working From Home?
Now that you know of some legitimate jobs for work at home moms, you may be wondering how you can start working from home.
The first step is choosing what you enjoy doing from home.
Do you enjoy writing?
Do you enjoy transcription?
Narrow down what you enjoy doing and then pursue this work-from-home path.
How Do I Work From Home with Kids?
Once you figure out HOW to work from home, you will need to narrow down your schedule. You may need to wake up early and work while the kids are asleep. You may need to stay up later and work while they are asleep.
You will find your own groove to working from home!