Easter Place Setting Ideas
By: Mornings on Macedonia | Updated: 7th August 2023
I can't believe it is already time to start thinking about Easter decor and Spring decorations! Although, I am so ready for some warmer weather and sunnier days. What about y'all??
So this weekend, I started playing around with all my Easter decor and getting it all ready for the season. And it made me think about all the different options I have created as far as an Easter place setting goes over the years.
I always love to style a table for each season, as you probably already know that since I am always sharing different tablescape ideas (you can see my last tablescape I did for Valentine's Day here), and Easter is no exception. Whether you are hosting a big family dinner or not, I always think it is fun to have a styled table.
We don't host Easter at our house, but I still like to create beautiful place settings and display them during the Easter season so we can enjoy looking at them. So I will share below all of my ideas on how you can style a pretty place setting for your Easter tablescape below too. And it doesn't have to be anything fancy! Just a festive-themed napkin or plate would do just fine.
You could keep it as simple as you wanted to, or you could go all out as well. The choice is all yours and I am just here to help you get inspired for the season!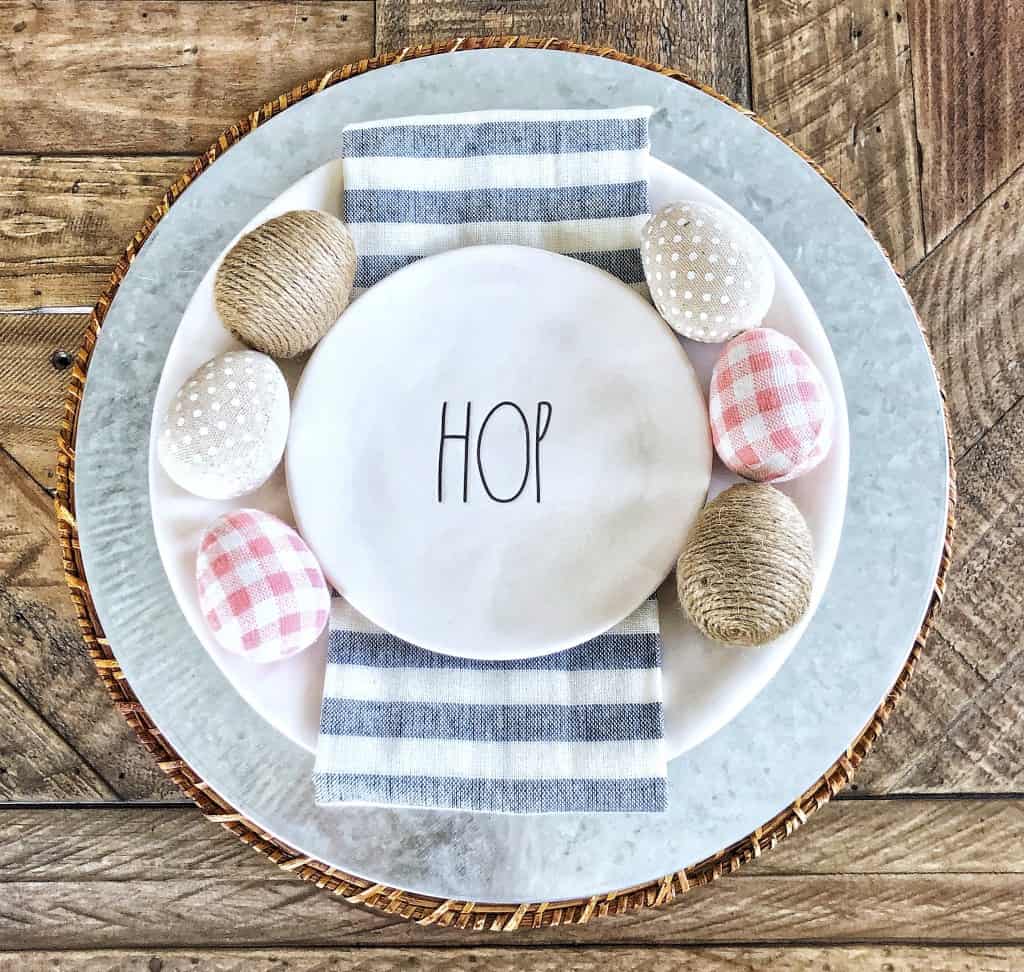 So of course for a lot of these place setting ideas, I am using my Rae Dunn dishes. I love how easy they are to display and they are just perfect for Easter.
I used a little round appetizer plate above and placed it on my galvanized metal charger that I got from Hobby Lobby a few years ago. I placed the charger on top of my round wicker place settings that I got from Pottery Barn and for a majority of these looks, I am using the same charger and place setting as a base and then just changing the dishes up on top to give them each a different look.
The striped blue napkin adds a perfect pop of color underneath the plate I think as well.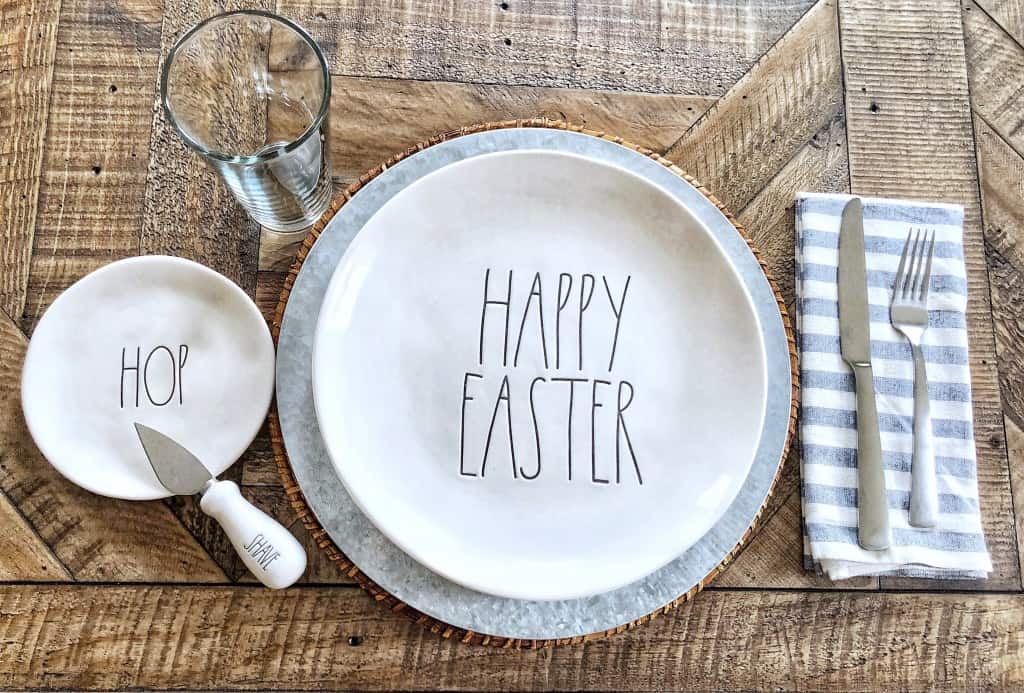 For this look, I moved the napkin over instead of underneath the plate and placed a larger dinner plate on the metal charger instead. I then moved the round appetizer plate over and paired it with a little butter knife.
This little plate would be perfect for bread and butter, while keeping the main meal on the larger dinner plate above.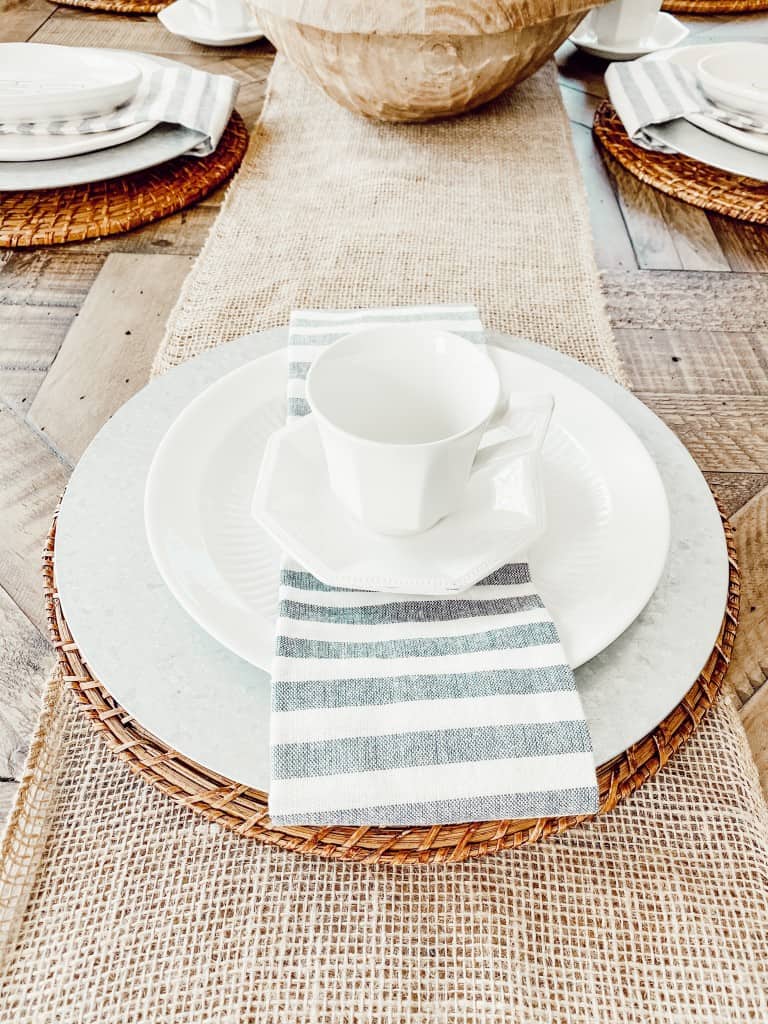 I also wanted to incorporate a different look without using any Rae Dunn dishes. I decided to bring out my Ironstone dishes and I paired it with the same charger and napkin that I have been using for the above looks as well.
I like this look because it is simple and clean, and there are no words involved! If you're looking for an easy place setting idea, then this would be it. Just keep everything you have and add a festive touch with a dinner napkin and voila, you just created a beautiful Easter place setting!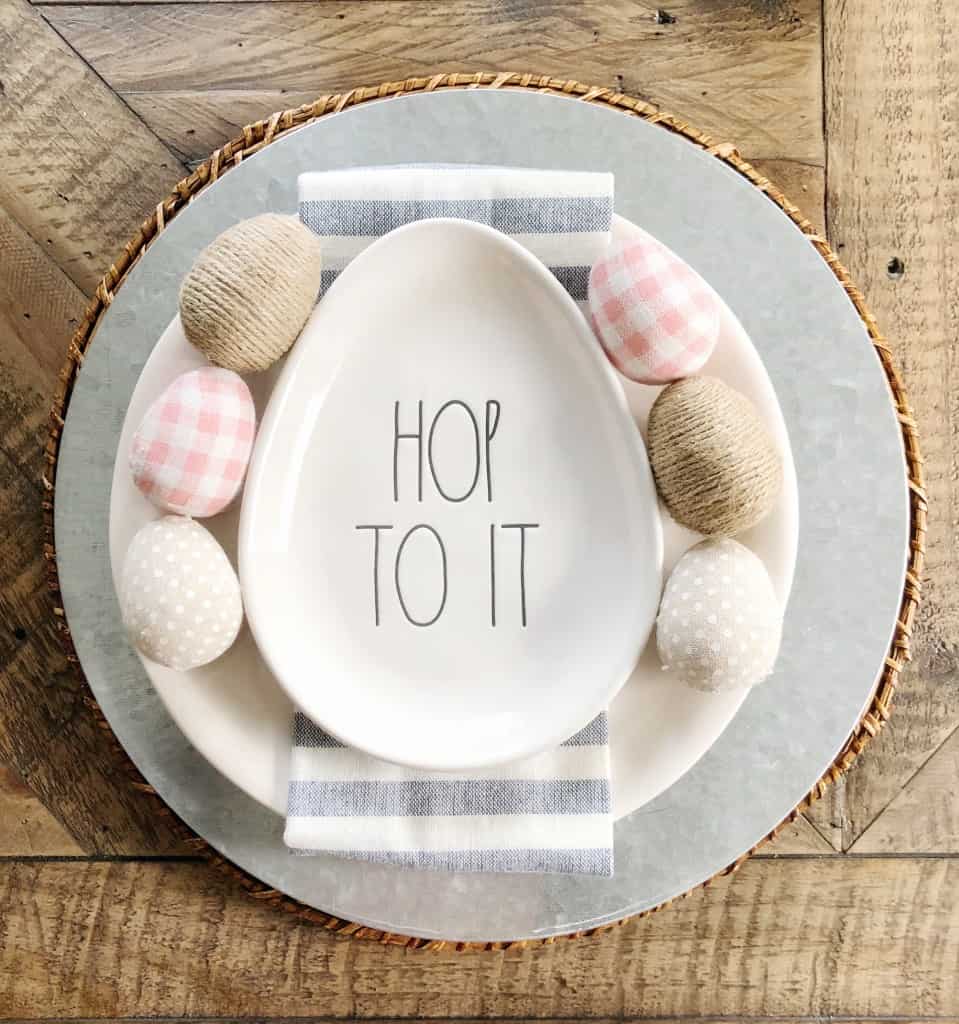 This is the same look as the first one, but I added a different plate in. I found these cute egg-shaped plates and I thought that I would just have to add them in for Easter. They are too cute not to in my opinion.
I added these cute little eggs on each side of the plate too for another festive touch. I found a pack of them for a great price at TJ Maxx so I definitely needed a way to display them and I think putting them on a place setting is the perfect touch.
Well, I hope some of these ideas will get you inspired to create your own Easter place setting!
I would love to see what you guys come up with too or if you have any other ideas. Also, do y'all host your own Easter dinner or lunch? Let me know below and thank you so much for stopping by!