7 Best Easter Basket Ideas For Teen Boys
By: Vickie | Updated: 7th August 2023
Let's face it, teen boys can be difficult to shop for in general. So when it comes to making the perfect Easter basket, it can be more daunting than you might expect. Most teen boys prefer activities to stuff, and many just buy what they want if they have a job or money.
As such, getting them gifts for Easter can be challenging, but it does not have to be. Following is a guide on the best Easter basket ideas for the teen boy in your life. These gifts are sure to be a hit in your household.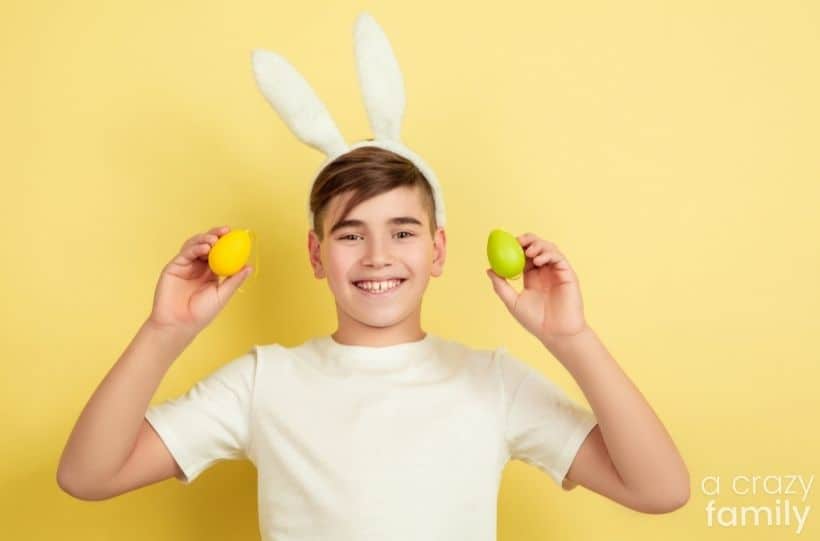 Gaming Accessories
Most teen boys play video games on one system or another, so it's no surprise that this should be the first entry. Apart from buying your teen actual video games, however, you can also purchase gaming accessories.
There are all sorts of ways to enhance your teen's gaming experience, new controllers always come in handy and you can get improved thumbsticks, buttons, and batteries. Headsets and microphones are also good ideas as well.
You can also get headset and controller holders so that your teens' gadgets are up off the ground when not in use. Plus many of these holders feature beloved gaming characters, so they double as fun room decorations.
Spring Clothes
Easter marks the height of the spring season for many families, so why not get your teen some comfortable spring attire? There are so many options to choose from in this category, from graphic t-shirts to button-downs, there is so much you could get for your teen.
You could also get them prepared for summer with new board shorts and swim attire. If your teen is into sports or outdoor activities, new equipment, and athletic clothing is always a good idea.
You might also get them some Easter-themed clothes, perfect for wearing to events or taking family photos, such as this delightful shirt by Tipsy Elves.
Licensed Collectibles
Licensed collectibles are incredibly popular among teen and adult markets, and there are plenty of options to choose from. Companies such as Funko make a ton of different collectibles from bobbleheads to action figures.
There are plenty of franchises to choose from, such as science fiction properties like Star Wars and Star Trek to superheroes of the Marvel and DC Universes. You can even get collectibles based on characters from video games such as Halo.
If your teen is a collector, or just likes having a few physical items from their favorite properties, then this might be a good gift idea for them. For instance, Batman fans can collect a super detailed figure that looks like the character walked out of the comics.
Sporting Equipment
If your teen is athletic, sports equipment is always a good idea. Bats, gloves, helmets, balls, and anything else you can think of are terrific gift ideas.
Plus, you can always get training equipment such as weights and resistance equipment as well. Jerseys and other team memorabilia are also safe bets for great gifts.
If your teen already has too much sporting equipment, perhaps an organizer would be a good idea, such as this one by Mythinglogic.
Gift Cards
If your teen just seems impossible to shop for, maybe it's time to let them do the shopping themselves. Gift cards make for terrific gifts for the person that has everything, or won't tell you anything about what they want.
There are so many gift card options to choose from. Gaming and clothing store cards are always good choices, as are gift cards to sporting goods stores. You can buy virtual currency for your teen's favorite games, or maybe a subscription to a book or video site such as Netflix or HBO Max.
You can even get them gift cards to a few places so that they can have a fun day of shopping with lunch or dinner after. Plus, there are all sorts of ways that you can present a gift card, so you as the parent can still make their Easter basket into a fun presentation.
Camping/Hiking Supplies
If your teen loves adventuring in the great outdoors, then that means that Easter is a time in which they are gearing up for their next excursion. Why not make use of the season and get your teen some helpful camping and hiking gear.
New backpacks, boots, hammocks, tents, campfire equipment, and other such supplies are always nice. Plus you can get them smaller gifts such as canteens and mess kits that will make life outdoors more comfortable for your teen.
Consider this camping hammock from Kootek that is lightweight and portable, and offers a great night's sleep on your teens' next outdoor excursion. This and gifts like it are surefire ways to make your teen smile this Easter morning.
Tickets To An Event
Sometimes the best gift isn't a physical item, but rather, an experience. Tickets to movies, concerts, shows, museums, or other such events are great ideas. Your teen will love looking forward to something that they can do, and why not make it something that they can do with you?
Consider checking to see if there are any events your teen might be interested in in your area. Plus, if you still want to get them physical gifts you can always get merchandise to wear to the event. Experience tickets are a great idea for your teen boy's Easter basket and are sure to be appreciated.
While teen boys aren't exactly renowned for their willingness to divulge their current wish list, that does not mean that you have to struggle when assembling their Easter basket. There are plenty of options that would make for perfect gifts for your teen boy.
From outdoor equipment to collectibles and gift cards, there is something for every teen to enjoy. With the gift ideas on this list, you too can find the perfect gift for your teen boy and make this upcoming Easter one to remember for a long time.