The Top Christmas Markets in New York City
By: A Crazy Family | Updated: 19th May 2022
Christmas in New York City may sound a bit cliché, but the only reason the Big Apple is so famed for being one of the best places to celebrate the holidays is that it knows how to do them right.
The Rockefeller Center Christmas Tree, the ice skating rink in Central Park, and the Christmas displays on 5th Avenue are staples of a December in New York City.
What you may not know, however, is that the city also boasts a wide array of Christmas Markets, and here's the ultimate list of the ones you absolutely cannot miss out on visiting!
The Top Christmas Markets in New York City:
Bank of America Winter Village at Bryant Park
Spread around the ice skating rink at Bryant Park, the Bank of America Winter Village is probably one of the most famous Christmas Markets in New York. Set in one of the most emblematic (and centric) locations in the city, this market is the ideal place to start your holiday escapades (and do some serious shopping).
After enjoying an afternoon skating, you can stroll the stalls of this fabulous market, where you'll find goodies galore, including handmade decorations, jewelry, clothing, and a ton of delicious treats to get your energy back!
Grand Central Holiday Fair
If you're not exactly a fan of the cold and would much rather cozy up indoors, the Grand Central Holiday Flair is the perfect option for you.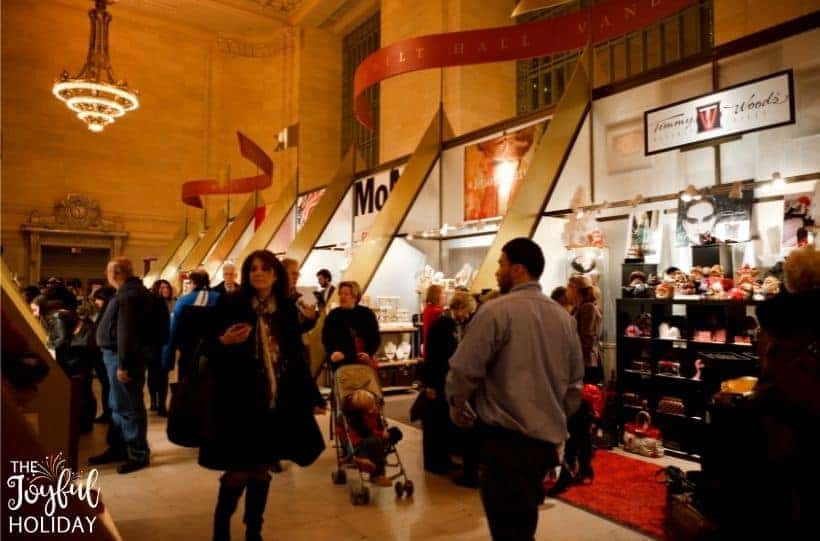 Set inside the iconic Vanderbilt Hall at Grand Central Station, this market is a truly special one due to the fact that it's homed by one of New York City's most emblematic buildings.
Columbus Circle Holiday Market
Gluhwein is a staple of European Christmas Markets, so if you want to feel as though you've been transported across the Atlantic, the Colombus Circle Christmas market is your go-to!
The reason?
It's the only Christmas Market in the city where you'll find mulled wine galore, which you can drink to your heart's content in order to warm up and explore the market for a few hours.
Moreover, this market is set just a stone's throw away from the ice skating rink in Central Park, making it ideal to combine an evening spent shopping, eating, and skating.
Feel like you need a bit more energy to do everything in one go? Treat yourself to the myriad of gingerbread goodies they sell at the market!
Union Square Holiday Market, New York City
If you're looking for a big market you can roam around in for hours on end, the Union Square Holiday Market is just what you're after!
This market has a bit of a hippy vibe to it, making strolling through its stalls more than just a shopping activity, but also an experience of its own.
What's best? Even though you could virtually spend hours just window shopping at this market (you'll find a ton of amazing goodies here, including decor made out of recycled plastic, hand-blown glass jewelry, and just about anything organic), another surefire reason to visit is the fact that the market boasts a wide array of activities, live entertainment, and just enough food to keep the cold at bay.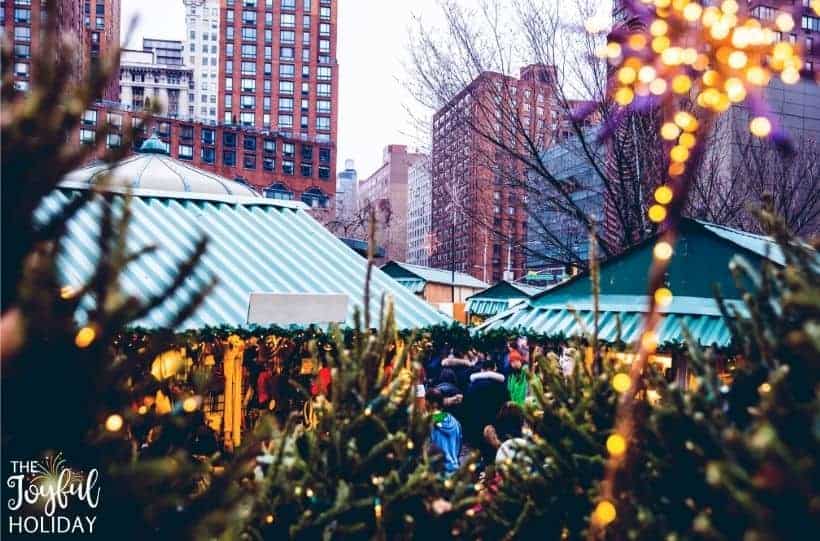 And that's the list! I hope this post gave you some ideas on the best Christmas markets to check out during your visit to New York City.
Seriously, there's nothing quite like exploring holiday-themed attractions to get the festive spirit going, and Christmas markets are the perfect way to get in the mood!