Ways to Celebrate Memorial Day with the Kids
By: Vickie | Updated: 14th April 2022
Young children may not know the reason behind Memorial Day which is why it is important to teach them that it is more than just a day off from school or a reason to host gatherings.
To help children learn more about Memorial Day and why we celebrate, there are some things that we can do with them. Activities that will help teach them the real meaning of Memorial Day and why we observe it every year.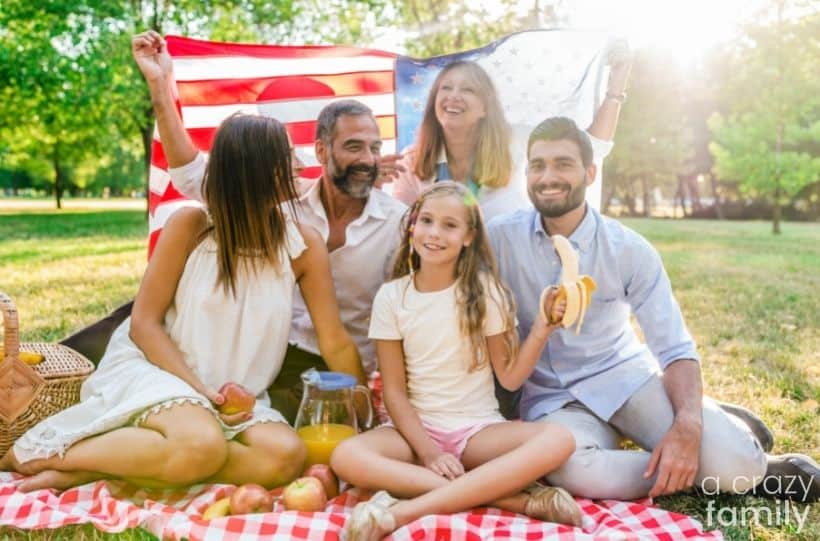 We observe Memorial Day on the last Monday of May each year. This gives us a great opportunity to get the kids out and about and observe the holiday in more meaningful ways.
Important Things to Teach Kids About Memorial Day
On Memorial Day, many of us celebrate by having picnics, parties to celebrate the first day of summer, and BBQs.
While that may be a tradition every year, it is important for children to know that Memorial Day is about more than those things.
They need to know that it is to honor those we have lost. To remember those soldiers who gave their lives for our country. To honor their legacy and everything they have done for our safety and to protect our rights.
Ways to Celebrate Memorial Day with the Kids
As you teach children more about the meaning of Memorial Day, here are a few ideas on things that you can do with the kids.
1. Donate for a Poppy
Each year the VFW sells poppies. You've probably seen them around your town. They are usually taking donations and in exchange for those donations, you receive a poppy.
The VFW has been doing this for years and they use poppies because of their significance in a poem that was written by John McCrae.
Did you know that the donations that come from those poppies help provide financial assistance to help maintain rehabilitation and programs for veterans?
2. Take Part in The National Moment of Silence
Each year on Memorial Day, at 3 p.m., the country sets aside one minute to honor and pray for our soldiers and their families.
This is usually televised as part of the holiday as the President holds the moment of silence.
3. Create American Flag Art
Honoring the flag is why our military sign up to protect our country. When we lose someone who has been in the military, the family is presented with a special flag.
Children can start their own tradition by creating their own American flag in some type of creative way. For instance, the kids can use chalk to draw the flag on the sidewalk. Then, as people go down the street, they can remember and honor the flag.
There are a variety of different flag crafts that kids can make to honor Memorial Day and these make a great opportunity to teach kids more about the important holiday.
3. Place Flowers on Soldier's Grave
Pay tribute to those fallen soldiers who have given everything for our country by placing a flower on their graves. Red flowers, like roses, are often popular but the kids can choose any kind of flower or color they would like.
4. Visit a Local Cemetery to Pay Respect
Even if you don't have flowers to put on their graves, just visiting a local cemetery and finding the graves of soldiers who have lost their lives and paying your respects to them can be done.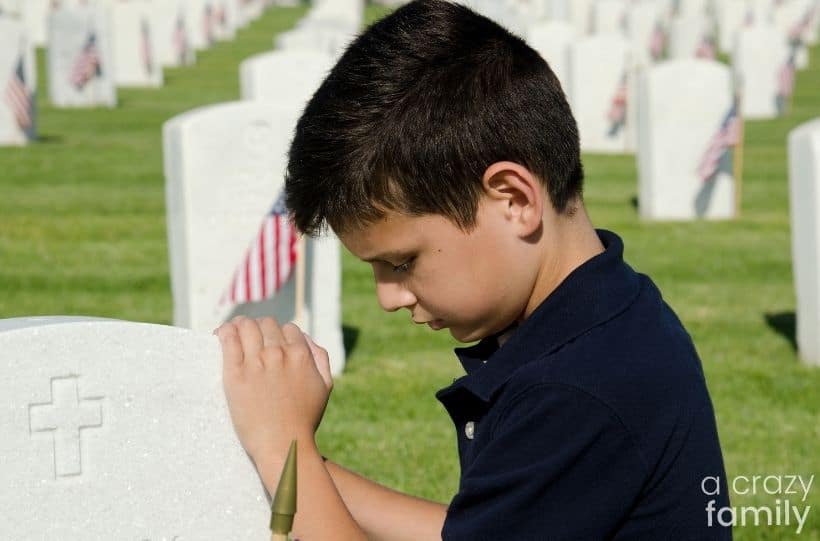 While you are there, you can pray for their families or take a moment of silence to thank them for their sacrifices.
5. Visit a Military Museum
If you live near a military museum, take the kids to see and learn about some of the displays. Some museums also offer virtual tours for those who don't live close to one.
This can be a great educational opportunity for kids as they learn more about the holiday and the importance of those soldiers.
6. Let Your Children Help Put Up Flags
Young children can help you place flags around your home, in town, or in the community. The small flags that you can purchase or receive through local military programs can be easy for children to handle and place.
Older children can help you raise and lower the flag. On Memorial Day, the proper way to fly the flag is half-mast in the morning for those who sacrificed their lives.
In the afternoon, we fly the flag at full-staff to honor our veterans and those currently in the military.
7. Take Treats and Crafts to a Veteran's Hospital
Have the kids help you make special patriotic-themed treats and crafts to take to your local veteran's hospital. Many of them allow you to bring in gifts for the veterans and knowing that someone has thought about them can brighten their day.
If you don't have a veteran's hospital near you, make the treats and crafts and deliver them to your local VFW or a local organization that helps support veterans.
8. Make a Memorial Day Bracelet
Memorial Day bracelets or Remembrance Bracelets can be made by children so that they can say thank you and remember those who have served our country.
After making them, the kids can pass them out to friends, family, and members of the community. You can also have them write a special message to accompany the bracelet.
If you know a family who has lost a loved one fighting for our country, the kids can make a personalized bracelet for that family to remember their loved one.
Celebrating Memorial Day with Kids
These are just a few ideas and ways to celebrate Memorial Day with the kids. Crafts and activities for Memorial Day are always fun but knowing the reason we celebrate the holiday and why it is so important should be taught as well.
If you want to be creative and let the kids have a say so in the activities, after teaching them more about Memorial Day, let them choose something they think will be fun to do.
They may have a special idea or something creative they want to do to honor our lost soldiers.