35 New Years Eve Food Ideas To Celebrate
This post and its photos may contain affiliate links. As an Amazon associate, I earn from qualifying purchases.
Are you ready to celebrate NYE? If you're having a big bash or just a quiet night at home, these New Year's Eve food ideas and drinks will get you excited. We have appetizers, finger foods, mains, cocktails, and more!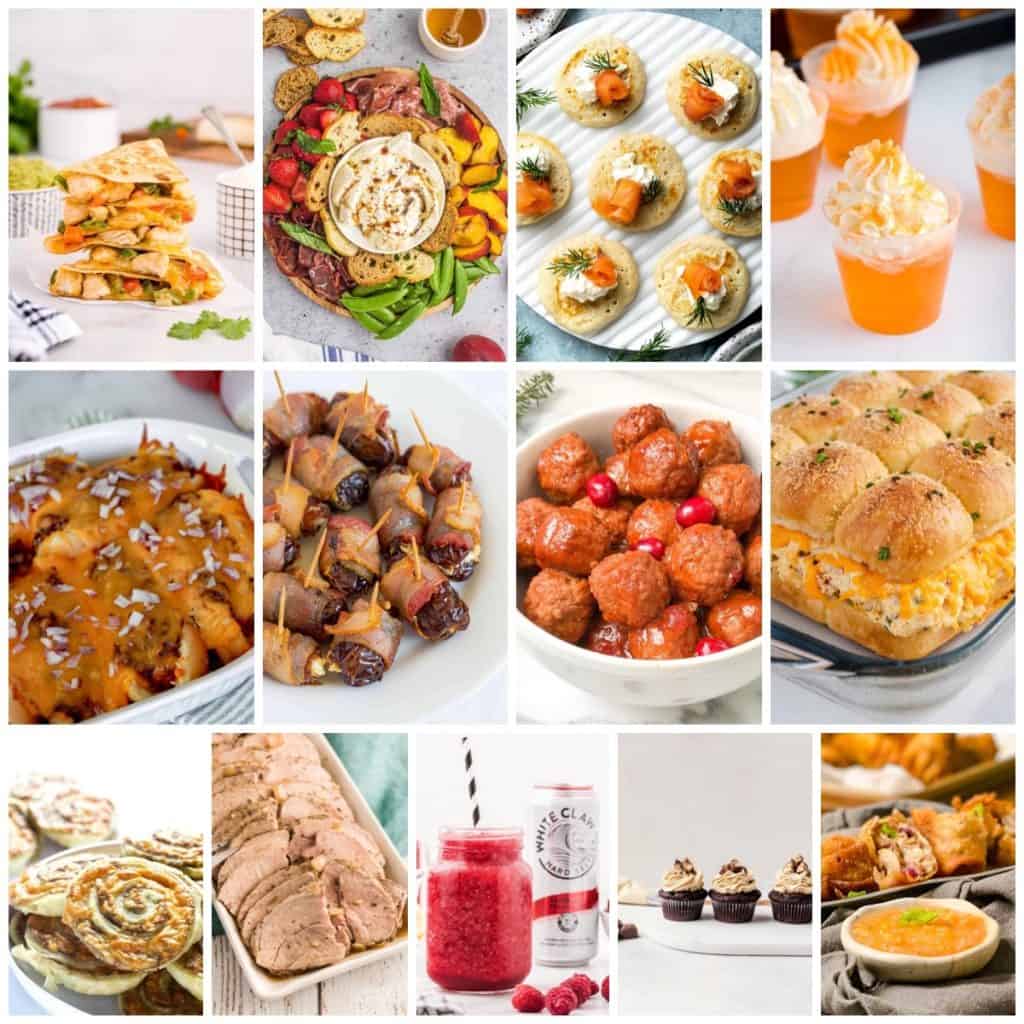 What should I serve for a New Year's Eve party?
You should serve up a variety of menu items at a New Year's Eve party, like appetizers, mains, drinks, and desserts. Try some bacon-wrapped dates, Jell-O shots, and whimsical cupcakes, for example. See our detailed list of recipes for more ideas.

Now you're ready to serve the best New Year's eve food ideas for any party or gathering. This list of snacks, appetizers, mains, and desserts won't disappoint your friends and loved ones!

And if you want more, go ahead and check out these New Year's Eve Party Ideas and more of the Best New Year's Eve Desserts.
New Year's Eve Appetizers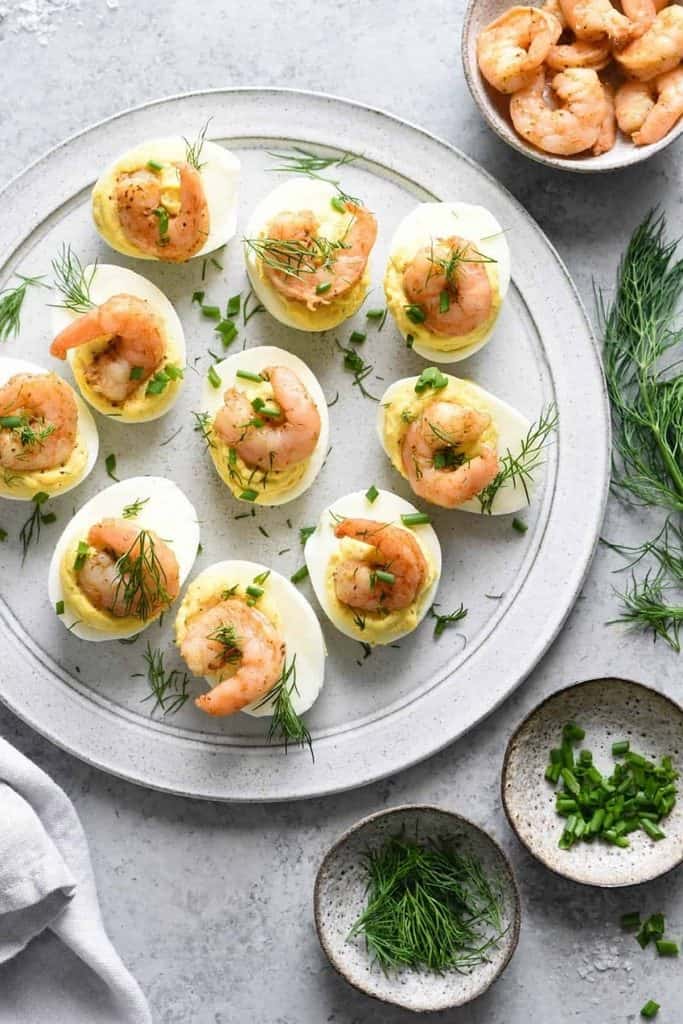 Shrimp Deviled Eggs: The combination of deviled eggs and fresh shrimp has a delicious flavor that will surprise you. It's also the perfect party food snack because you can make a big batch and serve them on a platter with toothpicks.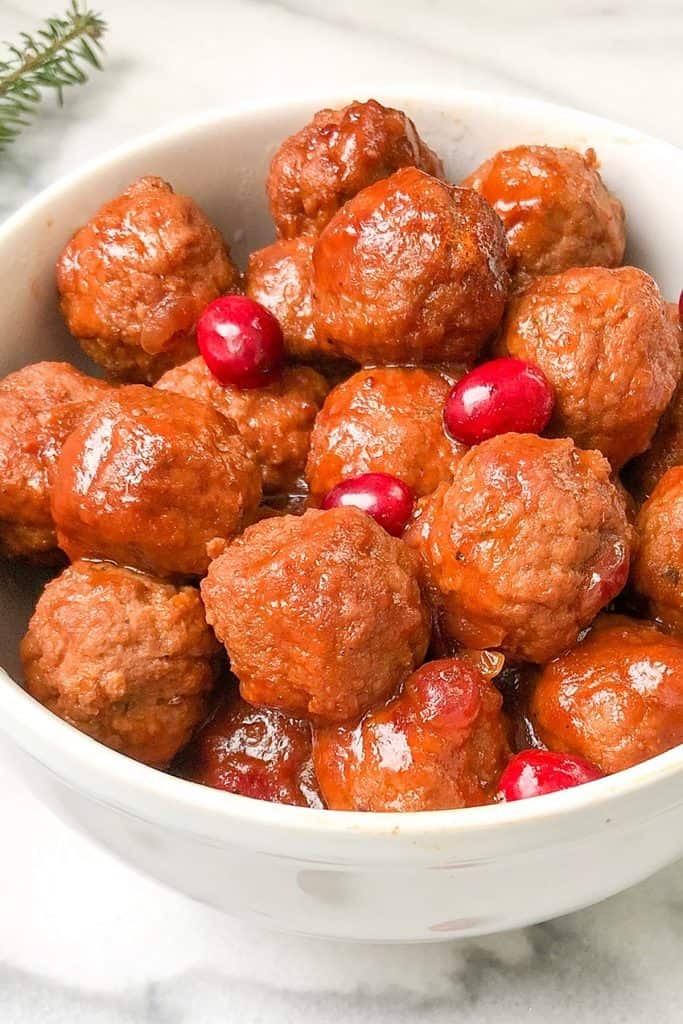 Cranberry BBQ Meatballs: Cranberry barbecue meatballs are the best appetizers because the sweet, tart, and savory flavors are heavenly combined. In the slow cooker, this dish is ready in 8 hours.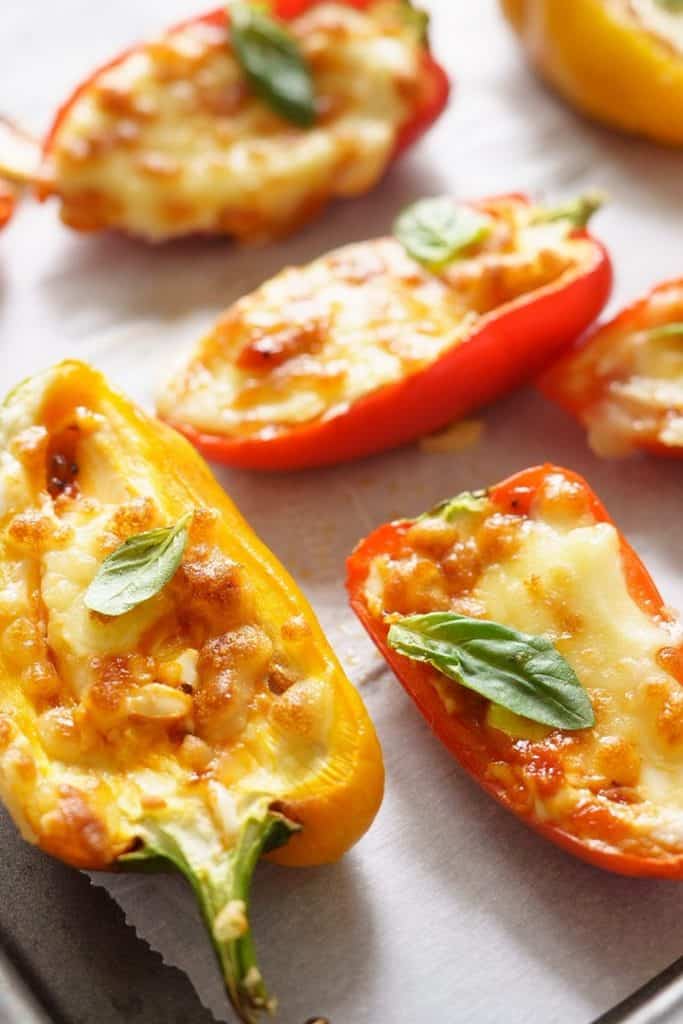 Air Fryer Mini Peppers: New Year's eve food ideas like these air fryer mini peppers are cheap, easy, and so scrumptious for a party! With fresh bell peppers, cream cheese, and amazing seasoning, you won't be disappointed.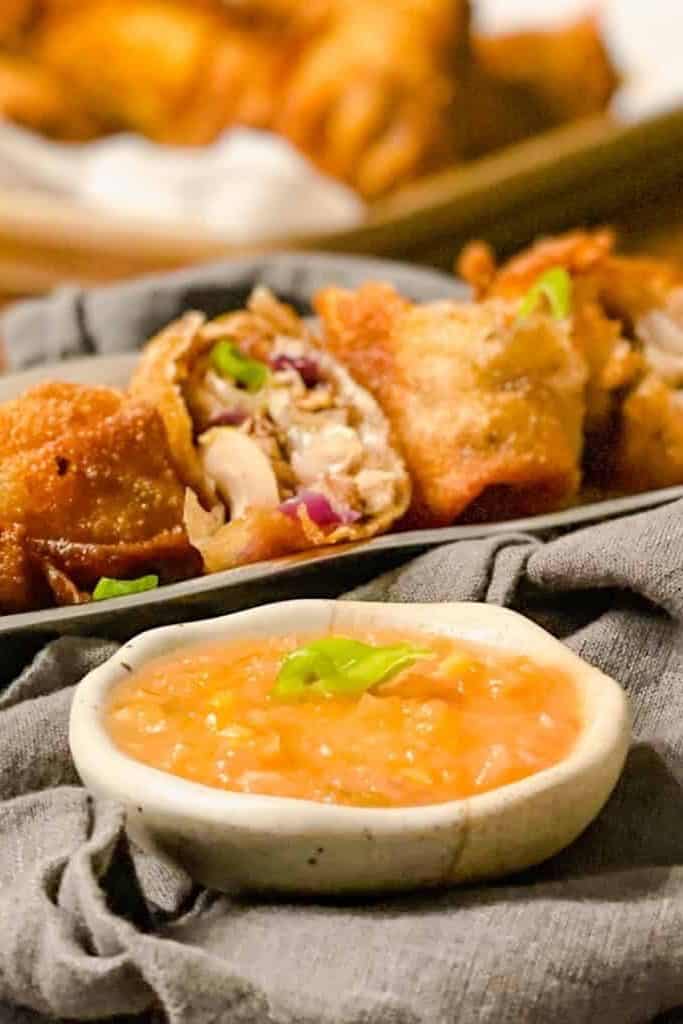 Jerk Chicken Egg Rolls: These Chuck chicken eggrolls will be the star of the show at any NYE gatherings. The only problem is they will be the first to go, so make sure you make a big batch! Served with a spicy mango pineapple dipping sauce.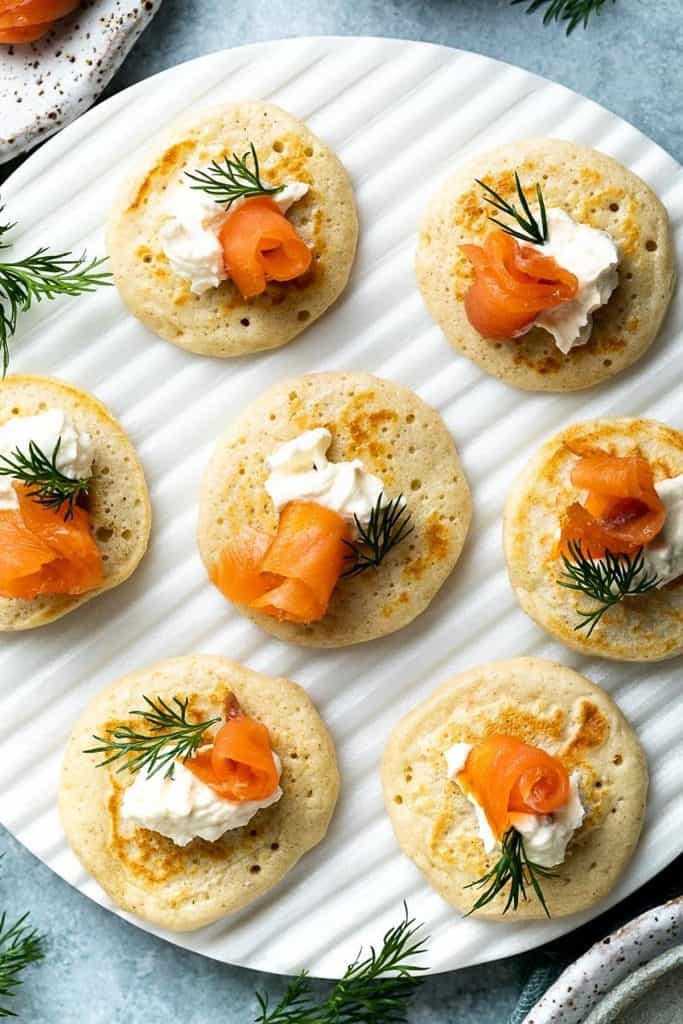 Buckwheat Blinis: This recipe for buckwheat blinis is so yummy. Key ingredients include smoked salmon, cream cheese, plain Greek yogurt, horseradish, fresh dill, and black pepper.
Best Finger Foods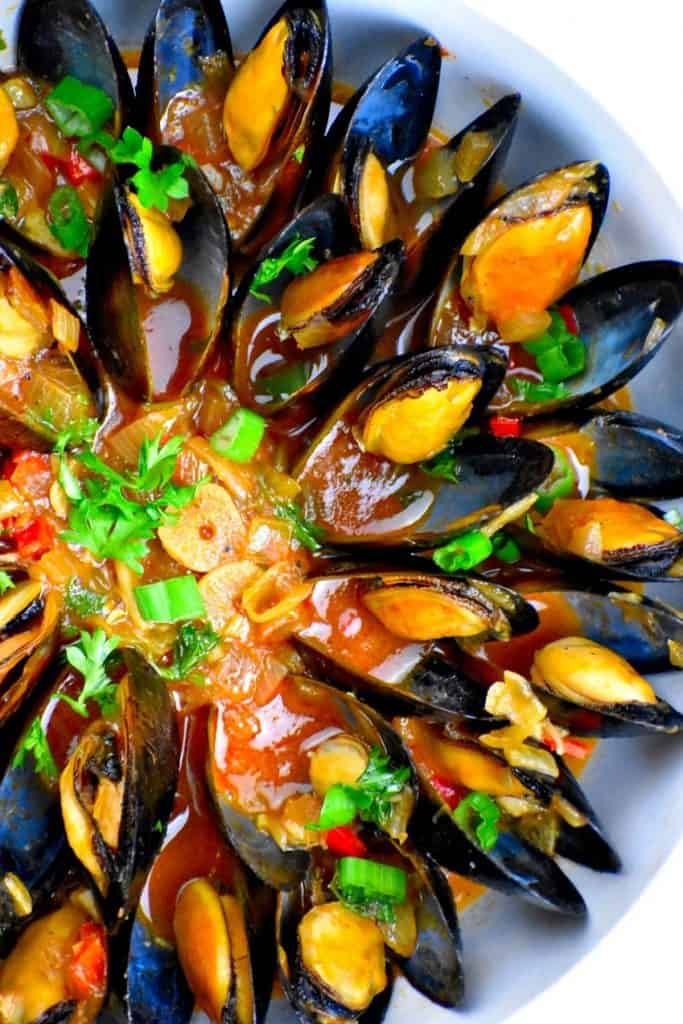 Portuguese Mussels: Make some marvelous appetizers like these Portuguese mussels! They are absolutely delicious and a bit fancy despite how easy they are to make!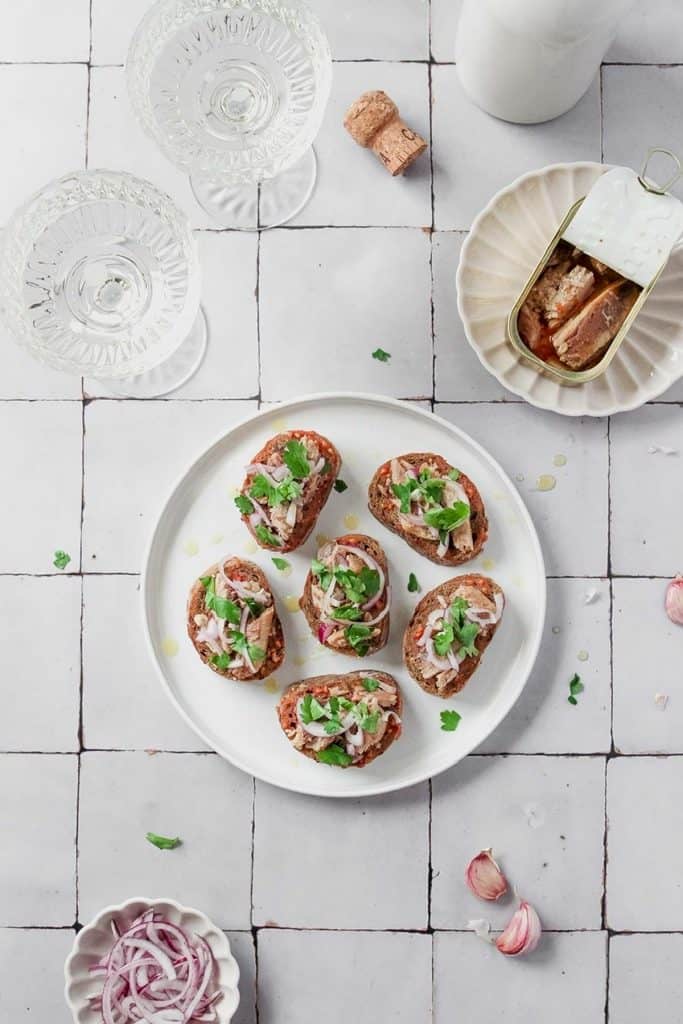 Sardine Tomato Bruschetta: Just follow some simple tips to make sardine tomato bruschetta! For example, use high-quality sardines because it makes a huge difference! Also, rub the baguette with the garlic and tomato right out of the oven.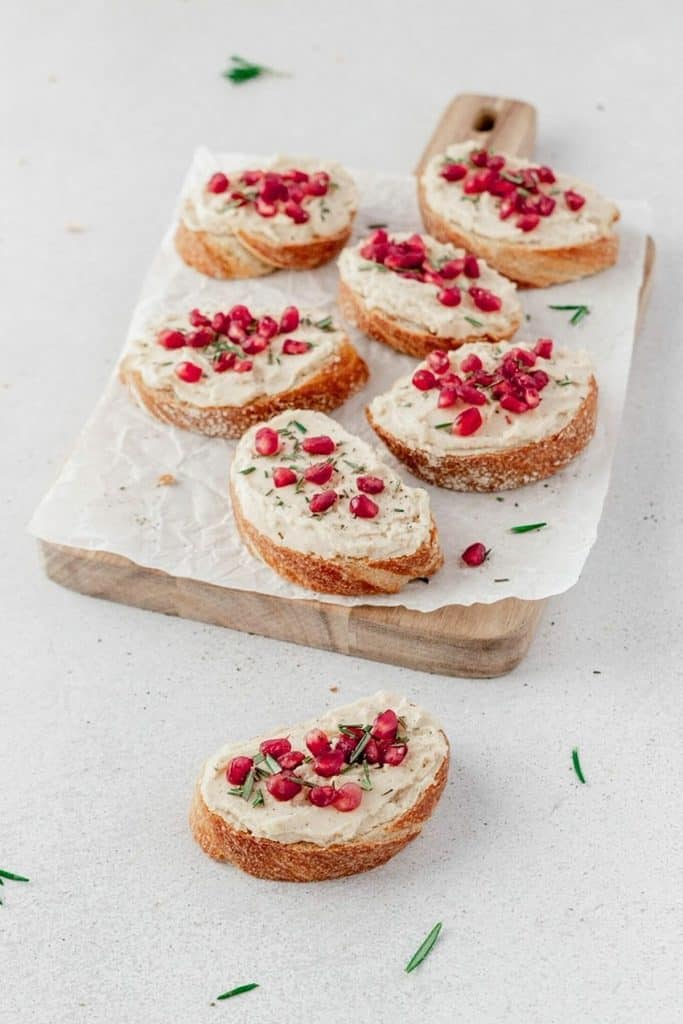 Pomegranate Crostini: You can make the spread for these pomegranate crostinis ahead of time and store it in an air-tight container. Everyone will love munching on these while waiting for midnight to come!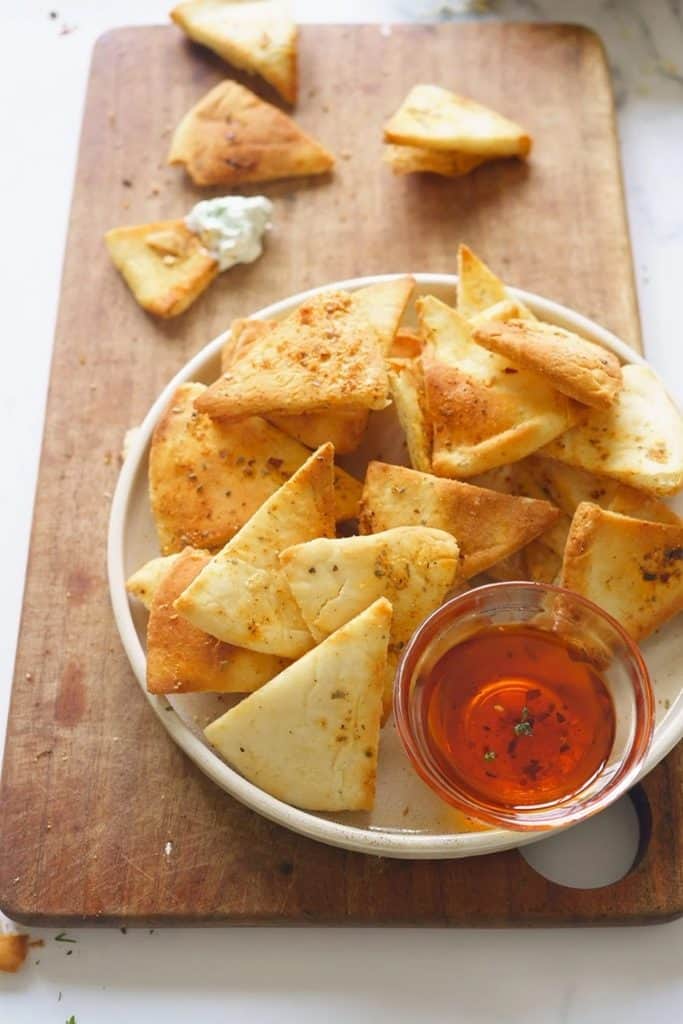 Air Fryer Pita Chips: New Year's eve food ideas like Air fryer pita pocket chips are perfect for a party platter. They are cooked until crispy and golden brown making them perfect for all kinds of dips and salsas.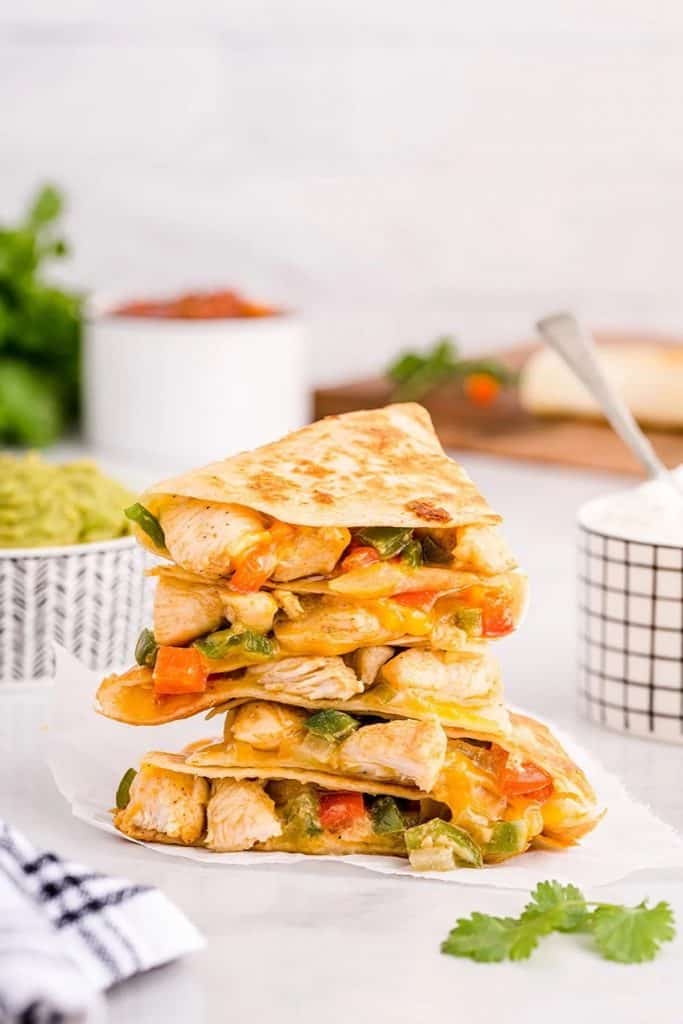 Chicken Fajita Quesadillas: Chicken fajita quesadillas can be a satisfying appetizer or even a main course at a buffet-style NYE party. With a crispy tortilla shell, tender bell peppers and chicken, and all the cheese you want.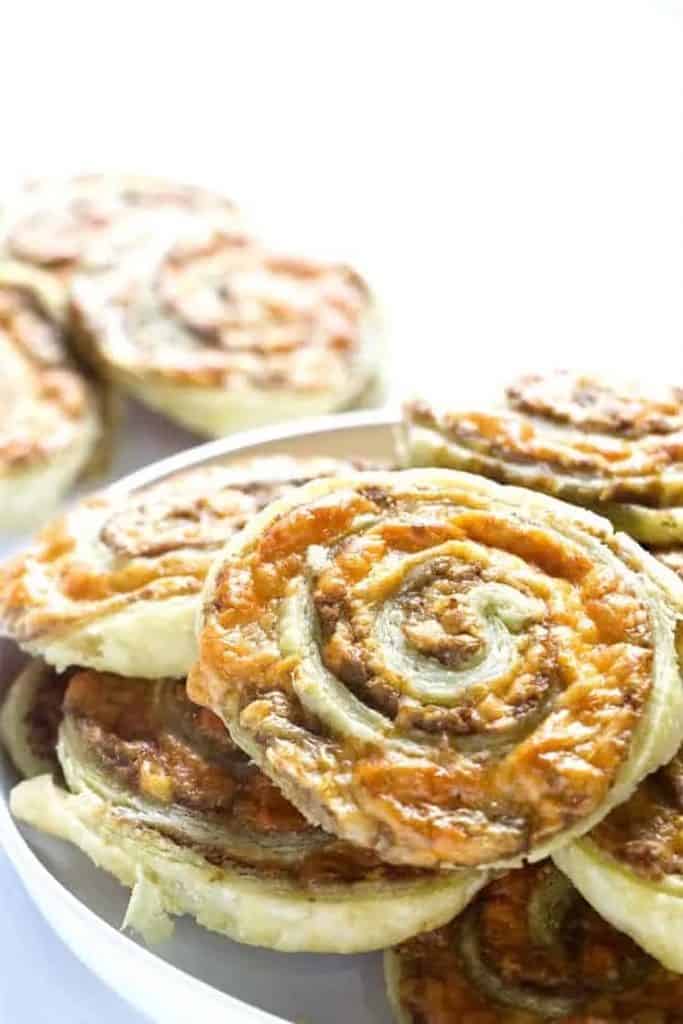 Olive & Cheese Pinwheels: You will be surprised by how delicious olives and cheese are when you combine them in this pinwheel recipe. Pinwheels are perfect for any kind of get-together because you can serve them on a plate or on a stick!
Buffet Style For A Party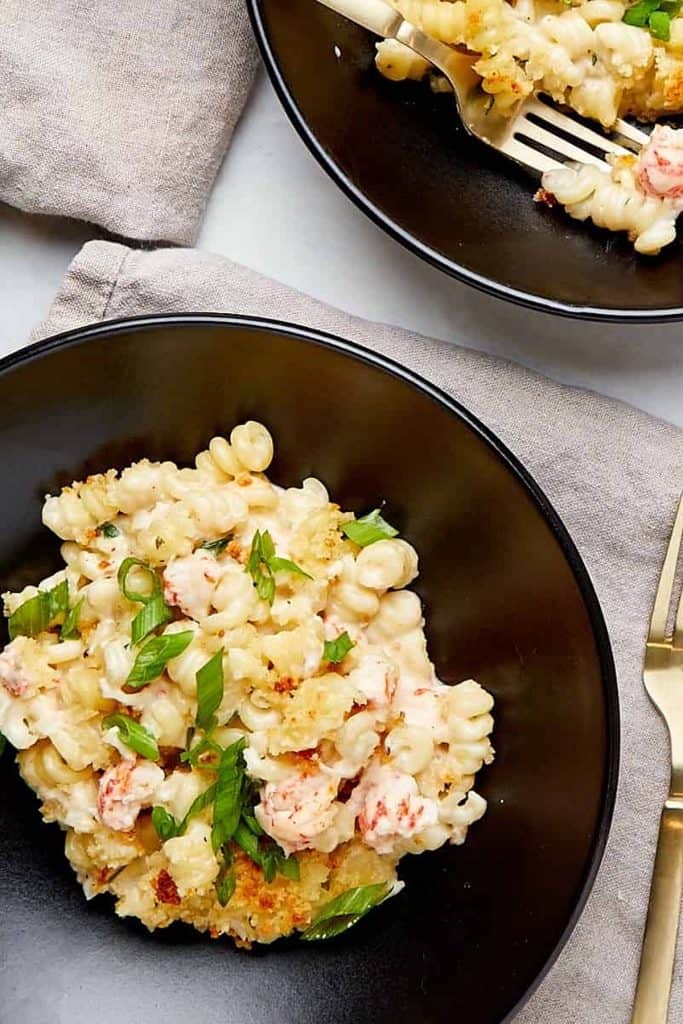 Lobster Mac & Cheese: If you are having a buffet-style party, this lobster mac & cheese is perfect for a group of people. You can bake this amazing dish and set it out with plates and a big spoon.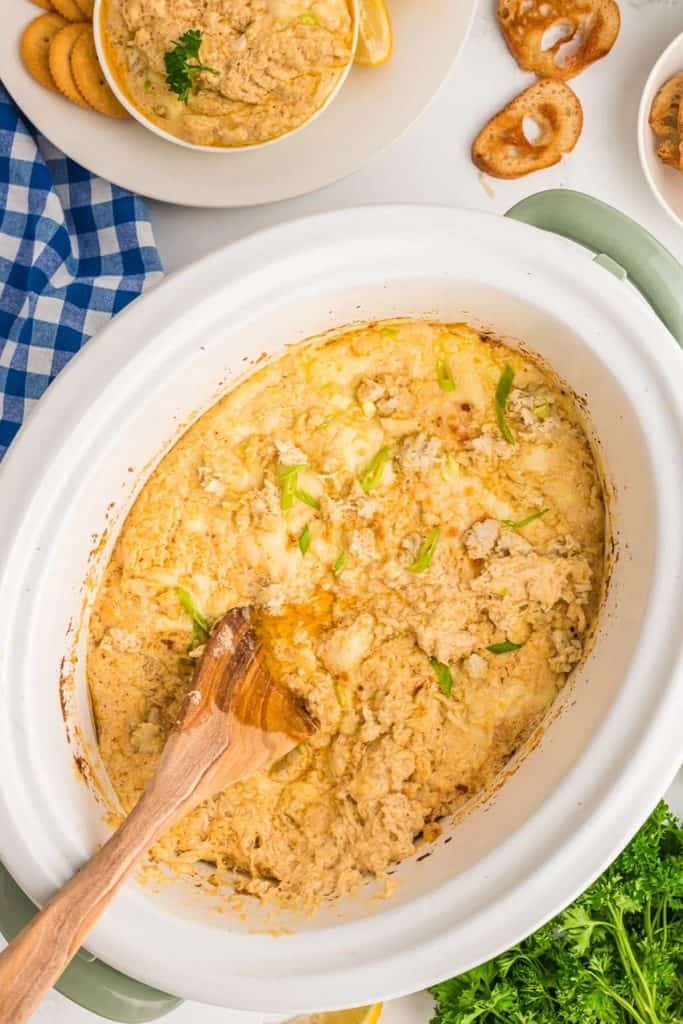 Crab Dip: Crab dip is absolutely scrumptious with cream cheese and other ingredients perfect for dipping. You can serve it with the air fryer pita chips from earlier in the list.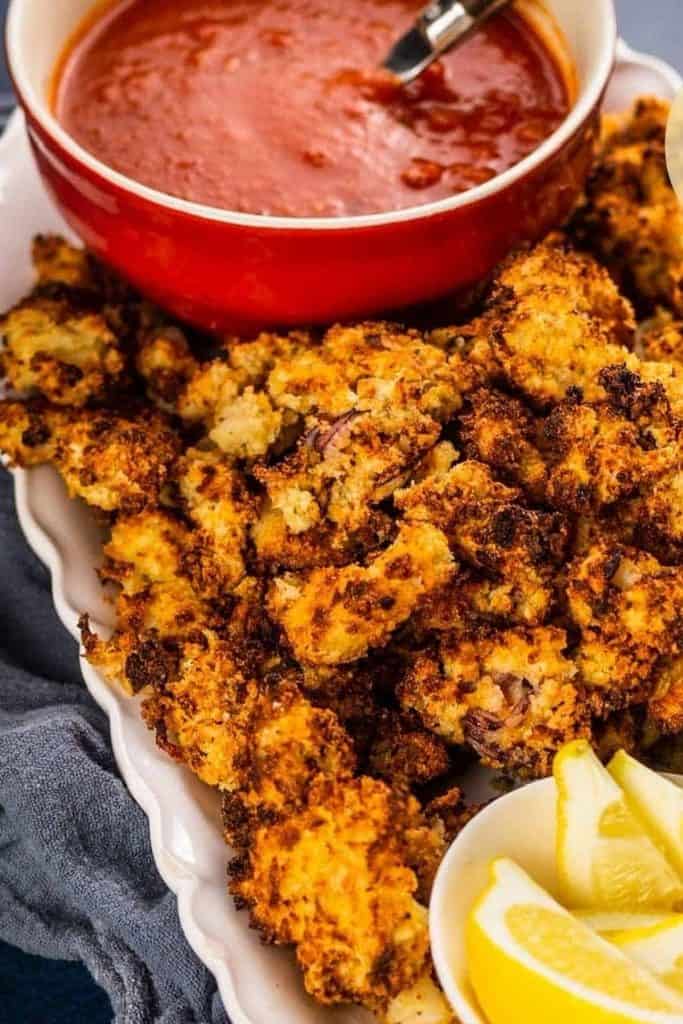 Air Fryer Calamari: New Year's eve food ideas like air fryer calamari are sure to be a hit with your guests. This classic party food has a crispy, crunchy coating with tender squid inside and is seasoned to perfection.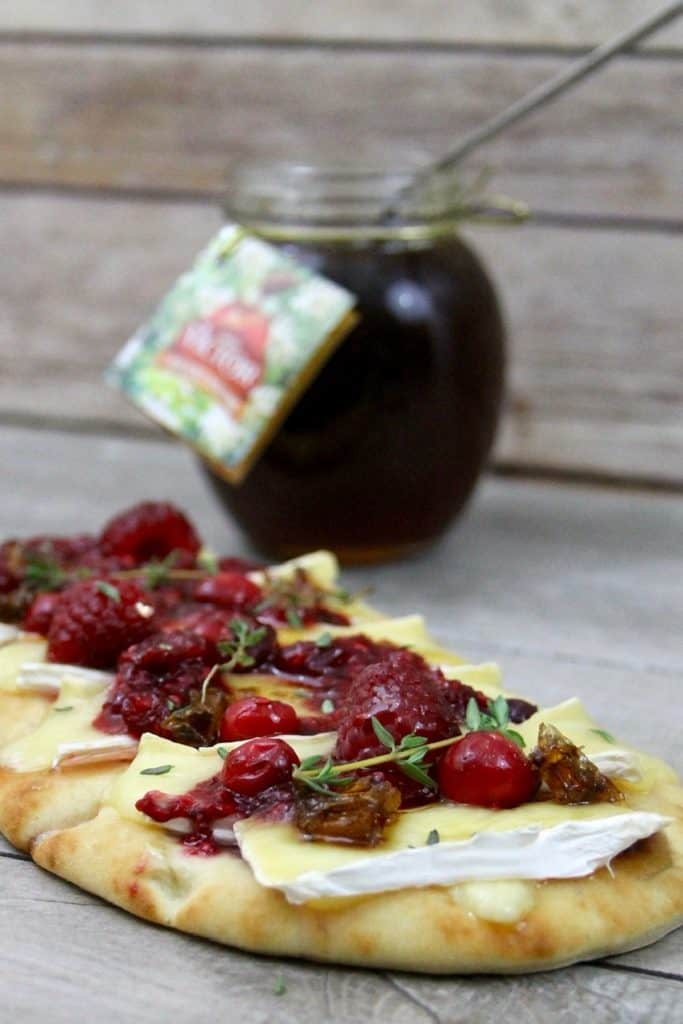 Raspberry Brie Flatbread: Looking for flavorful appetizers to impress your friends and loved ones? Try this raspberry brie flatbread-style pizza with honey and other amazing ingredients.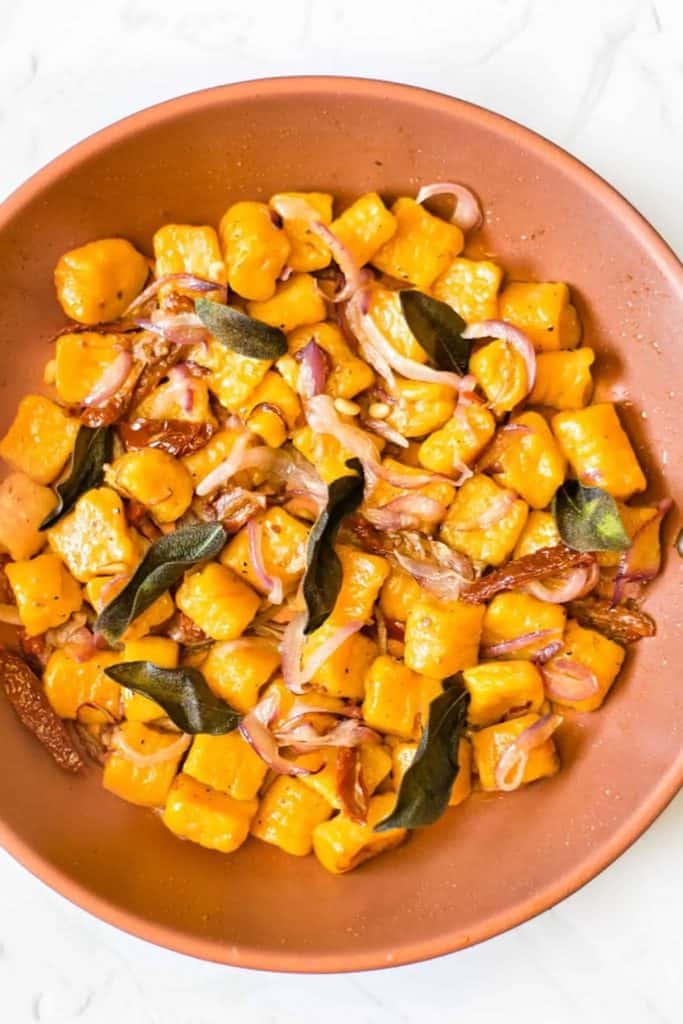 Sweet Potato Gnocchi: The best part about this sweet potato gnocchi is how easy it is to make, even for beginners. It's simply a matter of mixing the ingredients together and kneading the dough until smooth and pliable.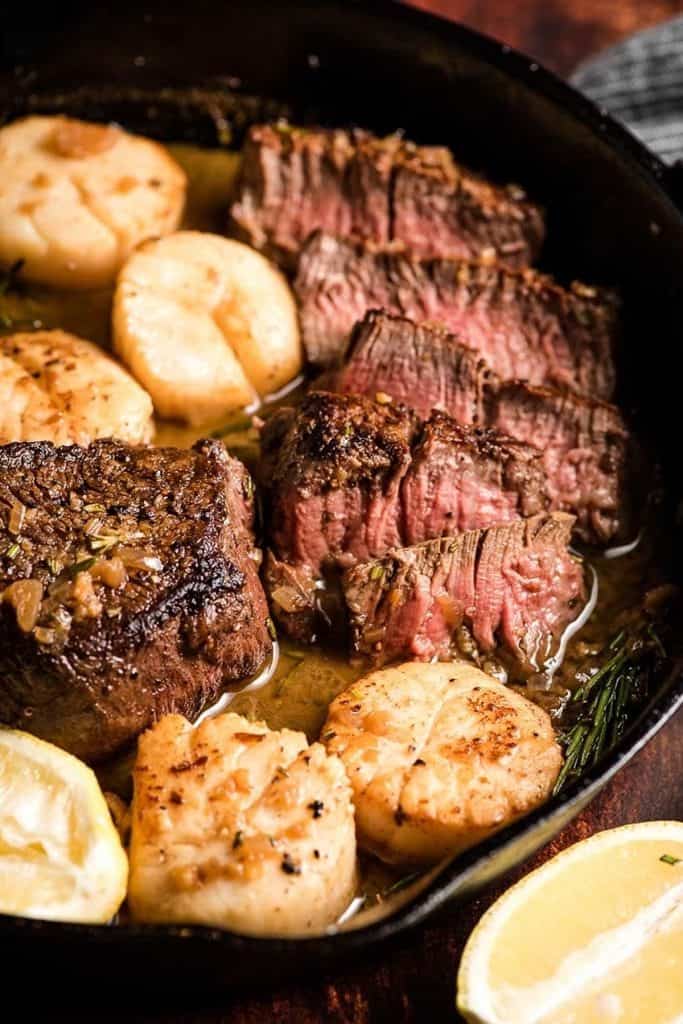 Steak & Scallops: Serve up some surf and turf for a fancy yet simple meal your guests can indulge in. Count down the clock with some steak, scallops, and a glass of champagne!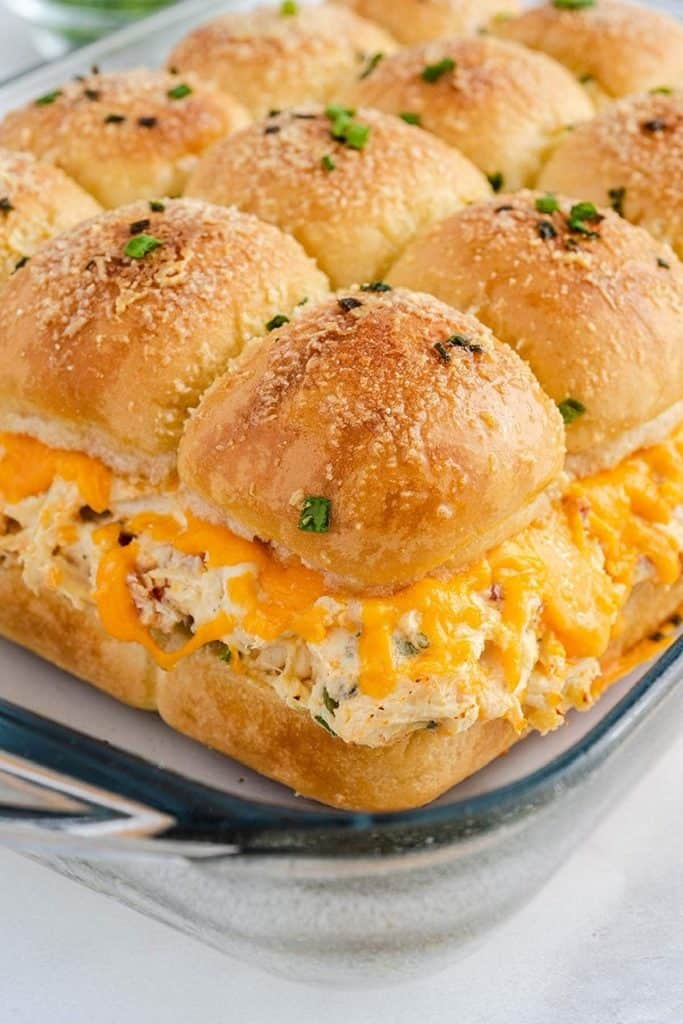 Crack Chicken Sliders: New Year's eve food ideas like sliders are great because people can eat them with their hands. The crack chicken filling is beyond fantastic with creamy savory flavors. Use Hawaiian rolls for an extra level of deliciousness.
Desserts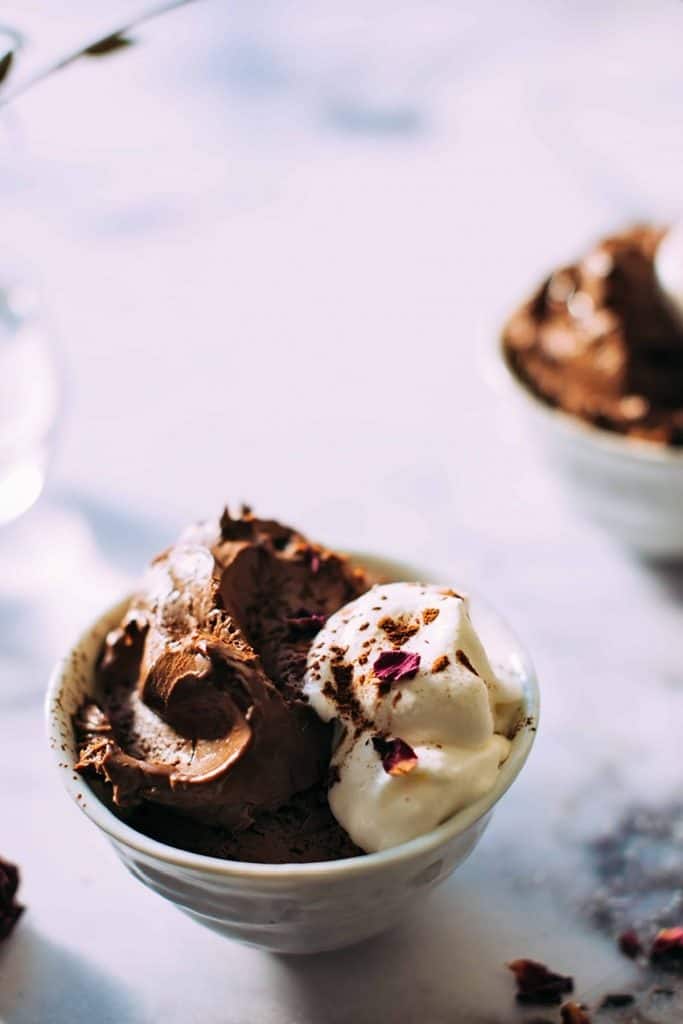 Chocolate Mousse: You need some chocolate dessert to serve with your appetizers! This recipe is affordable, easy, and perfect for chocolate lovers. You can even garnish it with some whipped cream and raspberries.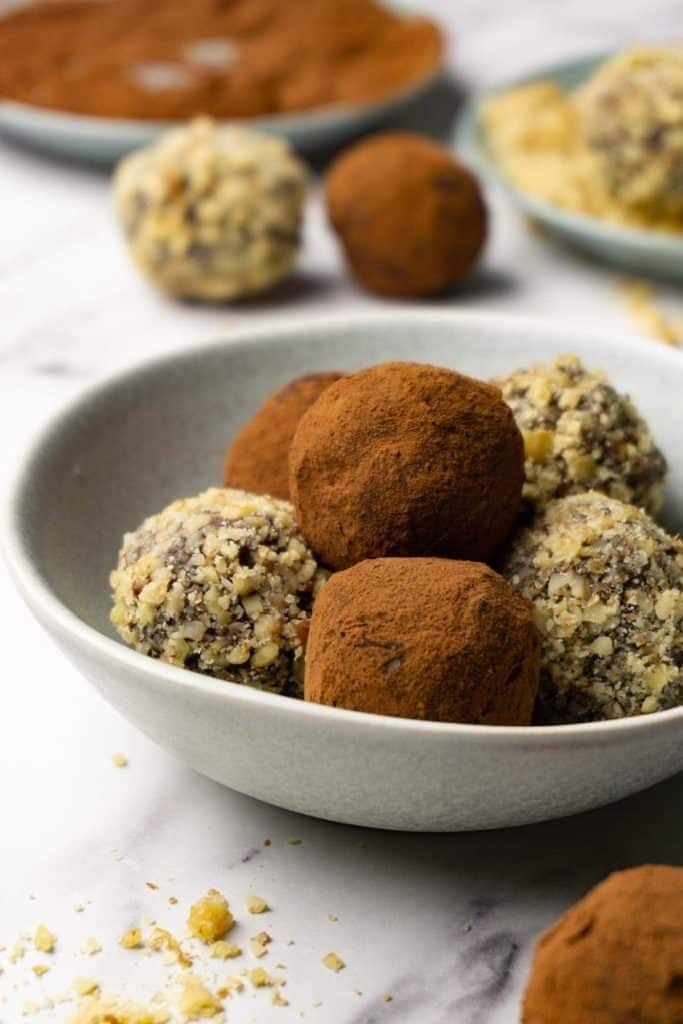 Chocolate Truffles: These chocolate truffles are decadent, rich, and homemade with a smooth texture. Your guests will be delighted when you present these at the dessert table.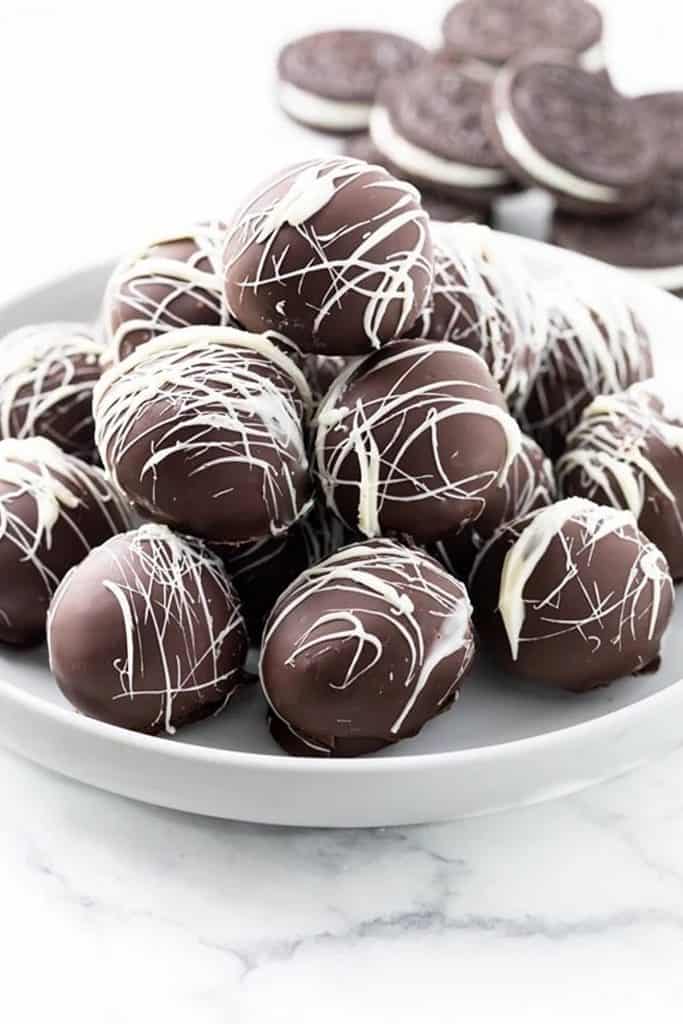 Oreo Truffles: New Year's eve food ideas have to include some mouthwatering chocolate treats. That's why you should consider making these Oreo truffles. They have all your favorite flavors, and they melt in your mouth.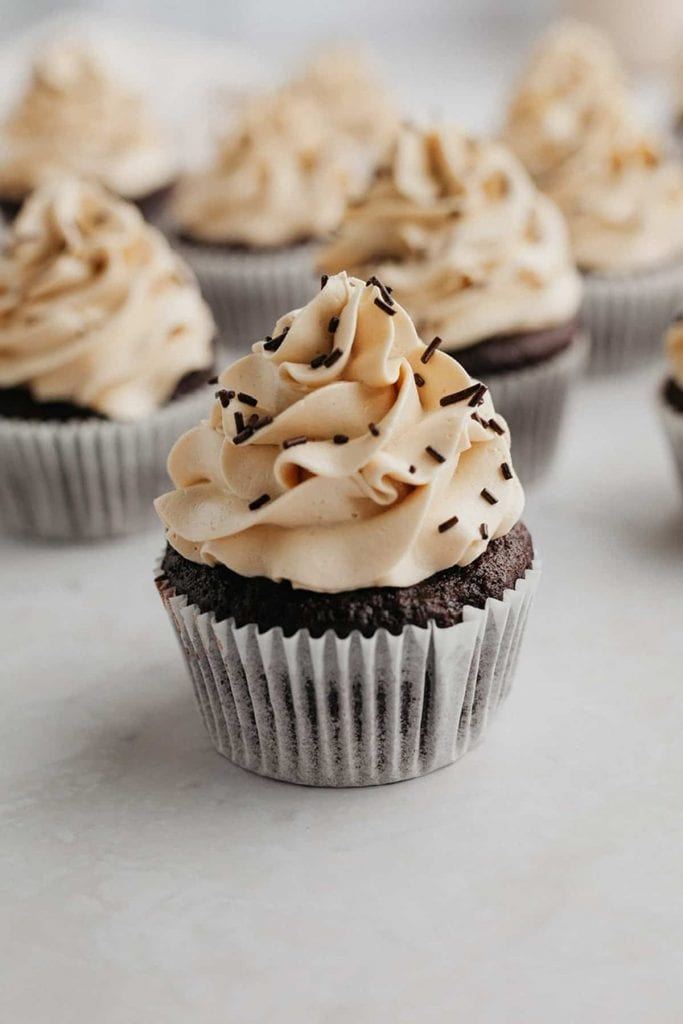 Mocha Espresso Cupcakes: I just adore a coffee-flavored dessert, and I'm sure your party guests will too. These mocha espresso cupcakes are soft, fluffy, and topped with a dreamy espresso buttercream.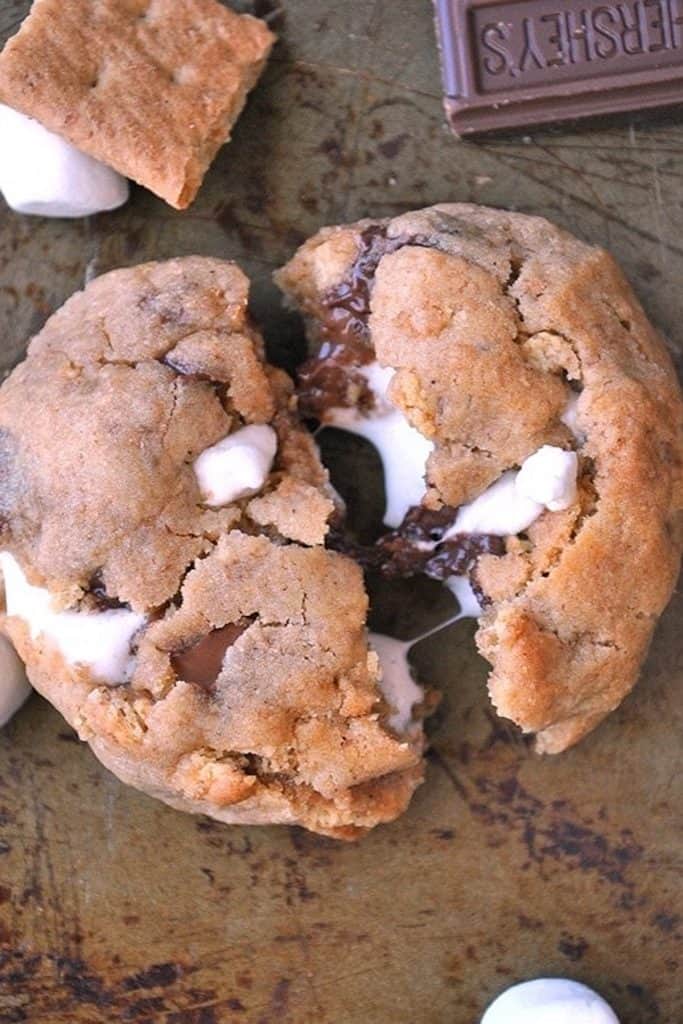 S'mores Cookies: S'mores cookies make the best appetizers because they are so easy to make and serve to a crowd. The combination of chewy cookie, melty marshmallows, and decadent chocolate will have you drooling.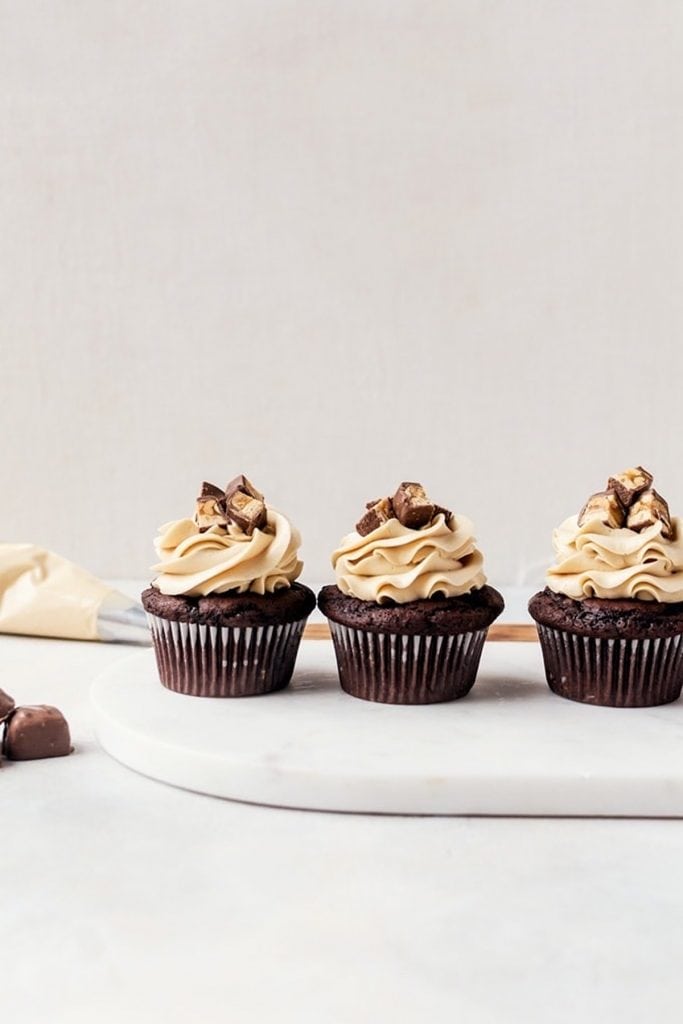 Snickers Cupcakes: How fun and pretty are these snickers cupcakes? This classic candy bar-themed dessert recipe will knock their socks off at any get-together. Top with little bite-sized snickers!
Cocktails & Drinks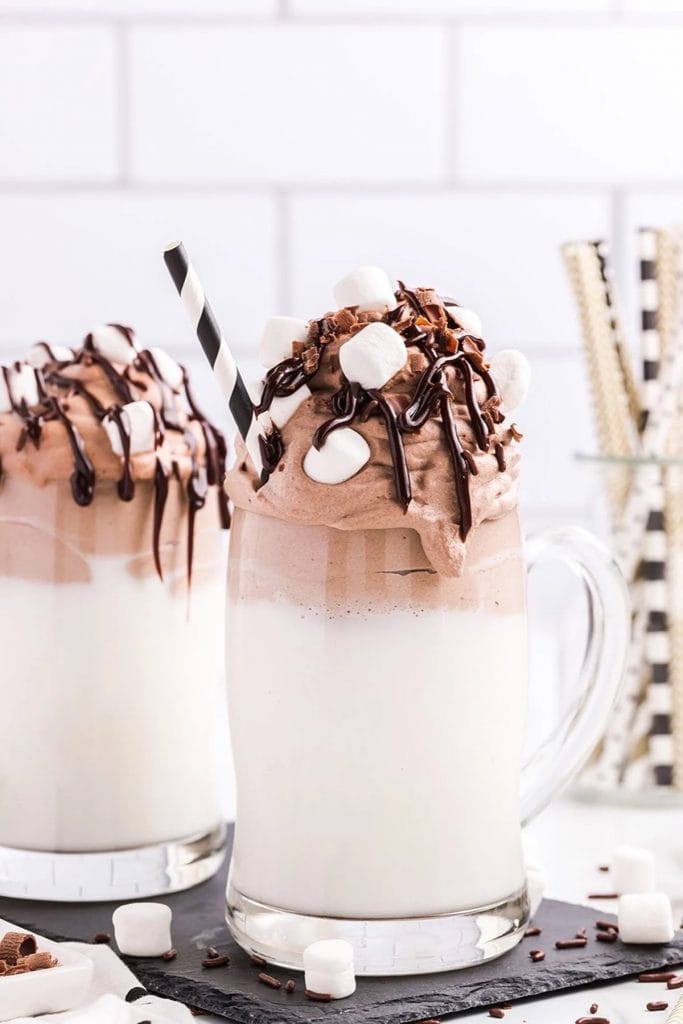 Whipped Hot Chocolate: What would your New Year's eve food ideas be without some drink options? I mean your guests will certainly be thirsty after indulging in all those goodies. Make some whipped hot chocolate, and they will surely thank you.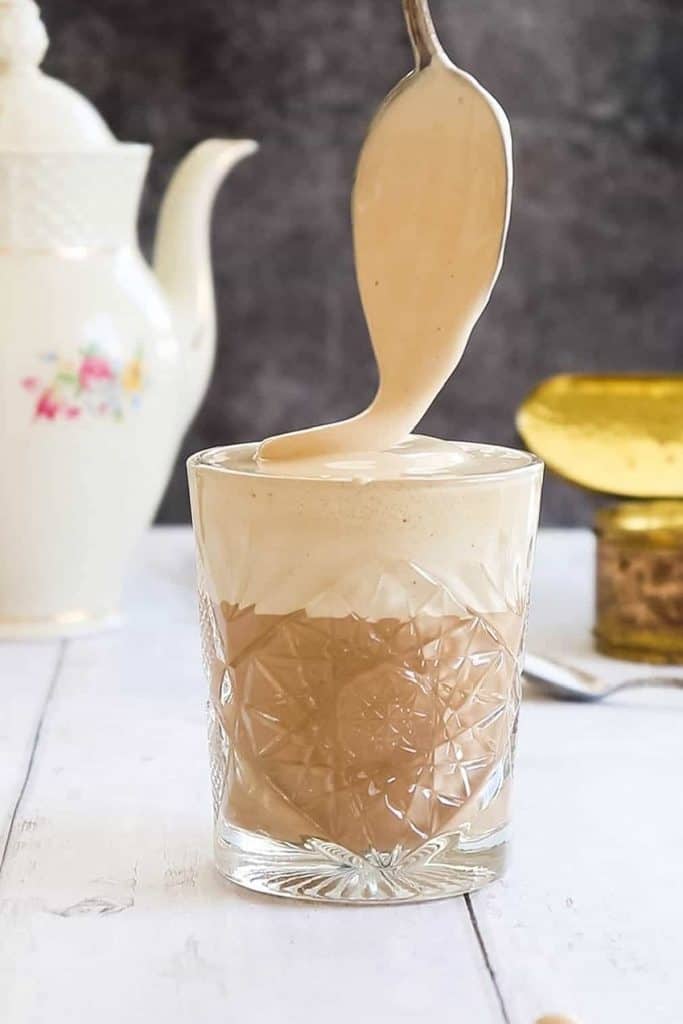 Whipped Hot Coffee: Need a little pick me up while counting down the clock? This recipe for whipped hot coffee will delight your senses and perk you right up. Don't miss that ball drop at midnight!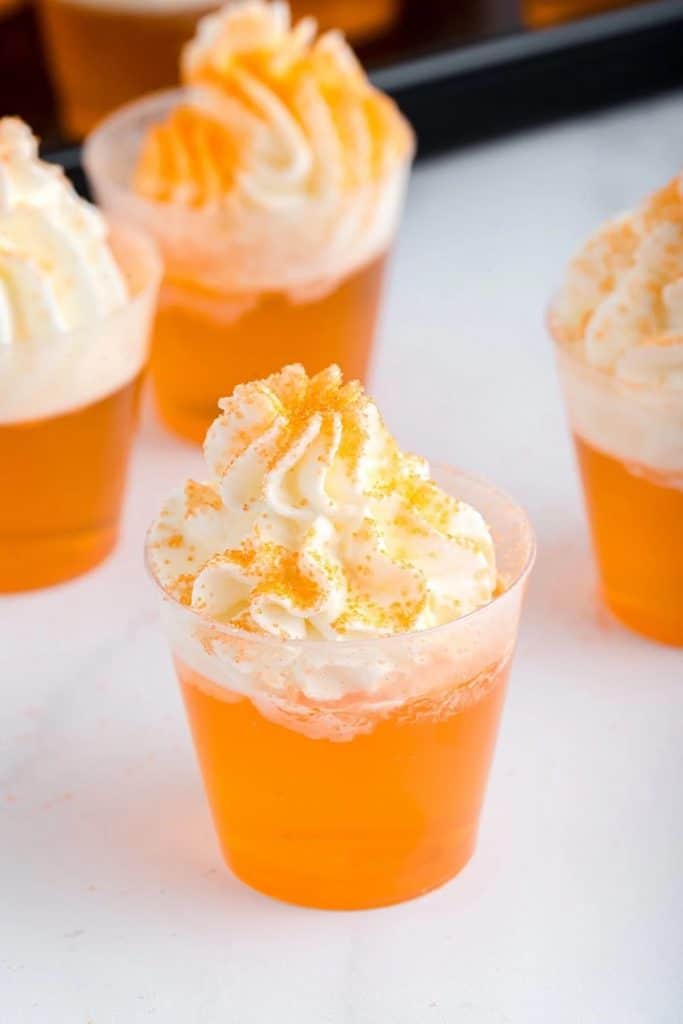 Creamsicle Jello Shots: Creamsicle Jell-O shots are like cocktails in the form of an appetizer! They are so pretty in color too, especially when you top them with whipped cream and some sprinkles. These are for adults only, so consume responsibly.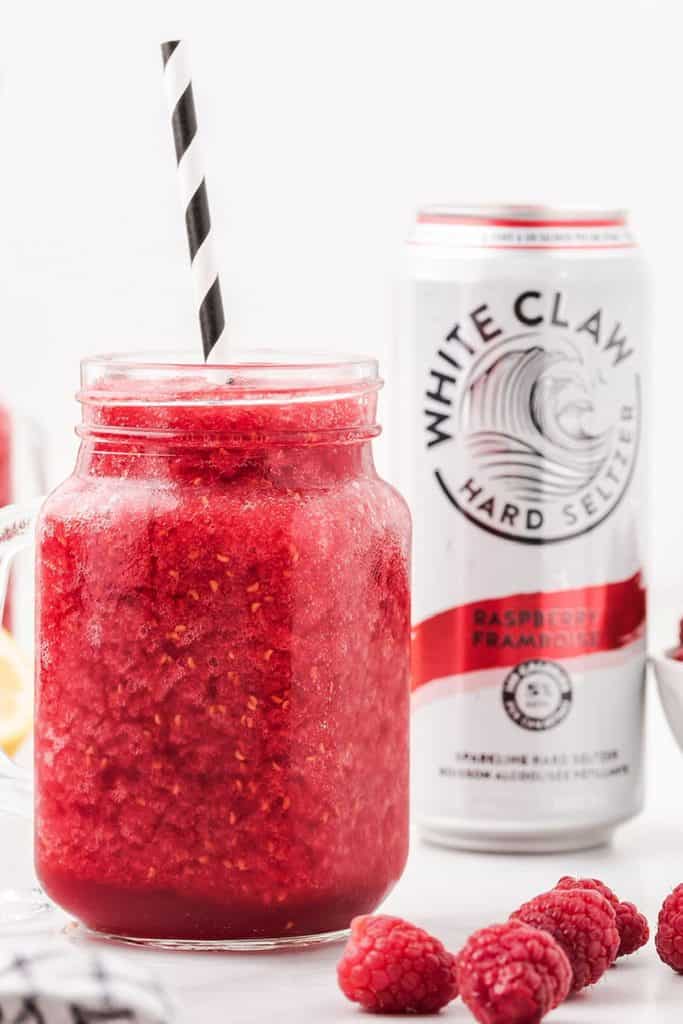 White Claw Slushie: All the adults at the party will adore these white claw slushies! They are quick and simple to whip up and serve to a crowd.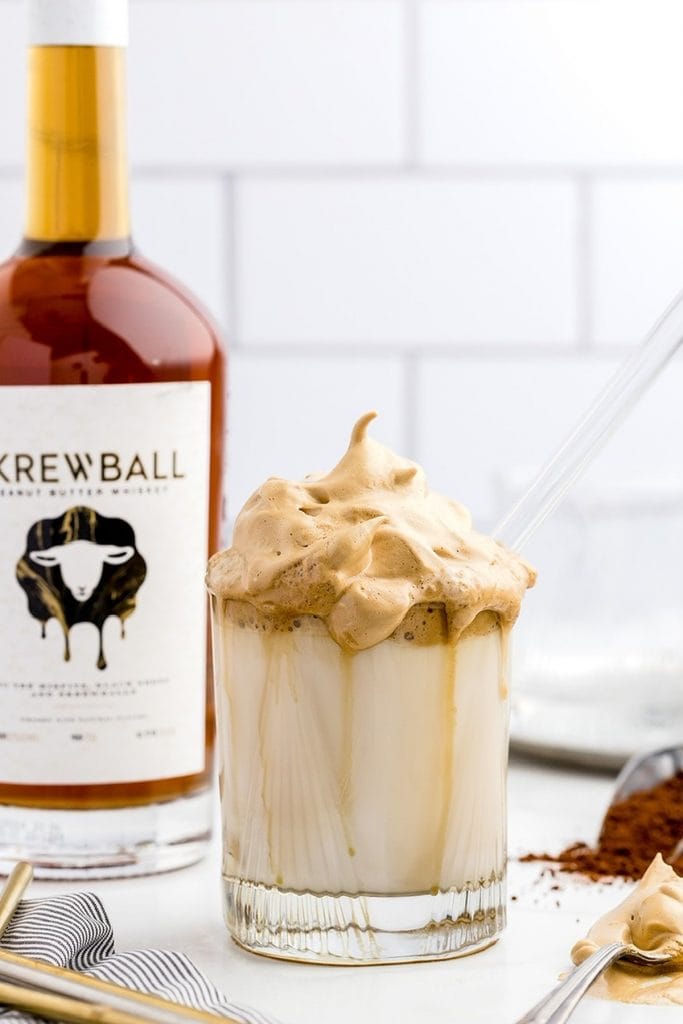 Drunken Dalgona: A Drunken Dalgona is similar to whipped coffee with sugar and water that are quickly whipped together into fluffy caffeinated clouds! However, this drink has a boozy addition of peanut butter whiskey and vanilla vodka.
Our Top Picks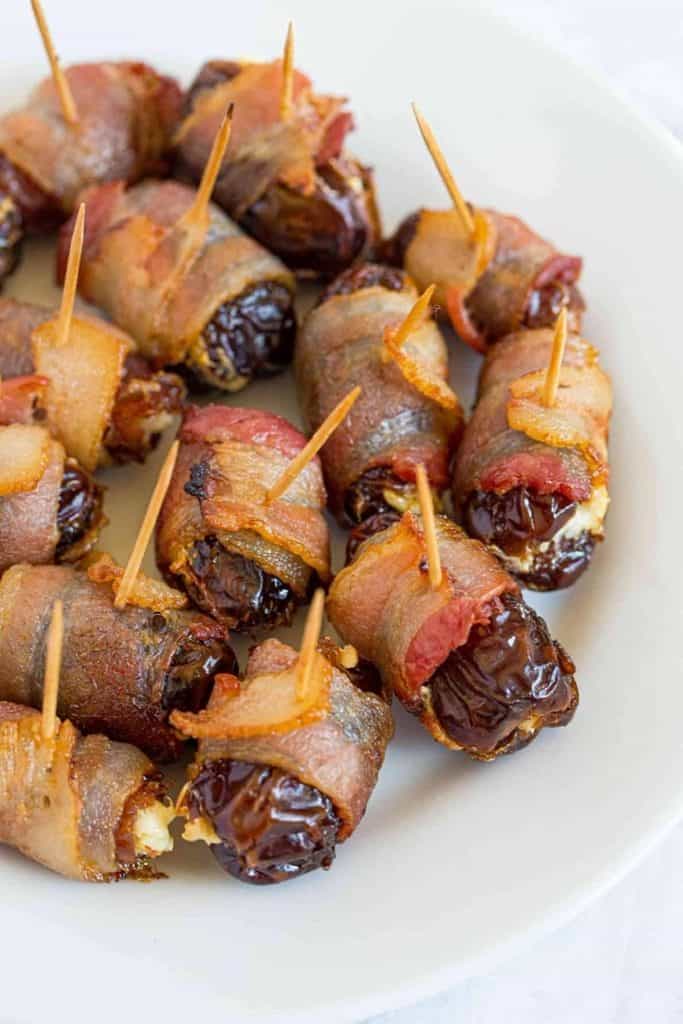 Bacon-Wrapped Dates: New Year's eve food ideas like bacon-wrapped dates are scrumptious, easy, and convenient. The flavors of salty bacon, sweet dried dates, and creamy cream cheese are a match made in heaven.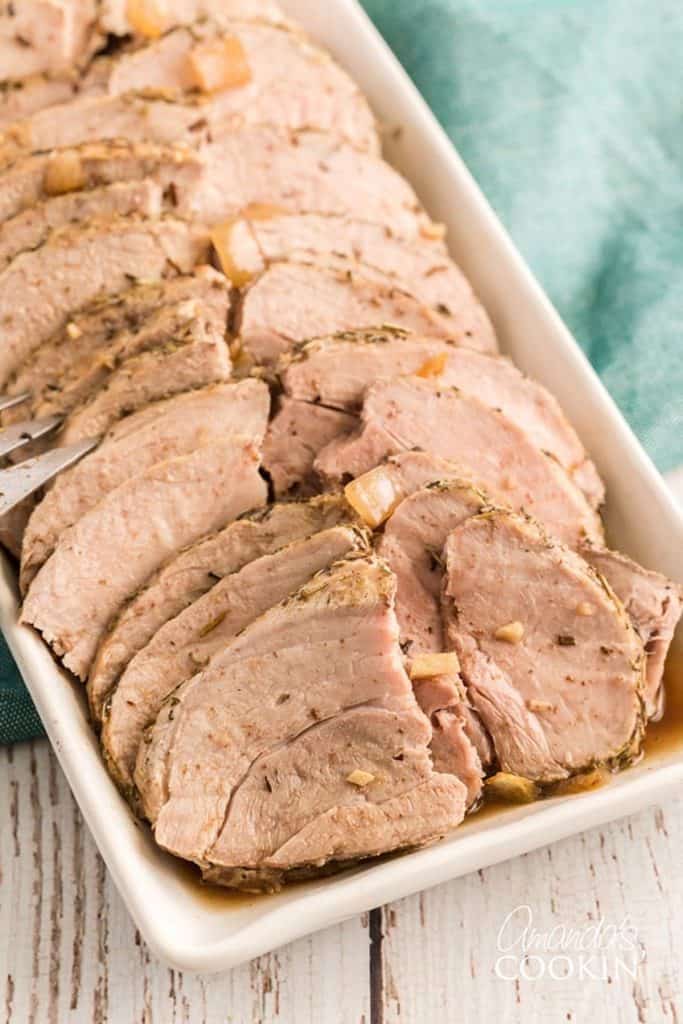 Best Sirloin Pork Roast: Serve this recipe as an appetizer or a main meal at a buffet-style party on NYE. With key ingredients like boneless center-cut pork loin, minced garlic, rosemary, dried thyme leaves, onions, and carrots.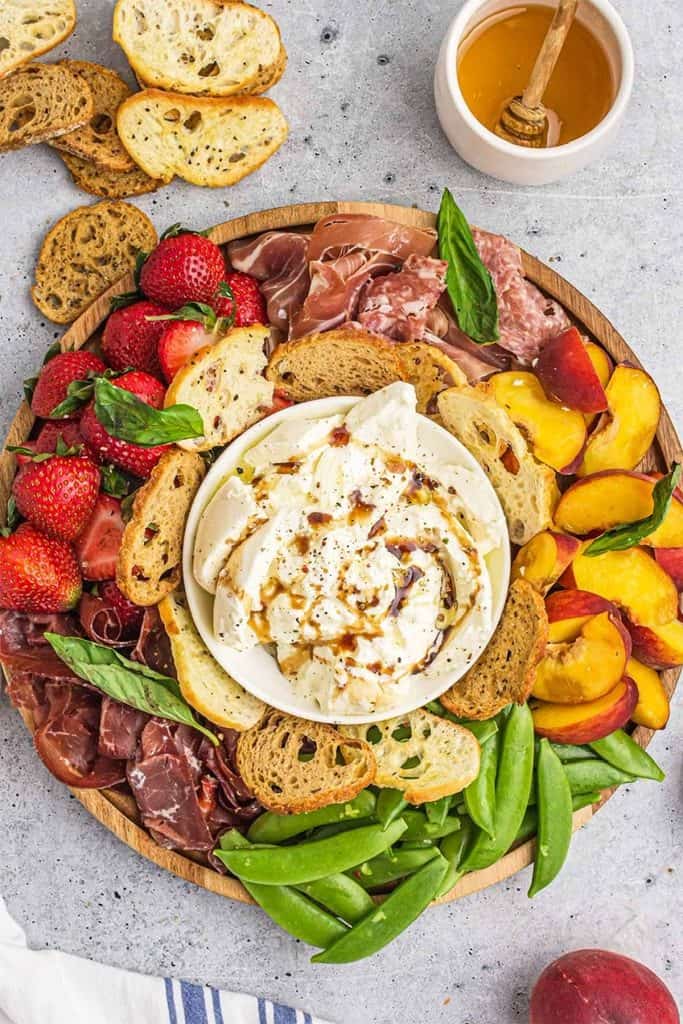 Burrata Board: This fancy charcuterie board is satisfying and fresh. Use seasonal fruits and veggies alongside various meats and your favorite cheeses. The author recommends drizzling the burrata with olive oil and balsamic glaze.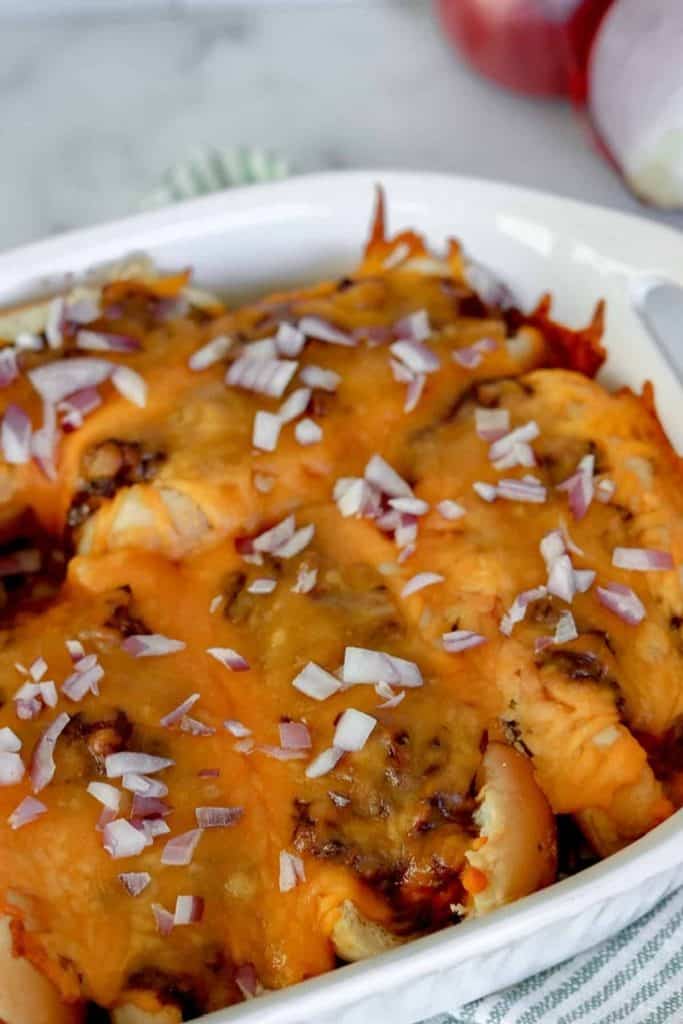 Chili Cheese Dog Bake: New Year's eve food ideas need to be convenient and mouth-watering like this chili cheese dog bake. Hot chili and gooey cheese is topped with sour cream and whatever else you like.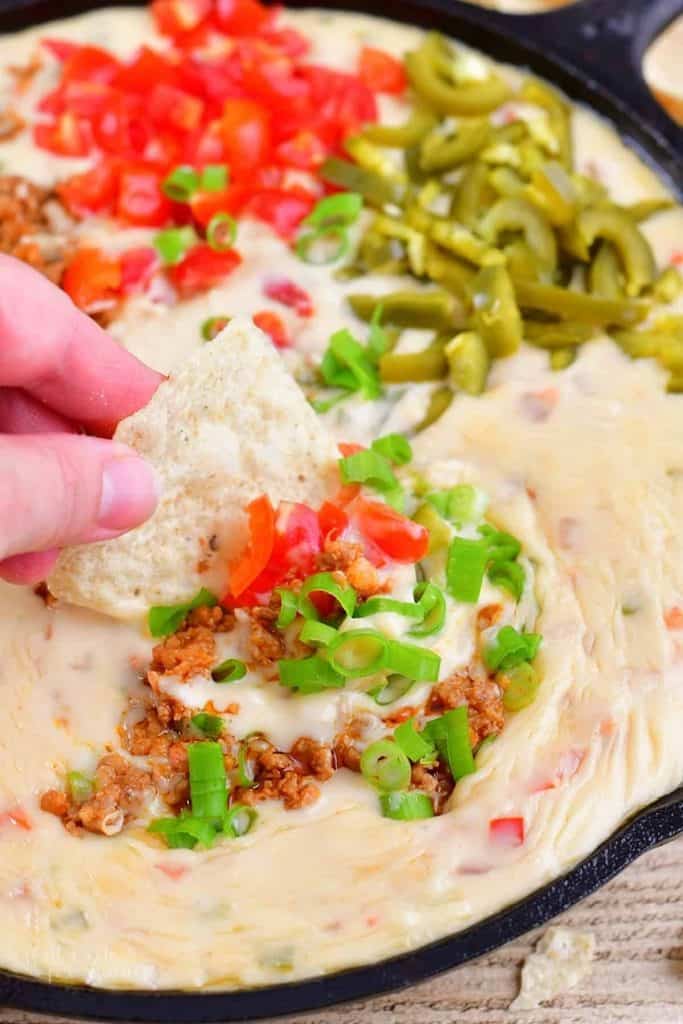 Ultimate Queso Dip: NYE appetizers like this recipe for ultimate Queso dip are always a crowd pleaser. Serve it up with tortilla chips, potato chips, or even fresh vegetables. However you serve it, this dip will be gobbled up fast.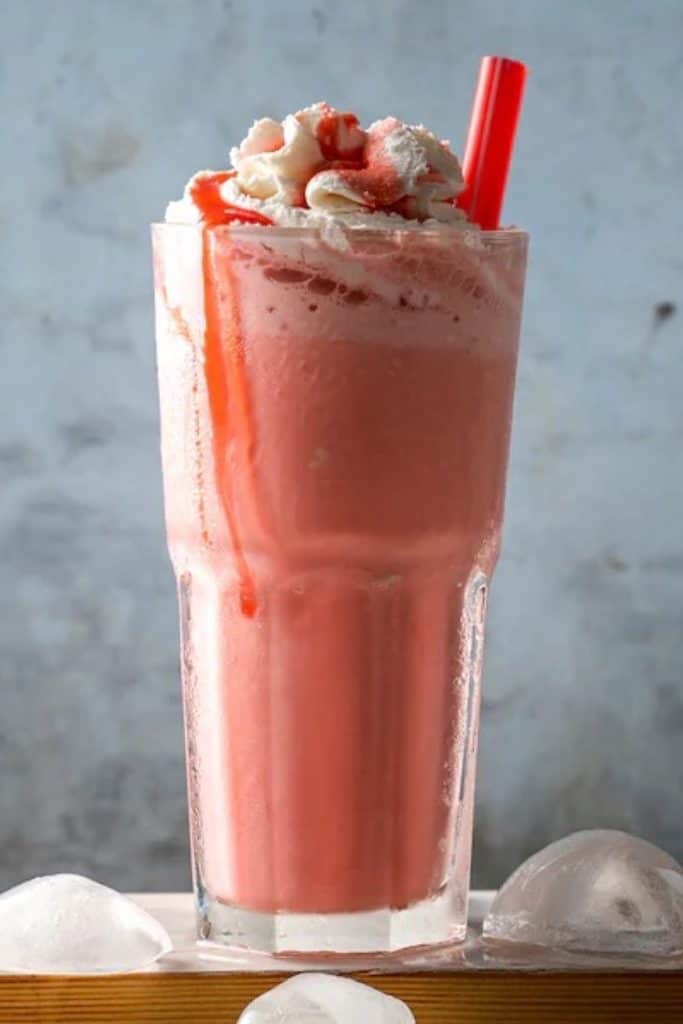 Spiked Cherry Milkshake: Our top pick for adult beverages is this spiked cherry milkshake! It's a dessert and cocktail in one, plus it's so easy to leave out the booze for kids and designated drivers.
Pin now to save for later!