6 Easy Renovation Projects You Can Finish in an Afternoon
This post and its photos may contain affiliate links. As an Amazon associate, I earn from qualifying purchases.
If your home is starting to look dated or just needs a refresh, it may be tempting to start a big renovation project.
But whether you're short on time or on money, sometimes a complete overhaul isn't in the cards.
Luckily, you don't need tons of time and money to tackle every renovation project. These six easy renovation projects can be completed in just one afternoon!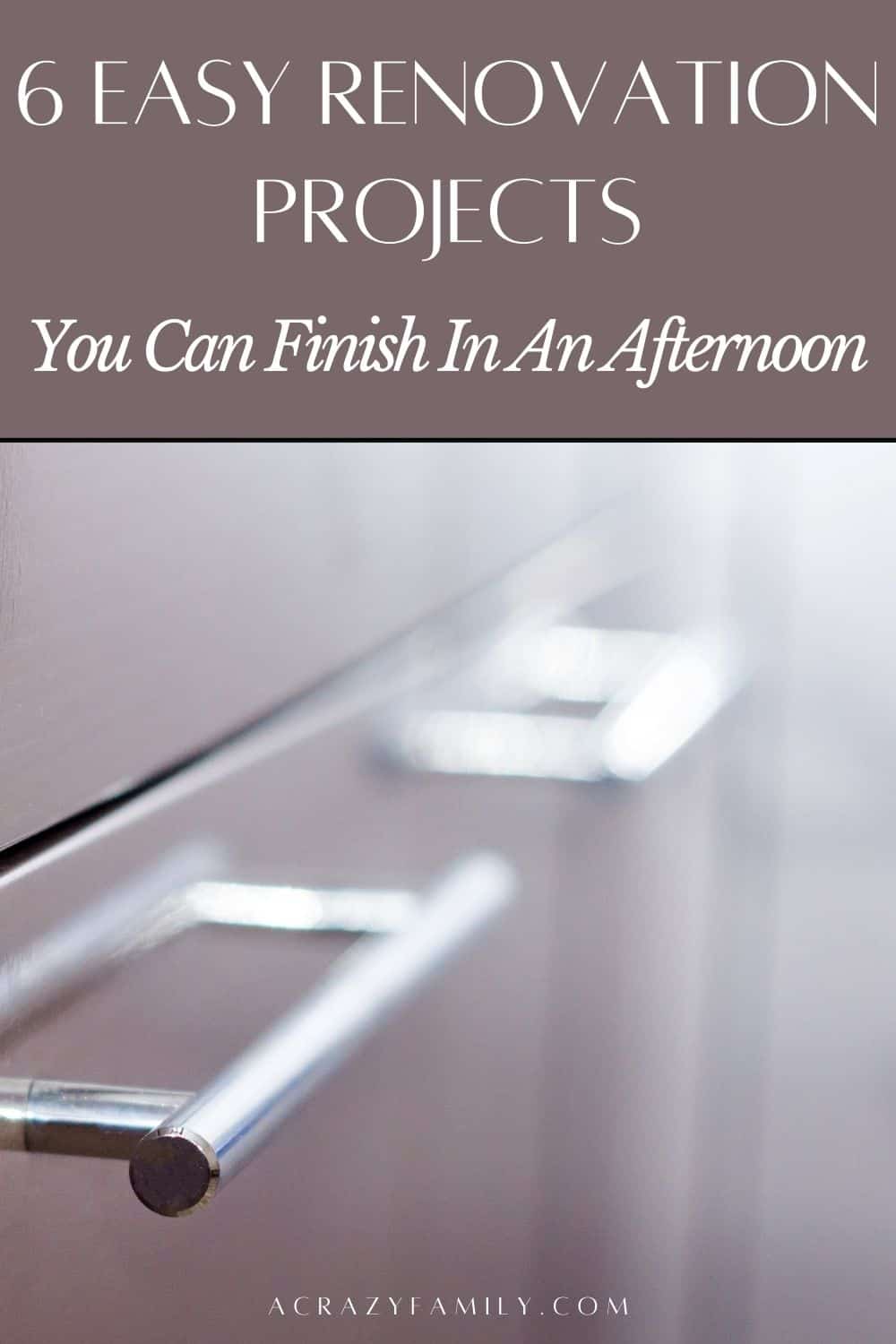 Add an Accent Wall
While painting an entire room may take a little longer than one afternoon, dressing up one wall in a room is a quick project that doesn't take a ton of time.
And there are a variety of ways you can create an accent wall in a room:
Paint one wall a bright or vibrant color to draw the eye to that area of the room. Simply tape off the wall along the sides, ceiling, and floor and start painting!
Hang removeable wallpaper on one wall. Adding wall paper to one wall is another simple way to create an accent wall in an afternoon. Removeable wallpaper is easy to hang and remove, which means you can quickly change up the look of the wall whenever you're ready for something new.
Add some shiplap or beadboard. Give the room a farmhouse look by creating an accent wall with beadboard or shiplap. And since you're only decorating one wall, you can have the project finished in no time!
Hang New Light Fixtures
The light fixtures throughout your house do so much more than provide light to the room. They also add visual interest to the ceiling.
And that means you can quickly and easily give any room in your home a new look just by installing a new light fixture in the space.
Adding ceiling fans to your living areas and bedrooms can add decoration and help reduce your heating and cooling bills.
Or hanging a new pendant light in your kitchen can brighten the space and make it look amazing at the same time.
Install New Hardware
The hardware on your drawers and cabinets may be small, but they make a big impact in any room.
And they're so simple to swap out, you can have a fresh new look in your room within a few hours! Installing new hardware in a room is simple to do.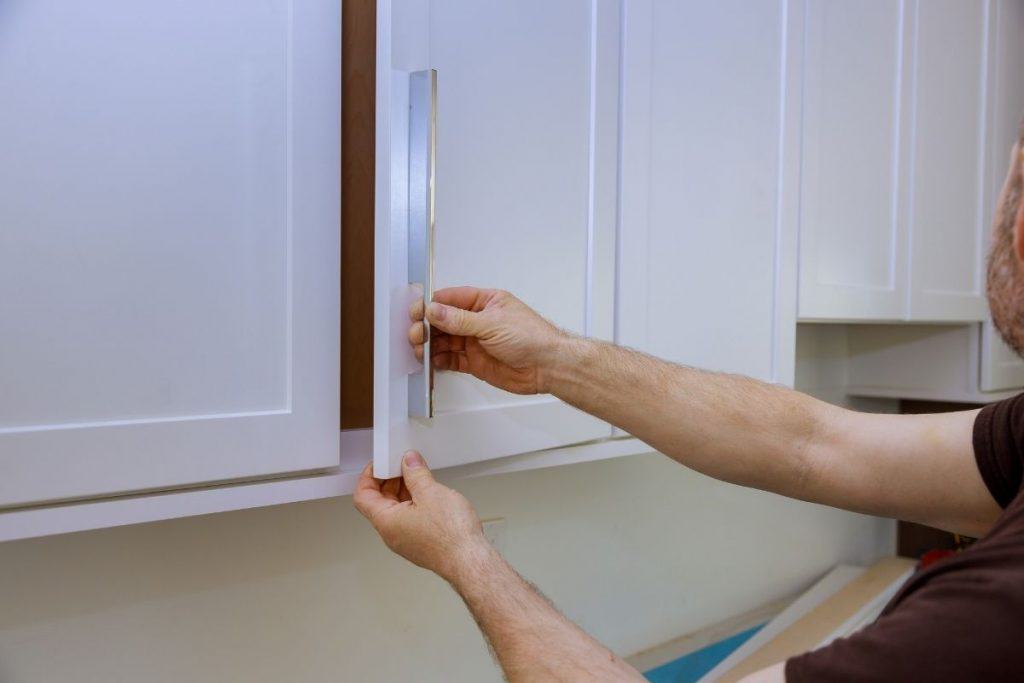 First, pick out the look of your new hardware. For a simple swap, make sure the new hardware matches the size of the existing hardware. Otherwise, you'll need to drill new holes or fill in old holes with wood filler, which may make your project take a little longer than planned.
You can install new hardware in the:
Kitchen. Change the hardware on your kitchen cabinets and drawers to transform the space.
Bathroom. Add new hardware to your bathroom's vanity to transform the room.
Bedroom. Give your bedroom furniture a new look by changing the hardware on your dresser or nightstand.
Make it Smarter
Installing a new smart gadget in your home is another simple renovation project that you'll be happy you finished.
In addition to making things easier throughout your house, smart home technology can also help save you money by making your home more efficient.
These smart home upgrades are easy enough to install in an afternoon:
Video doorbell. Add some home security to your house by installing a video doorbell on your porch.
Smart thermostat. Help you HVAC system run more efficiently with a smart thermostat.
Smart home hub. Make it simple to use all your smart devices by installing a smart home hub.
Electronic lock. Don't ever worry about forgetting your keys with a smart lock on your exterior doors.
Paint the Front Door
Welcome your guests to your home with style by giving your front door a facelift.
One of the easiest ways to transform the look of your home's exterior is to give your front door a new coat of paint.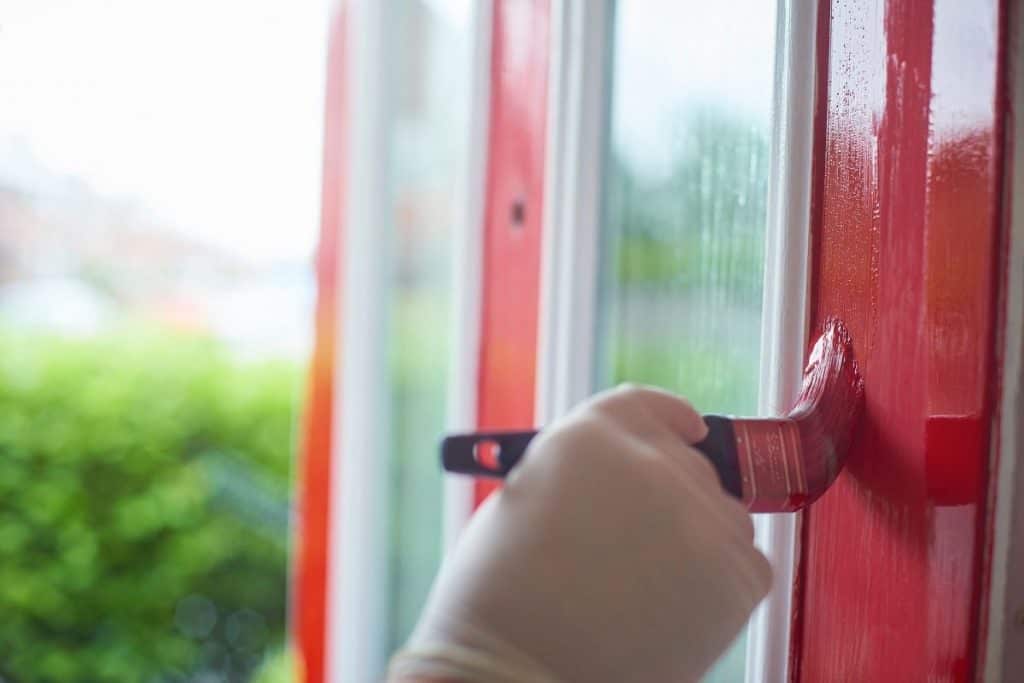 You can simply freshen up the current color on your front door or pick a new color to give the whole porch a new look.
To freshen up your front door, start by removing the hardware or taping around the locks and doorknobs.
Place tape around the window, as well, to prevent paint from damaging the glass. Begin painting with a brush around the edges of the window, hardware, and decorative elements around the door.
Finish by painting with a roller throughout the rest of the door. Continue adding coats of paint until you're satisfied with the finish.
Change the Faucets
The faucets in your kitchen and bathroom are the centerpiece of the space. That means giving those rooms a quick facelift is as easy as installing new faucets.
In the kitchen, you can easily swap out the kitchen sink faucet for a new version to easily freshen up the look of your cook space.
And in the bathroom, add a new faucet to your vanity sink, install a new faucet in the bathtub, or place a new showerhead in the shower to quickly update your bathroom without much time or effort.