15+ Best Detox Water Recipes for Weight Loss
By: Vickie | Updated: 9th July 2022
It's clear, odorless, and tasteless, but life cannot exist without it. Water keeps us alive. It keeps our cells hydrated and plump. It also flushes out toxins to naturally cleanse our insides.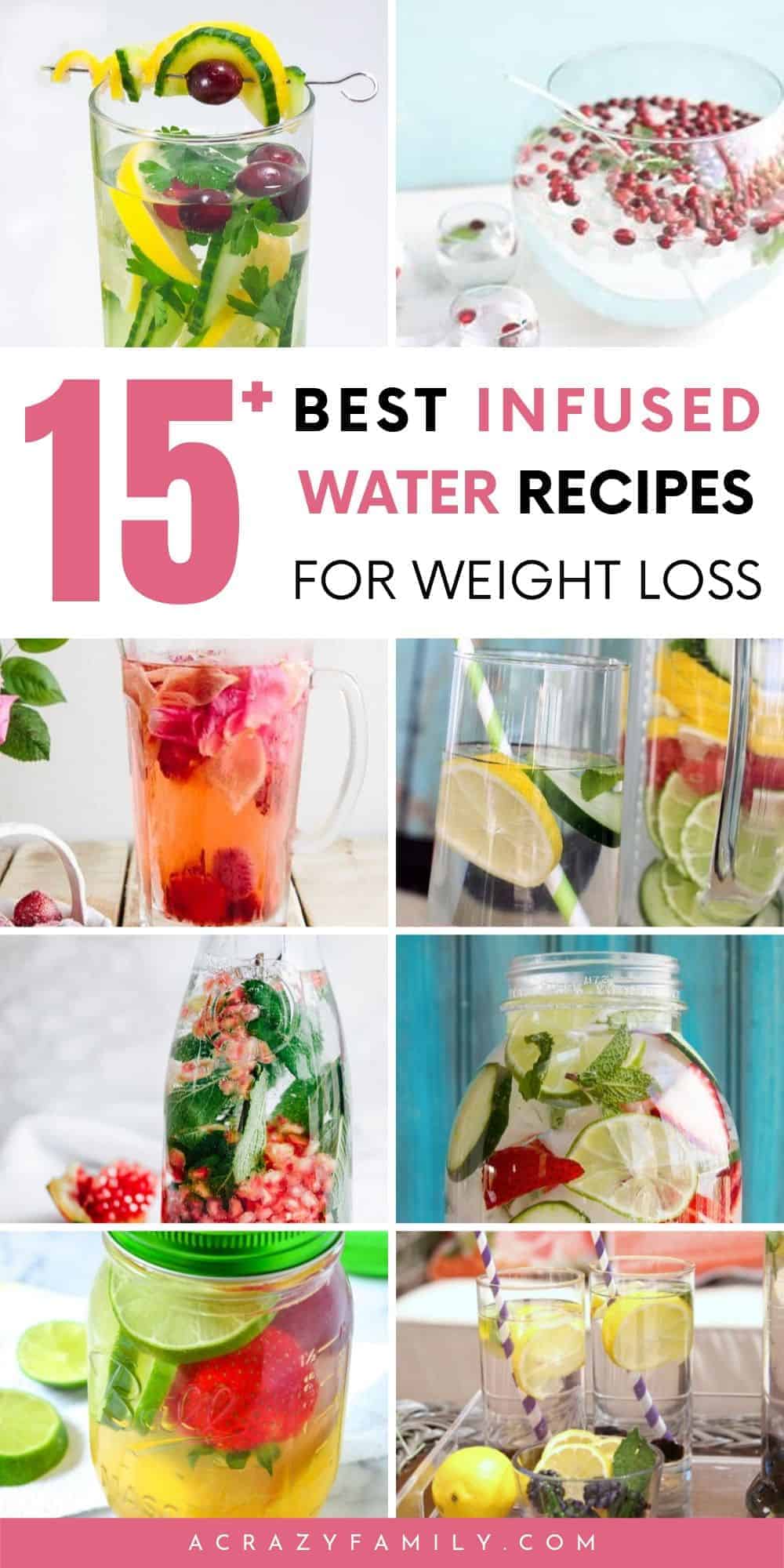 But, there are times when drinking it gets redundant and boring. As the name implies, detox water is aimed at detoxifying our bodies.
Also known as infused water, so instead of buying vitamin water, flavored sparkling water, or sports drinks, why not try to incorporate nature's good stuff, all in one place, right in your own home?
What is Detox Water?
Detox water (or Infused water) has the added benefits of drinking good-for-you water, plus the added taste of whatever you chose to add to your water, which can be fruits, vegetables, herbs or spices, or a combination of 2 or 3 things together. All without any added sugar or calories.
You can soak cut pieces of fresh fruit or raw vegetables in a container. Fresh and organic is your best choice.
Frozen fruits won't release as much juice as you'd like, and will more likely to sink to be bottom of your bottle, which also goes for dried fruits. You can also add herbs and spices that are both colorful and fragrant, not to mention all the added health benefits that permeate into your water.
Some fruits contain strong flavors, such as pineapples, lemons, and oranges, and can be reused. Just wait until the water is halfway down the bottle, and then add more water.
RELATED: 80 Vitamin Water Recipes for Weight Loss
What can you use to make detox water?
Fruit:
Citrus
Berries
Melons
Tropical fruits
Stone fruits
Veggies:
Cucumbers
Celery
Peppers
Carrots
Herbs:
Mint
Basil
Cilantro
Thyme
Lavender
Rosemary
Sage
Spices:
Cinnamon sticks (ground cinnamon won't saturate into the water, it'll just float to the top)
Ginger
How to make your own infused water
Something like this makes it quick and easy to make fruit infused waterFind out more…1. The first thing you have to do is release the natural oils and flavor in the fruits, veggies, herbs, or spices. You can do this by either slightly mashing up fruits and vegetables using a wooden spoon. You can also break up the herbs or spices just a little bit. For citrus fruits, don't forget to peel them before adding them to the water to avoid having that bitter taste.
2. Then, add filtered water or sparkling water if you prefer. For best results, you can use water at room temperature, or even cold water if you like, just as long as you don't use boiling water as it will break down the enzymes and nutrients in the added ingredients.
3. Give it a good stir and leave it for at least 3 – 4 hours to get the most taste and color. You can leave it in the fridge, or at room temperature, to do its magic.
However, don't leave the added ingredients in the water for more than 24 hours because most will start to decompose. Delicate fruits, such as berries and melons tend to decompose quicker than other types.
4. You can safely store your water in the fridge for up to 4 days.

Infused Water Benefits:
Are there really any added benefits to fruit-infused water besides taste and color? Yes! Almost 20% of nutrients in the added ingredients get blended in and absorbed by water.
Therefore, if you add strawberries or lemons, you're drinking water that's rich in vitamin C, and if you add basil or mint to your strawberries, you get the added benefits of minerals, such as iron, which helps the body absorb vitamin C, as well as antioxidants.
Other Benefits of Detox Water:
Improves digestion
Normalizes blood pressure
Reduces bloating
Increases energy
Curbs your hunger and helps you lose weight
Reduces muscle fatigue
Boosts focus and concentration abilities
Improves your mood
How Does Detox Water Help with Weight Loss?
While water detox can't make up for poor lifestyle choices, it can be helpful in helping you reach your weight loss goals, decrease bloating, and clearing your complexion when combined with other healthy lifestyle choices.
And besides, we all know that drinking enough water is going to be good for us!
Best Infused (Detox) Water Recipes
These recipes are simple, budget-friendly, and quick, and easy to knock out when you're in a hurry. There are recipes for clearer skin, getting rid of bloat and so much more.
Slimming Detox Water | Spend With Pennies
This Slimming Detox Water is filled with so many great ingredients! And it tastes great!
Slim Down Detox Water | Pop Culture
This Slim Down Detox Water will cleanse your system and boost your metabolism!
Detox & Debloat Detox Water | Feast and Flow
This detox and debloat recipe will help you clean out your system, rehydrate and shed a bit of water weight.
Belly Slimming Detox Water | Budget Savvy Diva
Cucumbers, strawberries, and basil make this delicious Belly Slimming Detox Water.
Fat Burning Detox Drink Recipe | Raining Hot Coupons
Lose weight with this Detox Drink containing apple cider vinegar which helps with digestion and speeds up your metabolism.
Lemon Berry Flush Fat Spa Water | Not Quite A Vegan
With lots of antioxidant-rich berries and lemons to detox and reduce inflammation, this Spa Water works hard to banish fat.
Dieter's Dream Water | Art and the Kitchen
This refreshing recipe for Dieter's Dream Water will help you with your weight loss efforts!
Pineapple Orange Ginger Infused Water Recipe | This Mama Loves
This pineapple orange ginger-infused water recipe gives great flavor without added calories.
Pomegranate Mint Water | Live Eat Learn
This Pomegranate Mint Water has just four ingredients and is so refreshing after a big meal.
Fresh Mint, Lemon and Blackberry Infused Water Recipe | Classy Clutter
This easy Fresh Mint, Lemon, and Blackberry Infused Water Recipe delivers such a fantastic flavor!
Cranberry Mint Water | Oh So Delicioso
Not only is this recipe beautiful, but you will fall in love with the touch of flavor that cranberries and mint add.
Strawberry Mango Infused Water | Courtney's Sweets
This refreshing mango-infused water with strawberries is perfect to enjoy throughout the day.
Strawberry Cucumber Basil Water | Garlic & Zest
This Spa Water Recipe is easily switched up depending on what's in season where you are.
Rose, Lemon & Strawberry Infused Water | Wallflower Kitchen
This Infused Water is so simple but so elegant, delicious, and refreshing.
Watermelon Basil Infused Spa Water | Mom Unleashed
This Infused Spa Water is a perfect beverage to enjoy all day long.
Strawberry, Lime, Cucumber, and Mint Infused Water | Wholefully
Strawberries add a little sweetness, while cucumber, mint, and lime make the water taste so refreshing and bright!
Whether you're looking for detox water recipes to reduce bloating, improve your digestion, or are after a clearer complexion, these detox water recipes all taste amazing and will make you feel healthier and happier.
3 Budget-Friendly Infuser Water Bottles
An infuser water bottle is one of the best ways to drink your water throughout the day. They're portable, always on hand and you just need to refill the bottle with water or ice cubes. I have made recommendations for the best below:-
Love This Article? You'll also like these…
9 Smoothie Recipes That Cleanse & Detox Your System
Don't forget to pin for later…