We may earn money or products from the companies mentioned in this post. Learn more.
So you want to start a blog and make some money online?
AWESOME.
You may have been thinking about starting your own blog for a while, maybe you are a parent and the thought of missing out on time with your children gets you down, or maybe all the awesome blog income reports have you super motivated.
I am not going to lie to you:
If you want to build a successful blog, you will need to put in a lot of hard work. Starting a blog might take you less than 30 minutes, but building a successful blog that earns you money will take time.
But IT IS POSSIBLE to make money blogging, and I'm going to show you exactly how to create your own blog, no technical experience required. (It's easier and faster than you think.) Creating a blog is not only quick and easy but is also a great way to generate income.
It goes without saying, it's what I wish I would have found when I was first starting out.
It still blows my mind that I've been able to create my own blog and have it be a business. This also means I can take some of the financial pressure off my husband without having to go out to work (yay!).
Here are the most popular reasons to start a blog:
Make money while working from home. Making money as a blogger is hard work, but it's low risk, low overhead and low barrier to entry.
Get more exposure to your existing business or organization.
Just write. If you want to write, share your story, encourage others and build a community, a blog is a great place to do that.
Either way, this guide contains what I learned and is for those who want step-by-step instructions in an easy and simple format.
Why do I recommend starting with a lifestyle blog?
Starting with a lifestyle blog means that you can because you can write about almost anything you can think of, you can get used to blogging and ultimately find what you are really passionate about AND what YOUR readers want to see more of. I like to think of it as casting a wide net.
You'll have more options, and you won't run out of things to blog about, all while making money in the process.
If you are blogging to make money (and I am pretty sure most of you are), you NEED to write about what people want to read.
You need to help people by SOLVING PROBLEMS.
That's why I think lifestyle blogs are great: you can write about lots of topics, helping people solving problems and test out different niches that you love.
And, it's the perfect way for new bloggers to find their voice and their strengths as they grow and learn about blogging.
Not to mention, if you write on topics you care and are passionate about then you'll have a much easier time creating awesome content that people will want to read.
How to start a Lifestyle Blog on WordPress
So it's best to start a self-hosted blog using WordPress.org (not wordpress.com- the free version).
If you are interested in ever making money off your blog, then paying for your hosting, such as through Bluehost, is a MUST. Here's why:
If you use a free service, you WILL NOT own your blog
You will have limited options to customize your design
You will have restrictions to put ads on your website to be able to monetize it
Your blog won't look professional and you might not be able to get approval for some affiliate marketing programs
Choosing A Blog (Domain) Name
This is where many people spend way too much of their time. And understandably so! It can be hard to make such a commitment.
For me, I wanted something completely unique that I could brand so I chose Jayandel as its a combination of mine and my hubbies names.
A domain name is just another way of saying your website's URL. eg. my domain name is acrazyfamily.com.
Some people choose to use their own name as their domain name, which is great. It is entirely acceptable to brand yourself. Others tend to go with more creative blog names.
My top tips for choosing a name are:
Pick a name that is easy to remember
Keep it short
Make it easy to spell
Avoid hyphens and numbers
Choose a .com (if possible)
You will also need to make sure your domain name is available and not registered with another website.
You can check if your domain is available here:
TIP:
If you do decide to
use Bluehost
as your hosting provider you can get a
FREE domain for the first year
as long as you buy 12 months worth of web hosting.
Sign Up for Web Hosting
What exactly IS hosting?
Hosting simply means buying server space from a company for your site to be stored on and served up when people visit.
My recommendation for beginner bloggers is to host their website with Bluehost. I recommend Bluehost because:
It's easy to use. ANYONE can create a WordPress blog easily with my tutorial below
Bluehost web hosting offers fantastic 24/7 technical support.
Bluehost is extremely affordable (under $4.00 a month)
You get a FREE blog domain
Bluehost offers a 30-day money back guarantee if you decide blogging is not for you
You will be self-hosted. If you want to monetize your blog, then you need to be self-hosted
You will appear much more professional to readers, companies, and so on if you are self-hosted
It's a popular choice among some of the world's biggest and most successful bloggers
There are many web hosting companies out there, but Bluehost is honestly one of the best.
Click here to start the setup process
How To Easily Set Up Your Blog With Bluehost:
Visit Bluehost.com and click the "get started now" tab as shown in the image below.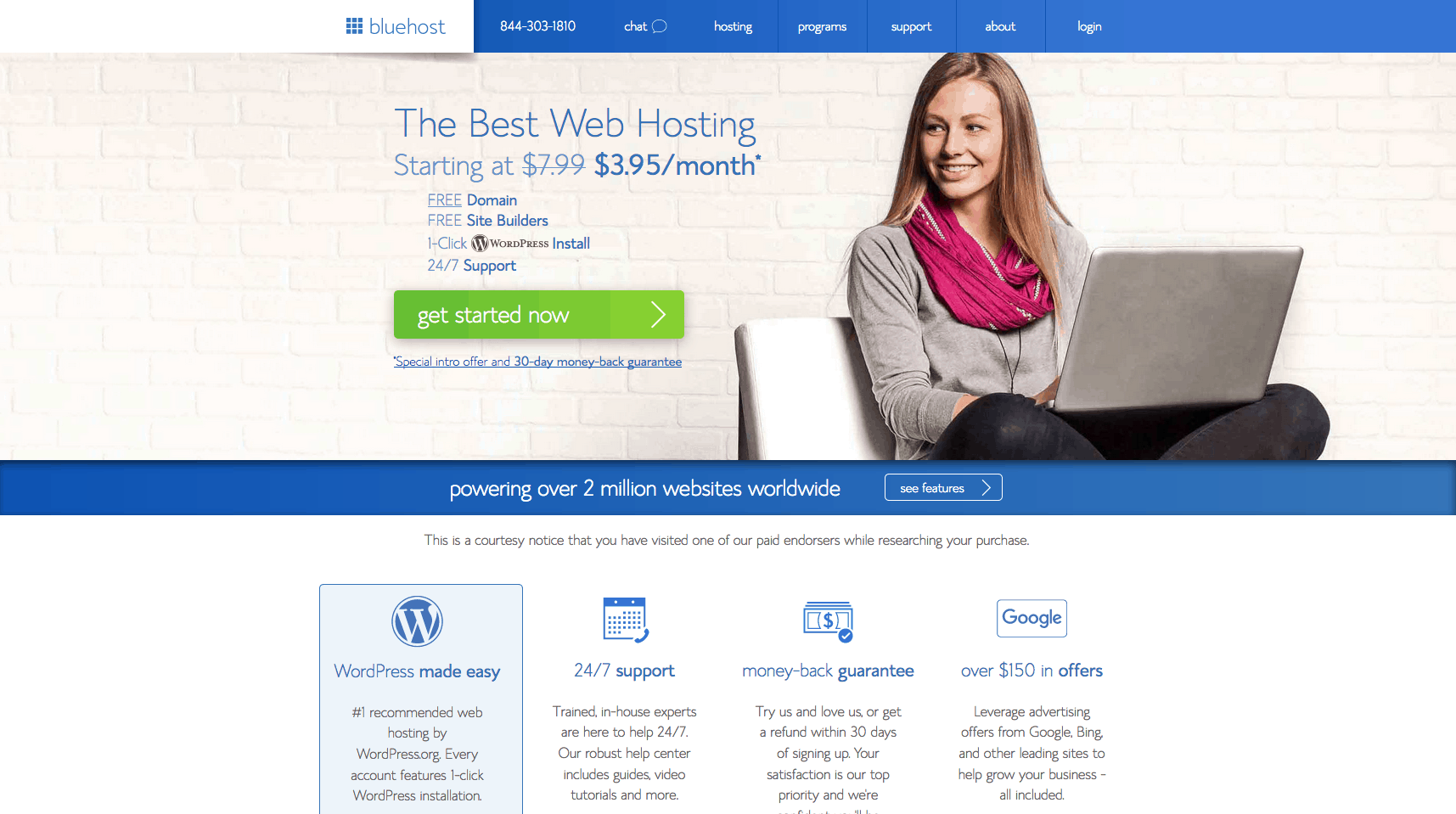 Select your plan.
For most people starting out, the basic plan works just fine. It will give you all the essentials you need to get started. When your blog gets bigger, you can upgrade to one of the premium packages, but for now, let's stick to the basics.
Make sure to hit select and move on to purchasing your domain.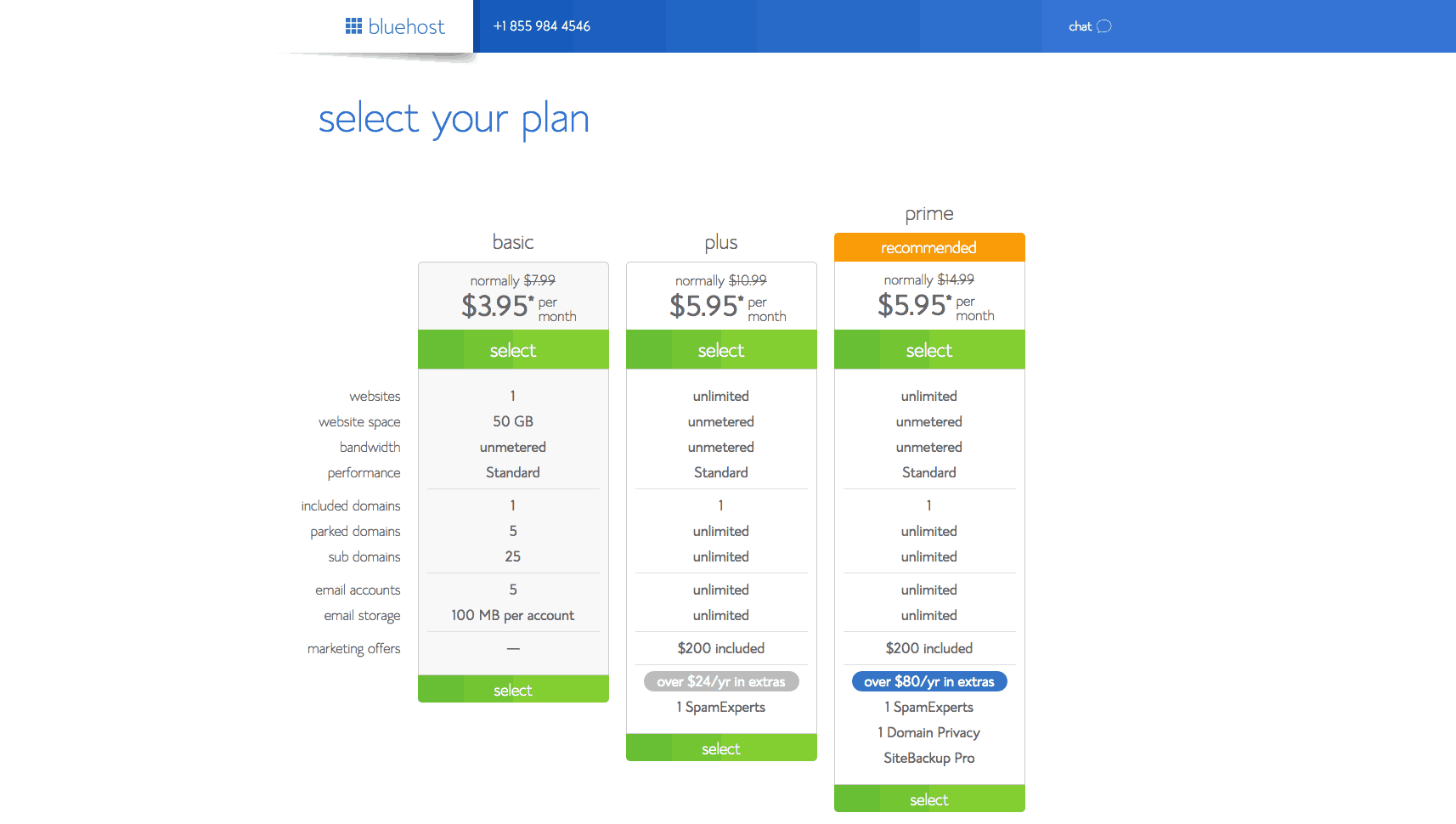 Enter your Chosen Domain Name
Next, it'll ask you to choose a domain name. Plug in your name to see if it isn't already being used by someone else. If it is, it's not the end of the world, Bluehost will help you generate a variation of that name or you can simply try a different one altogether.
If you've already purchased a domain, you can transfer it over here.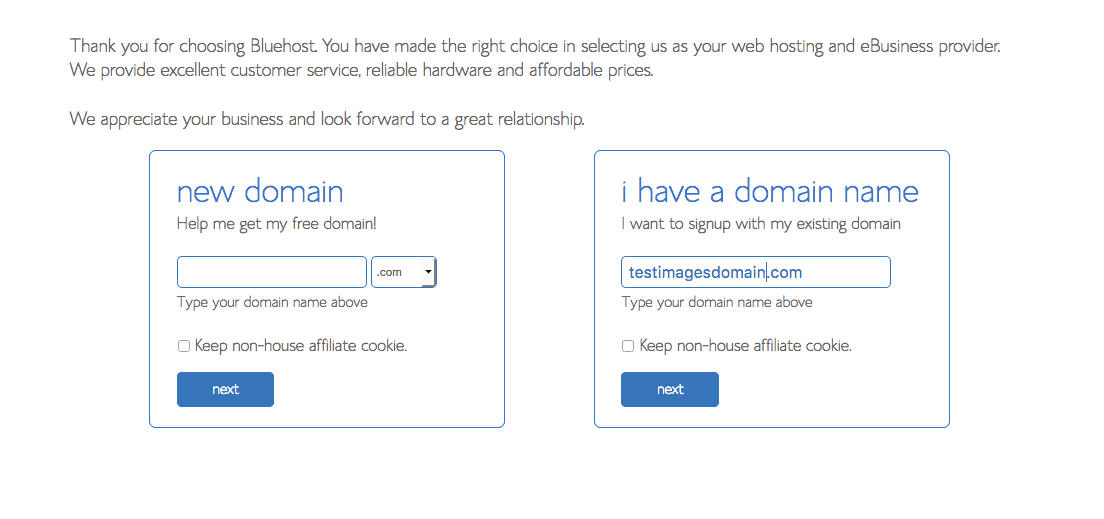 Purchase your plan!
Once you've secured your domain name, it's time to enter your account information.
That's right you are almost a blog owner.
One security feature I do recommend is the Domain Privacy Protection. This makes it so your personal information is masked by Bluehost. For example, the address and phone number listed will be Bluehost's instead of your own.
After entering your account information, you get to review your package info and pick the one you like best according to your own blogging goals.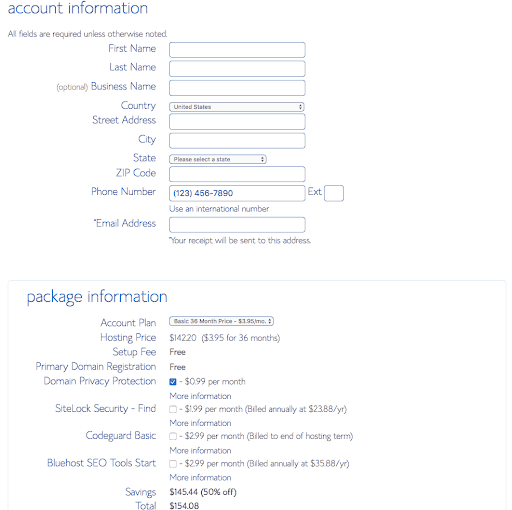 Enter your payment information…
and get ready to launch your blog.
Remember, online payments are SECURE. So you can be sure that when you purchase through Bluehost, your information is completely secure.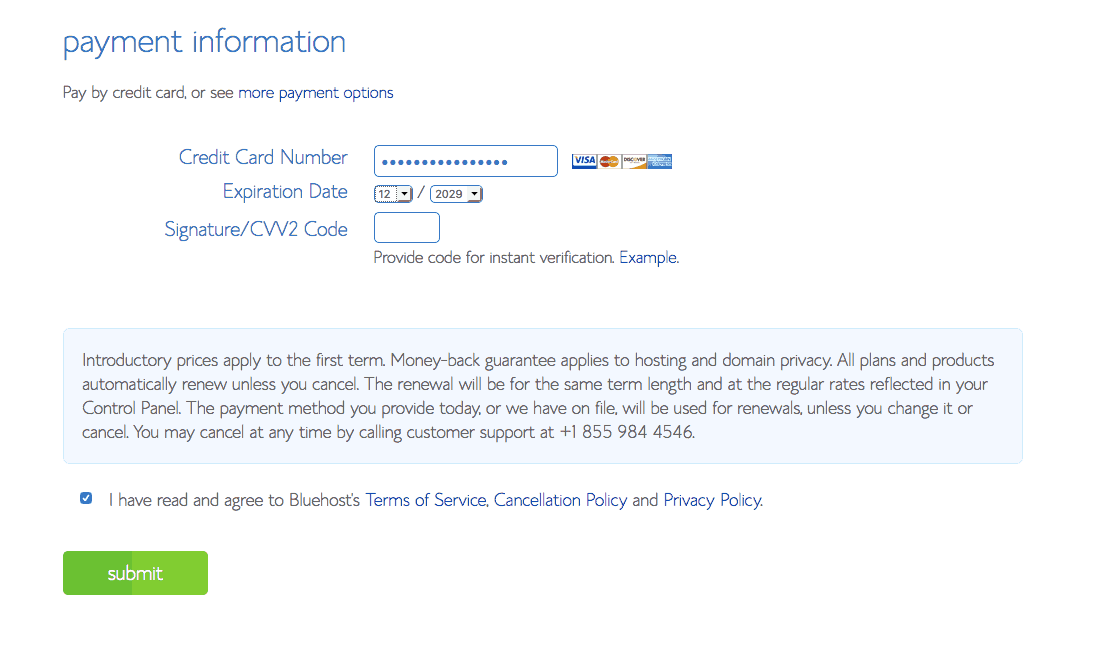 Don't forget to check your email for confirmation!
Finalize your hosting package
Bluehost will want you to pick a password. This is to make sure your dashboard stays secure. Pick a unique password that will protect your privacy and your site. Security matters. Nobody wants to build a blogging empire to simply find out it was hacked.
Remember to write it down or keep a record of it, you will need to use it frequently.
This is also how Bluehost will confirm your identity when you contact their support team.

Install WordPress
This is the fun part, where you get to install WordPress and design your site! To start, Bluehost will want you to pick a theme.
The "theme" is the appearance of your website and what your visitors will see.
There are lots of great free themes available with WordPress here. Just chose one to begin and you can easily change it later.
Below is an image showing just some of the FREE themes that you get with your Bluehost/Wordpress account.
Then hit the "Start Building" button below.
Then you will be given the choice between Business, Personal or the "I don't need any help" option. There isn't a wrong answer, it's whatever you are comfortable with!
Welcome to your Bluehost dashboard! Bluehost is there to help you create your first posts. Just follow along on their dashboard.
Congratulations!
You're now the proud owner of a self-hosted WordPress site.
As shown in the images above, Bluehost will walk you through how to create content, add images, etc. Another great reason why you should use them to host your blog!
I highly recommend bookmarking www.[yoursitename].com/wp-admin. This is how you will log in to your WordPress dashboard. It may seem silly now, but trust me, it is so helpful to have it bookmarked.
If you want to upload a different WordPress theme, you'll need to click "Appearance" on the left-hand side of your WordPress dashboard, then select "Themes".
Free themes can be great to start with, but if you are looking to be able to customize your website, or you have a specific look in mind you might want to upgrade to a paid theme.
Purchasing a premium theme (at some point) is a good idea. I purchased my theme, RE-HUB, from Envato.
Install Essential Plug-ins
Plugins are additions that you install on the back end of your blog to help it run more smoothly. There are some plugins that everyone should have. These are my top suggestions for new bloggers:
There are tons of different plugins that you can use to improve your blogging experience.
Now You Know How to Start a Successful Blog
Starting a blog is so much easier then most people think. Bluehost makes it so easy for anyone to start one, at an incredibly affordable price.!
You are at the start of your blogging journey. It will take you time, patience and hard work. But by following the right steps, and not giving up, you will get there!
I did, and I am sure you can too!
If you have any questions about starting your self-hosted WordPress blog, please leave me a comment or send me a message via the contact page. I am more than happy to help!
Here are more blogging-related posts you may want to check out: