You've probably read in a lot of places that starting a blog is easy peasy & an excellent way to make money online.
You may even have been thinking about starting your own blog for a while…
…maybe you are a parent and the thought of missing out on time with your children gets you down
…or maybe all the awesome blog income reports have you super motivated.
The thing is, starting a blog can be overwhelming, especially if you don't know where to begin!
In this post I'm going to cover EVERYTHING you need to know about starting a blog, including which blogging platform is right for you, how to choose your domain name, the best hosting plan to go for & choosing a great theme!
It still blows my mind that I've been able to create my own blog and have it be a business. This also means I can take some of the financial pressure off my husband without having to leave my son and go out to work (yay!).
When you've finished this post, you'll be able to apply these simple steps and get your blog up & running & making money without any unnecessary stress!
Haven't got time to read this now? Click here to Pin it for later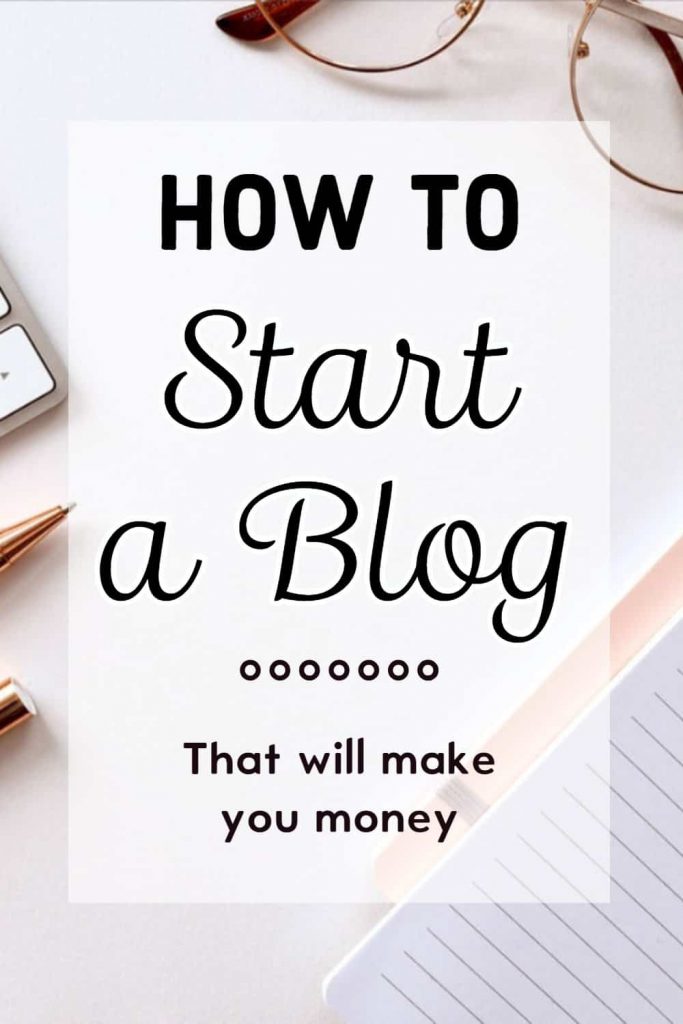 How I Came to Start A Blog
I started my blog in May 2018… at the time I didn't really know what blogging even was and made so many mistakes!
This could have totally been avoided if I had a handy guide to follow (like this one you're reading now).
I soon stumbled across successful bloggers income reports & knew I needed to learn everything I could if I wanted to do it PROPERLY & be successful.
It was in the third month of starting my blog that I finally felt ready to throw myself into it.
It was worth taking the time to learn because by the end of the fourth month I made my first $100 and by the end of the sixth month I had made over $1000!
Although this may not seem like a lot to you, it really did help motivate me to keep moving forward! And, I was just so happy to be able to contribute to my household & be able to stay home with my son… and, I finally felt like my blog was a success!
The best thing about starting a blog
Seeing my blog growing & making more & more money every day is very exciting… but that isn't the most important thing to me…
It's that this has become my passion.
I LOVE BLOGGING!
It's fun, exciting, challenging & rewarding…
Sure, there are ups & downs to blogging & moments where I've felt like giving up (especially in the beginning) but like with everything in life worth having… you just have to keep going & eventually the rewards begin to come.
This is especially true when you start a blog!
Some of the best reasons to start a blog
Make money while working from home. Making money as a blogger is hard work, but it's low risk, low overhead and low barrier to entry.
Get more exposure to your existing business or organization.
Just write. If you want to write, share your story, encourage others and build a community, a blog is a great place to do that.
The freedom to decide what you do & when you do it
Being part of the amazing blogging community
Loving what you do
Is Blogging For You?
Despite all the great reasons for starting a blog, you should ask yourself WHY you want to start a blog before you start.
Sure, everyone knows blogging is a great way to make money from home but it's by no means a 'get rich quick' scheme.
I am not going to lie to you:
If you want to build a successful blog, you will need to put in a lot of hard work. Starting a blog might take you less than 30 minutes, but building a successful blog that earns you money will take time.
But IT IS POSSIBLE to make money blogging, and I'm going to show you exactly how to create your own blog, no technical experience required. (It's easier and faster than you think.) Creating a blog is not only quick and easy but is also a great way to generate income.
It goes without saying, it's what I wish I would have found when I was first starting out.
Either way, this guide contains what I learned and is for those who want step-by-step instructions in an easy and simple format.
Choosing the right platform
You may be tempted to start your blog with a FREE blogging platform like WordPress.com or Blogger for example… I highly recommend you DO NOT do this as you WILL NOT be able to make money from your blog in any way!
If you are interested in ever making money off your blog, then paying for your hosting, such as through Bluehost, is a MUST. Here's why:
If you use a free service, you WILL NOT own your blog
You will have limited options to customize your design
You will have restrictions to put ads on your website to be able to monetize it
Your blog won't look professional and you might not be able to get approval for some affiliate marketing programs
There are so many reasons why you should absolutely not go with a free blogging platform but the biggest one is that you will not OWN your blog… this means that your blog can be deleted or closed down without notice & there won't be anything you can do about it.
To be able to make money from your site & be in complete control then you need to be self-hosted. So it's best to start a self-hosted blog using WordPress.org (not wordpress.com- the free version).
When you sign up with the hosting company I recommend, you will get your WordPress.org domain for FREE within the hosting plan & it will be a one-click install too which will make everything super easy!
Choosing the right hosting company
When you're just starting out as a blogger, it's easy to fall into the trap of thinking you have to pay out for expensive tools & courses if you want to make your blog a success… but I promise you this is NOT TRUE.
When I started, I made it my goal to keep my costs to an absolute minimum. And after only six months I was making a profit.
For less than $4 dollars a month, which is less than the price of lunch, you can get your blog up and running with one of the best hosting companies out there & the fact that they have a 1-click WordPress install & 24/7 support means you will find everything smooth & very, very easy!
This is why I fully recommend Bluehost for your hosting needs.
It's easy to use. ANYONE can create a WordPress blog easily with my tutorial below
Bluehost web hosting offers fantastic 24/7 technical support.
Bluehost is extremely affordable (under $4.00 a month)
You get a FREE blog domain
Bluehost offers a 30-day money-back guarantee if you decide blogging is not for you
You will be self-hosted. If you want to monetize your blog, then you need to be self-hosted
You will appear much more professional to readers, companies, and so on if you are self-hosted
It's a popular choice among some of the world's biggest and most successful bloggers
There are many web hosting companies out there, but Bluehost is honestly one of the best.
Step #1 Getting Started
Click here to start the setup process
Step #2 Choosing Your Plan
This is the very first page you will see… you need to click on the big green 'get started now' button & then select your plan.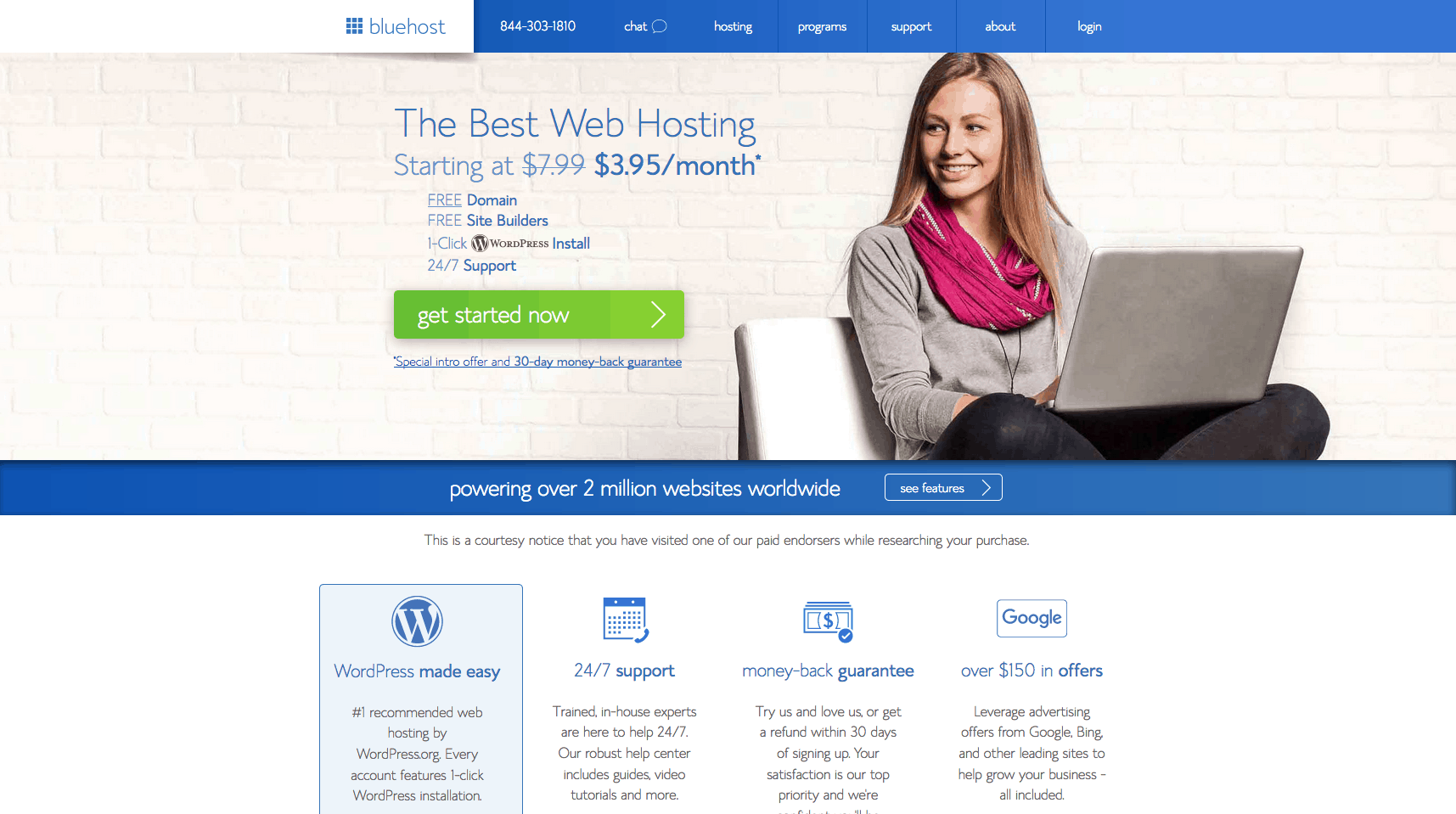 Now you will see the pricing plan options… I recommend choosing the basic plan, not only because it is the cheapest, but it is absolutely all you need to get started.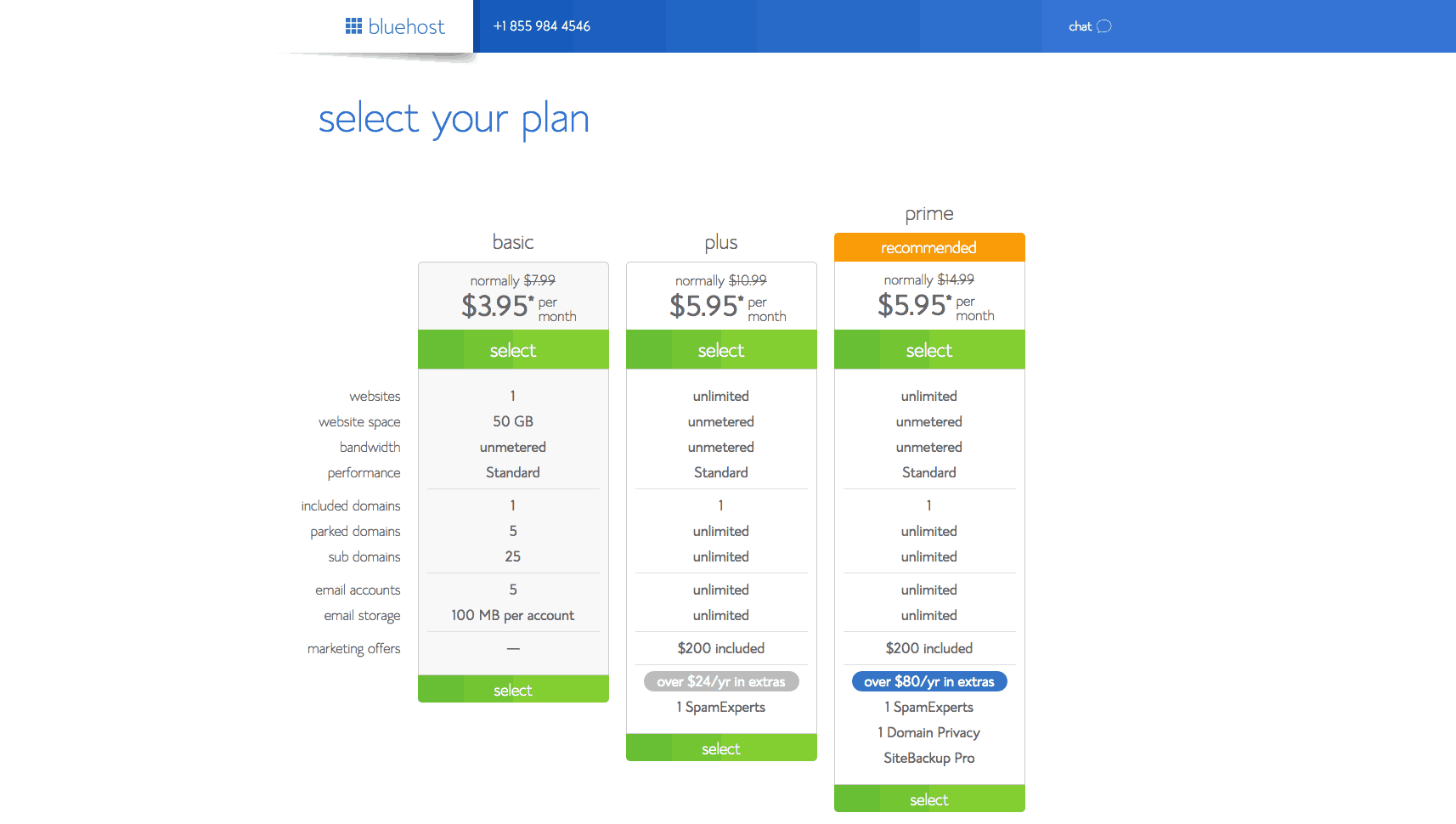 The basic plan is a 36-month plan which makes it the cheapest option… I highly recommend taking advantage of this cheapest payment option because you really want to make a commitment to give it your all… & don't forget you still have the 30-day money-back guarantee just in case…
Select the basic plan and move on to the fun part…
Step #3 Choosing The Right Domain name
Now you have selected the plan, you will be looking at the page where you can choose your domain name.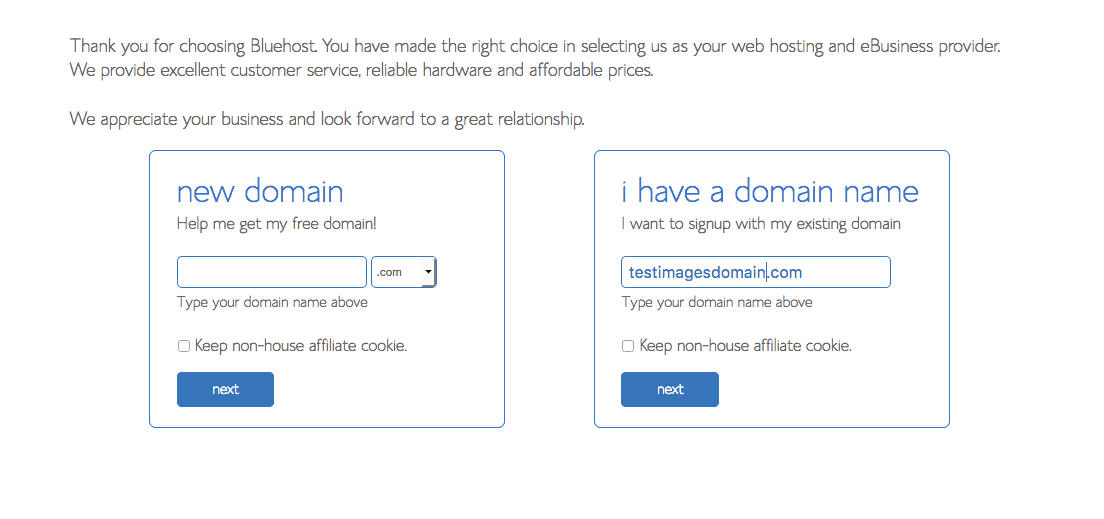 A domain name is just another way of saying your website's URL. eg. my domain name is acrazyfamily.com.
You'll want to think about this a little bit (unlike many bloggers that have gone before you (including me) and all those who will come after) because your domain name is kinda important…. but not vitally!
Some people choose to use their own name as their domain name, which is great.
It is entirely acceptable to brand yourself.
Others tend to go with more creative blog names. My top tips for choosing a name are:
Pick a name that is easy to remember
Keep it short
Make it easy to spell
Avoid hyphens and numbers
Choose a .com (if possible)
From experience, I can only advise that unless you know exactly what your blog will be about from now until forevermore… then go with something neutral.
That being said, nothing is set in stone and your domain name can always be changed further down the line.
Once you're ready, type in your choice of domain name & click 'next'.
If the name is available you will be taken to the next stage of the sign-up process.
If the name is not available you can play around with different options until you find one you like that is available.
You can even use this little box to find your new blogs name…
Step #4 Your Account Info
Now you have found the perfect name for your new blog you need to enter your account info into the boxes & scroll down to confirm your plan.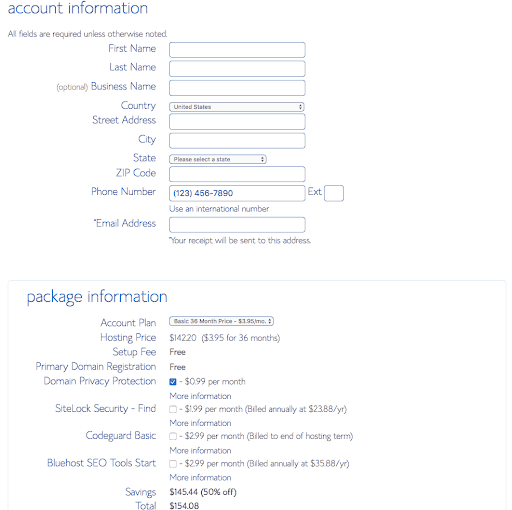 Once again I highly recommend you stick with the 36-month option as it is by far the cheapest & gives you the best value.
TIP: Ensure the domain privacy protection box is checked to keep your personal information as the owner of the website secure.
Enter your payment details into this section of the page…
and get ready to launch your blog.
Remember, you are completely protected by a full money-back guarantee.
Check the little box to confirm you've read the terms & conditions and click on the green submit button.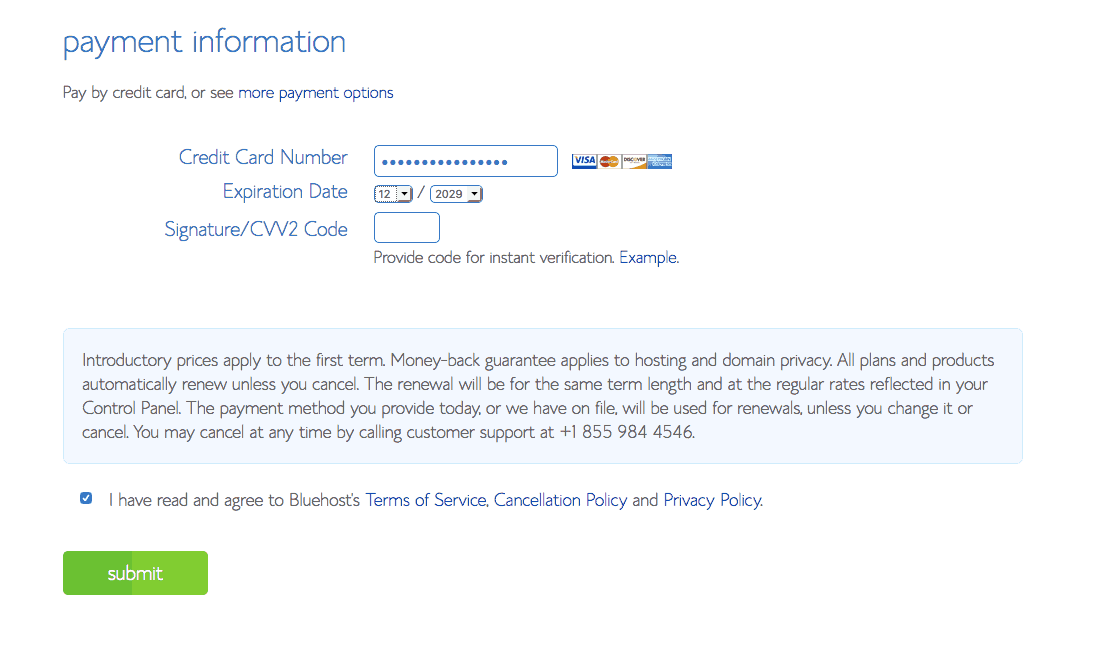 Don't forget to check your email for confirmation!
Click on the green 'Create your Password' button to go ahead and create your password making sure it's secure!

Enter your password into the boxes and click the blue 'Next' button to continue.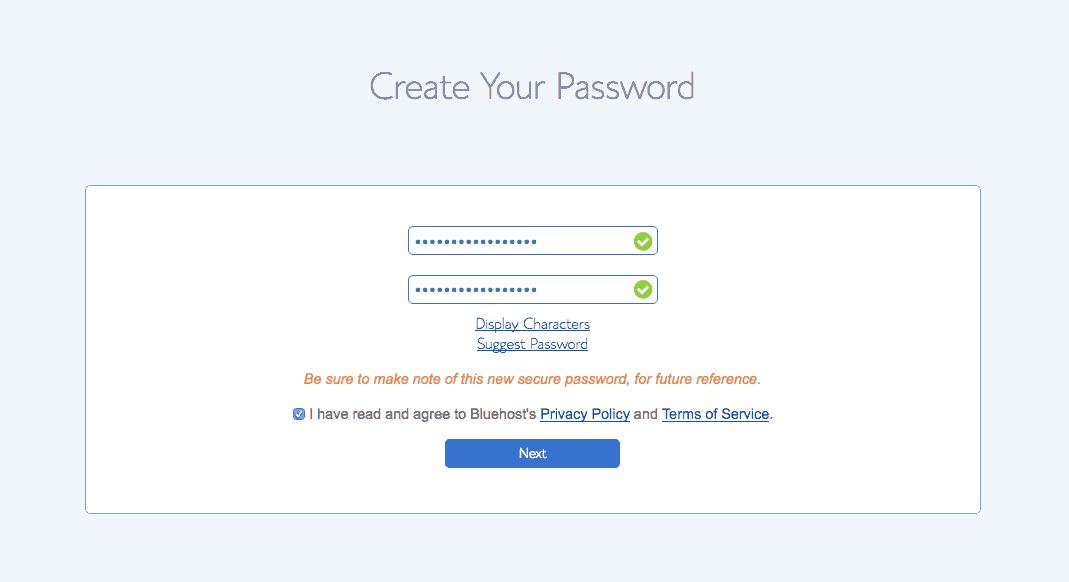 This is to make sure your dashboard stays secure. Pick a unique password that will protect your privacy and your site. Security matters. Nobody wants to build a blogging empire to simply find out it was hacked.
Remember to write it down or keep a record of it, you will need to use it frequently.
This is also how Bluehost will confirm your identity when you contact their support team.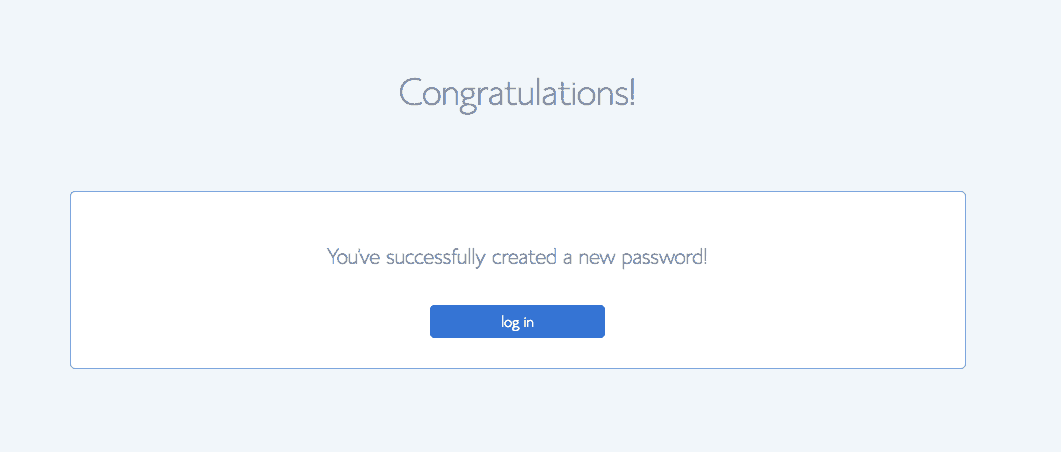 Great, you have successfully saved a password for your Bluehost account… Click the blue 'Login' button & login to your account…. (this is where it all gets very exciting)
Step #5 Choosing Your Blog Theme
Now you need to select a theme.
Do not spend too long deliberating as you will soon want to try out other themes anyway. I changed my theme about so many times before I found one I loved.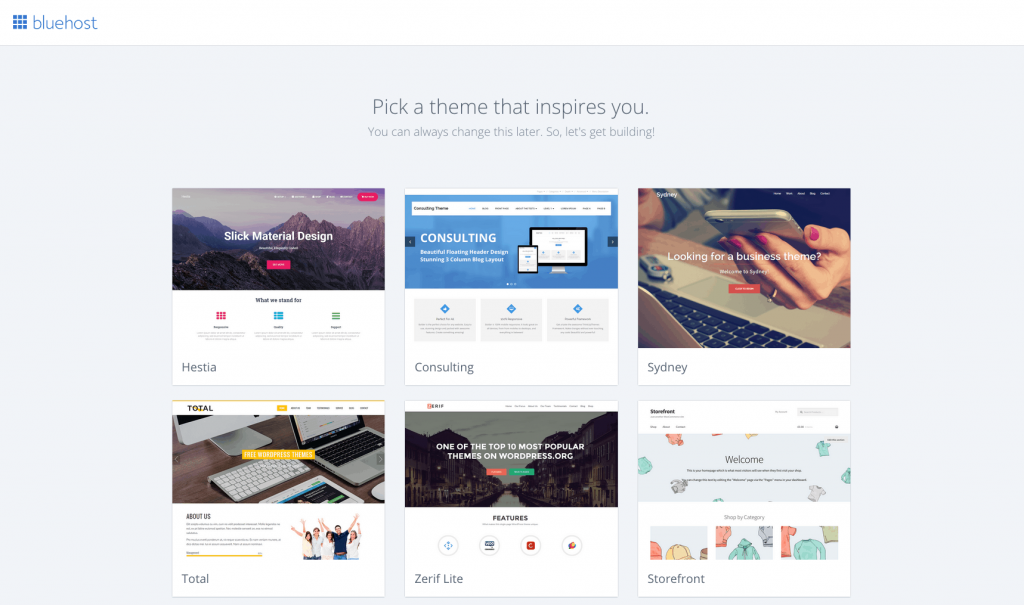 There are so many great FREE WordPress themes available that it will be easy to get your site looking amazing in no time.
Eventually, you might want to invest in a paid theme which will give you even more options to customize your site to your liking.
But for now, select your free theme to get building your new site (see I told you this was exciting)
Great, you're now ready to start the creative bit! Click the blue 'start building' button to continue.

Remember that this may feel a bit confusing & overwhelming to begin with… I know because I've been there but I promise you it's easier than you think & with a bit of playing around & experimenting you'll get to grips with it in no time.
You will now be looking at this screen…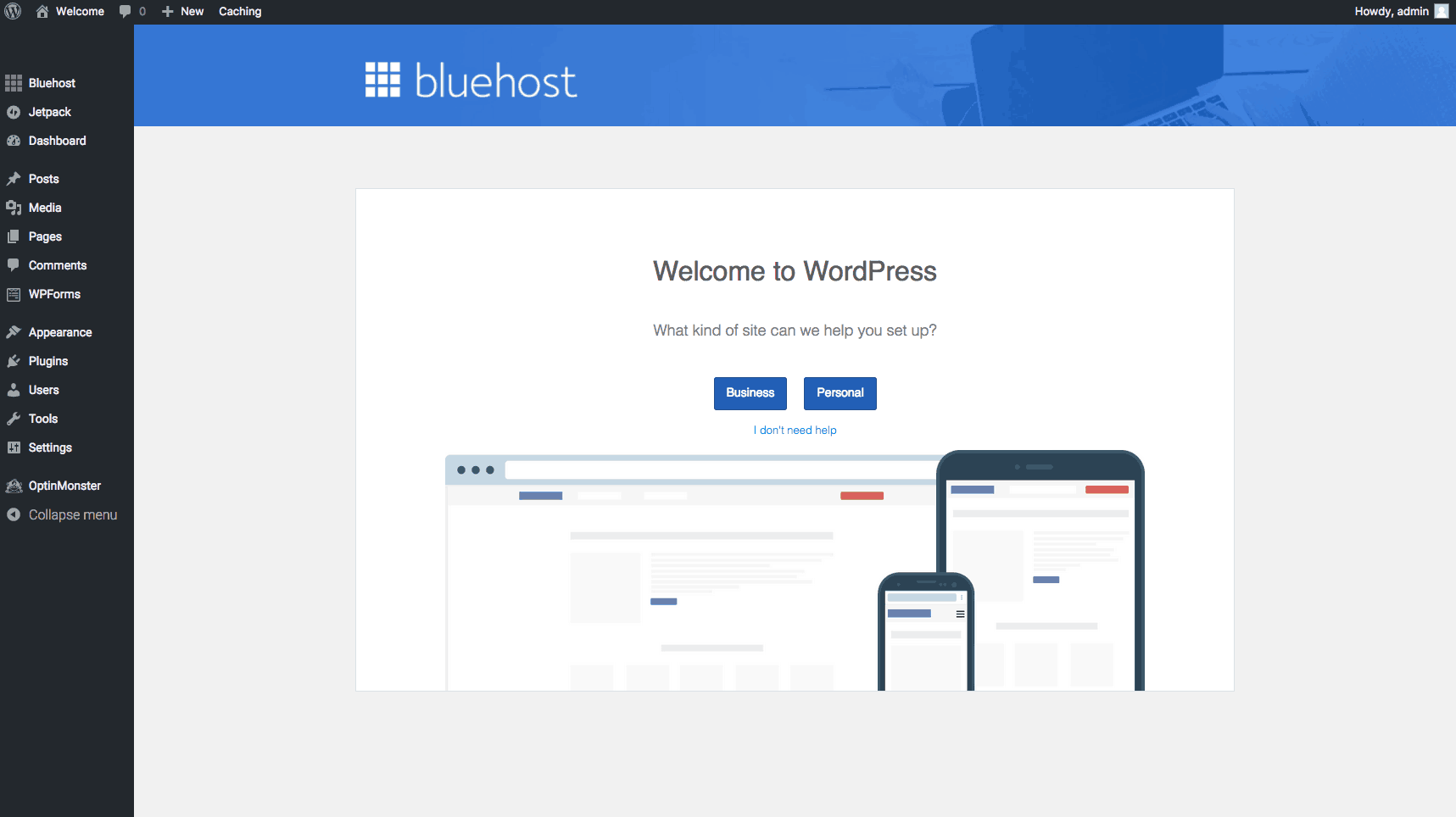 Then you will be given the choice between Business, Personal or the "I don't need any help" option. There isn't a wrong answer, it's whatever you are comfortable with!
Congratulations!
You're now the proud owner of a self-hosted WordPress site.
As shown in the images above, Bluehost will walk you through how to create content, add images, etc. Another great reason why you should use them to host your blog!
You can start editing your site now. This screen is known as the 'backend'…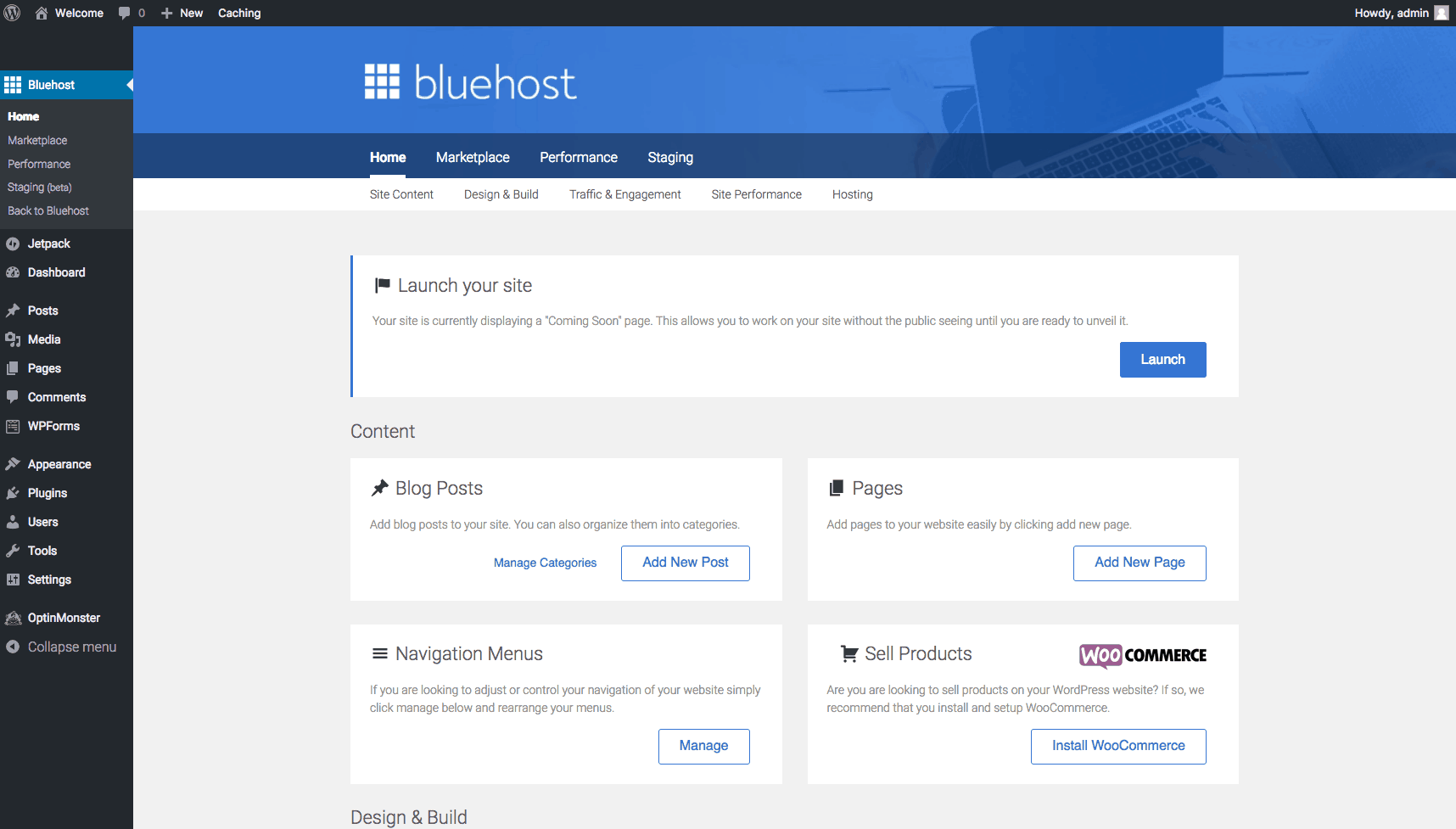 This is where you make all the changes you want to make and once you click publish, they appear on the front end of your site.
Don't worry, at this point your site will be showing a 'coming soon' page so you can make as many edits as you want without worrying about people seeing the changes before they are ready.
I recommend writing at least 5 blog posts and having a brief "about me" page as well as a "contact" page – you want your visitors to have something to read when they do arrive on your blog, right!
I highly recommend bookmarking www.[yoursitename].com/wp-admin. This is how you will log in to your WordPress dashboard. It may seem silly now, but trust me, it is so helpful to have it bookmarked.
Step #6 Launch Your Blog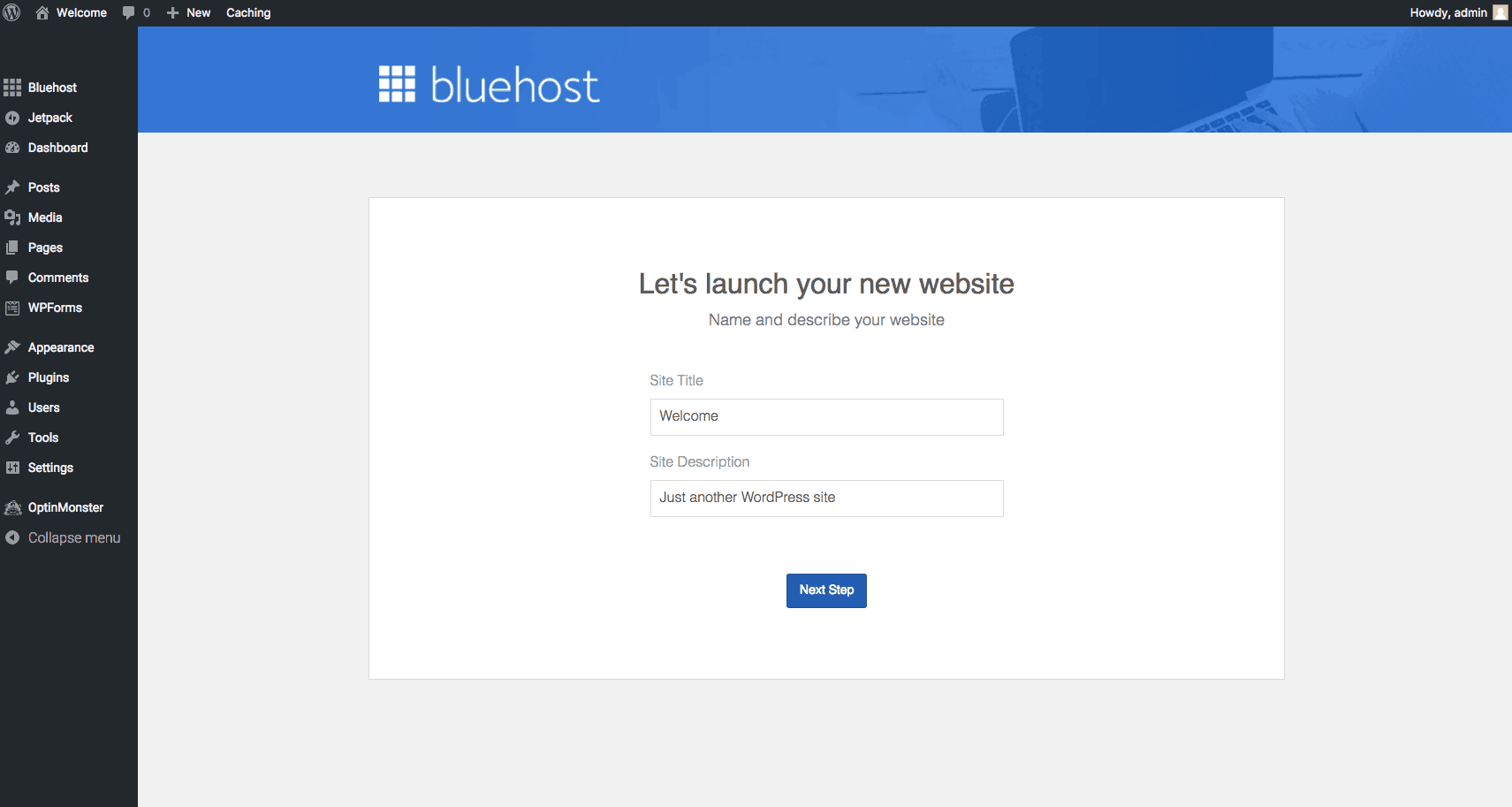 Now that you're finally ready with your blog, it's time to launch it! Go you – this is an exciting moment!!
Essential Plug-ins
Plugins are additions that you install on the back end of your blog to help it run more smoothly. There are some plugins that everyone should have. These are my top suggestions for new bloggers:
There are tons of different plugins that you can use to improve your blogging experience.
Before You Go…
The fun has only just begun for you, it's time to get in there and bring your beautiful site to life. Be sure to let me know when it's live! I would love to take a look.
Blogging is amazing, and it can change your life like it has changed mine.
However, I have to tell you that good things take time. It's normal for a blog to start gaining significant traffic and income only after 3-6 months, so don't be discouraged if your traffic seems a bit slow.
If I can do it, so can you!
Now that you've started a blog, you can start learning about how to drive traffic to your blog and monetize it.
My best advice is to start driving traffic with Pinterest.