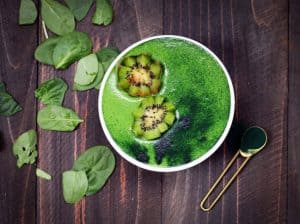 Smoothie Bowl: Recipes and Benefits – How to make smoothie bowls, health benefits of eating smoothie bowls, common questions about making your own smoothie bowls, and some easy smoothie bowl recipes.
What is a Smoothie Bowl?
A smoothie bowl provides all the healthiest smoothie ingredients you are used to, in a thicker smoothie with delicious toppings. It not only changes the way you eat smoothies but is great for replacing other breakfast items like cereal or oatmeal but providing just as many nutrients.
A smoothie bowl starts with a thick blend of whole foods, such as frozen fruits, veggies and other healthy extras (e.g. avocado, oats or yogurt). Compared to smoothies you're used to sipping with a straw, the base of a smoothie bowl has a slightly thicker, almost ice-cream like consistency.
Easy Formula For Building A Smoothie Bowl
[toc wrapping="right"]Here is an easy formula to follow when building the perfect smoothie bowl.
Start With Your Fruit or Veggies
Like all smoothies, you want to start by choosing your fruits and veggies. Vegetables don't need to be included in every smoothie, but adding some kale or spinach is a good idea when you want a green smoothie or simply one with added nutrition.
For the fruit, try to choose frozen fruit, since it helps to thicken up the smoothie and keeps it from turning to a thin liquid too quickly. You want your smoothie bowl to be nice and thick so it is easy to eat with a spoon.
While you can use any fruits you want, here are some popular options:
Bananas

Strawberries

Blueberries or raspberries

Mango

Honeydew melon

Watermelon

Papaya

Cantaloupe

Cherries

Apples

Oranges or lemons

Pomegranates

Mangos
Add in a Thickening Ingredient
Next up is the thickening ingredient! Many people choose to make this their main source of protein in the smoothie base, such as yogurt, protein powder, or even tofu if you like it. Nut butter is also an excellent choice, such as peanut butter or almond butter.
You can also make this a traditional acai bowl by adding an acai packet to the base. These either come in a freeze-dried powder or frozen smoothie pack, which help add nutrition, flavor, color, and thickening to the smoothie. You can usually find them at health food stores, but your regular grocery store might also have them.
Other ingredients that can be used to thicken your smoothie bowl?
Oatmeal. The key to using oatmeal in a smoothie is to finely grind it first.

Chia seeds. Chia seeds can act as a binding agent and thickener.
Avocado. Avocado has a different flavor profile (and color!)
Frozen fruit. Frozen fruit can thicken a smoothie and provide natural sweetness
Choose Your Liquids
All smoothies need at least a little liquid since it helps the blender to break up the fruit and other ingredients. Just be sure to add less liquid than you normally would for a smoothie.
If you are watching the sugar and calorie content of the smoothie base, using water works just fine. You can also use coconut water or coconut milk, soy milk, almond milk, or any type of dairy liquid.
You may also want to use some fruit juice for added flavor, but be careful not to add too much. If you end up adding a little too much liquid, just add in more fruit and thickening ingredient.
Top it Off!
The last step of the smoothie bowl formula is the topping! You can use one or multiple toppings, depending on how you want to present the bowl.
Many bowls use a sprinkle of chia seeds for the interest in color and texture, along with cacao nibs, muesli, granola, or shredded coconut. Any type of nuts or seeds works really well for the top of smoothie bowls, as well as berries and other sliced fruit.
My top tips for a really great smoothie bowl
Make it thick. The very best smoothie bowls are thick and frosty.

Chill your bowl before getting started.

Choose a deep bowl over one that's wide and shallow.

Get everything prepped before loading the blender.

Add texture with toppings.
5 Must-Try Smoothie Bowl Recipes
Why Everyone Should Be Eating More Smoothie Bowls
The smoothie bowl receives a lot of attention all over social media, due to its vibrant color, creative look, and of course the delicious taste!
However, don't forget about all the other benefits, primarily how good for you it can be when replacing a meal or snack.
There Are a Lot of Vitamins and Nutrients
The first reason more people should be eating smoothie bowls is the fact that they contain a lot of ingredients. Nearly all the ingredients are good for you, from fresh or frozen fruit to protein-rich granola and fat-burning chia seeds.
If you need more vitamin C in your diet, you can choose fruits and vegetables that contain a good amount of vitamin C, then add those nutrients in a delicious breakfast bowl.
It is Easy to Control the Nutritional Content
If you are concerned about having too much sugar, calories or fat in your smoothie bowl, not to worry! It is very easy to control exactly what the nutritional content is for every bowl.
If you want to reduce the sugar, lessen how much fruit you use, and make up for it with protein powder or adding in more yogurt or milk. To watch your calories, avoid using full-fat milk and use low-calorie fruits and vegetables. This allows you to easily customize the smoothie bowl to fit your needs.
The Flavor Options Are Endless
No matter how picky of an eater someone is, they are bound to find a smoothie bowl recipe they like! The great thing about smoothies, in general, is that it is easy to control the flavor and add any types of fruits or vegetables someone likes.
If you are making one for your kids, choose their absolutely favorite fruits and toppings, and they are sure to enjoy it more than cereal. It tastes sweet without all that added processed sugar from their favorite bowl of sugary cereal. You can't go wrong with a good smoothie bowl.
They Are Pretty!
Don't forget about the fact that smoothie bowls are downright beautiful. These bowls make it so easy to be creative and really enjoy what you're eating. Making the bowl is so much fun, that eating it will be even better. If you are someone that likes to Instagram your food, it is perfect.
This also makes children and teens more willing to try them, which is great if you want them to eat lower-fat and more nutritious foods each day. Let the kids pitch in to help with the bowls, especially with arranging the toppings. This goes far in encouraging them to eat more fruit and vegetables.
Banana Free Smoothie Bowls 3 Ways
Best Blender to make your delicious smoothie bowls
There are many blenders out there to choose from but you will see that some will not have the power behind them to deal with the thickness or to blend up frozen fruit but below you will find some of the best. The top 2 are the most powerful home blenders that will blend pretty much anything that you care to throw at them.
[content-egg module=Amazon template=custom/compact next=2]
[content-egg module=Amazon template=custom/simple_list next=5]
[toc]