Acne is a common condition that has adversely affected many people in their lives regardless of their age.
Apart from affecting your skin, it can greatly affect your self-esteem and confidence. People with acne have been known to suffer emotional, psychological and social ramifications.
Acne treatment can be expensive for some people and even more as expensive if it becomes resistant to medication. It can also have accompanying side effects such as skin dryness and irritation.
To prevent all these issues from occurring, try some of these natural home remedies to get rid of acne.
How To Get Rid Of Acne Using Home Remedies
Give these natural remedies a try and see if they help with your acne, all these ingredients are most likely things you already have in your kitchen cupboards. or pantry.
1. Apple Cider Vinegar
Perhaps you have come across many uses of apple cider vinegar in cooking, in a chicken coop, or in its medicinal value.
Apple Cider Vinegar
(ACV) is natural and is made by fermenting pressed apple juice. Apple cider vinegar has the ability to kill bacteria and viruses due to its acidic nature.
Studies have shown that succinic acid in this vinegar has the ability to suppress P. acne which is known to cause scarring.
Mix apple cider vinegar with water in a ratio of 1 to 3.
Apply to the affected area and wait for about 10 minutes and rinse your face with copious water.
Do this twice a day, in the morning and when going to bed and you'll see changes.
2. Honey and cinnamon paste
Honey and cinnamon have an antibacterial property and ability to reduce inflammation which causes acne.
This blend is more preventive than cure and is the solution to acne prone skin.
Mix honey with cinnamon in a 2 to 1 proportion respectively and stir well to form a paste.
Clean your face thoroughly and dry it.
Apply the paste and wait for 10 minutes.
Wash it with plain water and wipe your face dry.
3. Tea tree oil
For generations, tea tree oil
has been a natural remedy for acne and other skin conditions. It is known for its ability to break and clean clogged pores reducing skin inflammations which in turn trigger acne.
It is also known for clearing dead skin cells.
Mix tea tree oil with water in a ratio of 1:7 and apply to the affected area using cotton balls.
Wait for 30 minutes then wash and rinse with water.
4. Lemon juice
It is a natural antibacterial juice capable of killing harmful bacteria on the skin.
Wash and cut a lemon into half then squeeze the juice into a bowl.
Apply using a cotton ball and wait for about an hour.
Rinse your face with clean water.
5. Garlic
Garlic has many health benefits and has antibacterial properties either when eaten or applied to the skin.
The bulb can also be used as an antioxidant, is effective in purging toxins from your skin.
Crush garlic and apply it on freshly cleaned affected areas.
Wait for 30 minutes and clean it with plentiful water.
More…
If the ones listed above do not work for you, don't despair, here are some other you should try.
Honey: apply honey directly to the affected areas
Aspirin: mash aspirin in a little water and apply the paste.
Green tea: as a daily face wash.
Echinacea tea: as a daily face wash.
Omega-3 fatty acids: take a fish oil capsule or add salmon, flaxseeds, or walnuts to your diet.
Other Top Tips For Dealing With Acne
Cleanse in the morning and evening with a cleanser formulated for acne.
Moisturise with a light gel-based moisturizer.
Gently exfoliate your skin once a week.
Don't squeeze, pick or scratch spots.
Check your diet.
If you found these natural acne remedies helpful, please share them on Pinterest!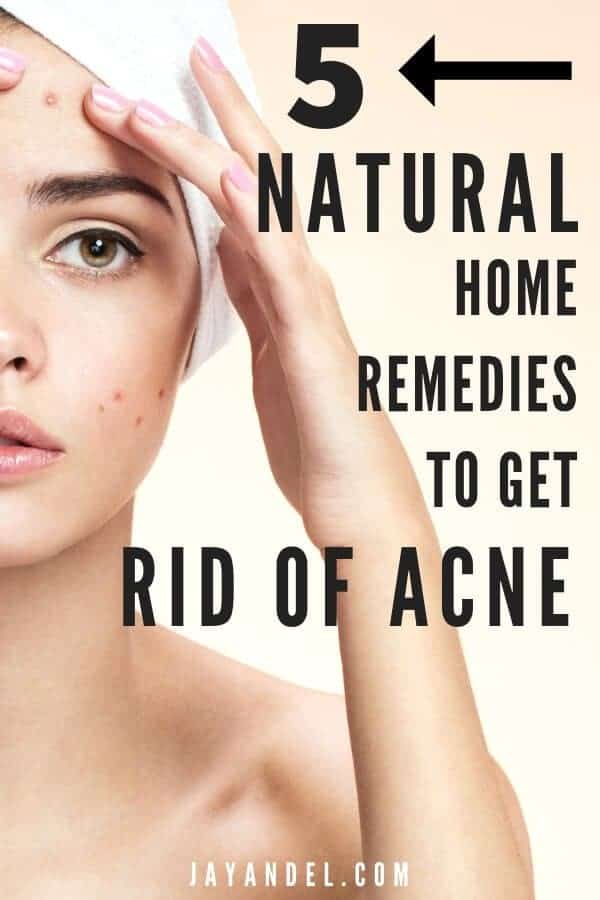 And if you're looking for more tips and tricks to keep your skin looking gorgeous year-round, please follow our Great Skin board!
Vickie aka The Crazy Family Mom

Vickie is the creator of A Crazy Family. She is a stay-at-home mom of a little boy with a big personality. She loves to share real food recipes, parenting tips & encouragement, fun kids activities, and so much more! Plus she is thrilled to provide you with a space to celebrate all that is awesome (and a little crazy) in the world.