These kitchen organization ideas are a great way to inspire you to get organized and restore order in your home!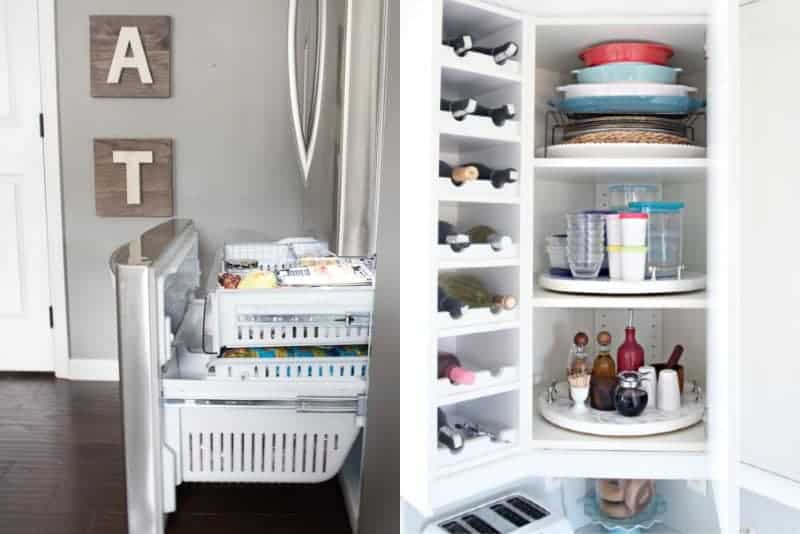 Keeping my home organized has always been something that I have tried to do as it helps reduce stress and allows me to start my day feeling put together.
So… In the interest of helping you guys get inspired, I've put this post together to make you want to organize your kitchen.
More Organization Hacks for Your Home…
Kitchen Organization Ideas
Baskets On Walls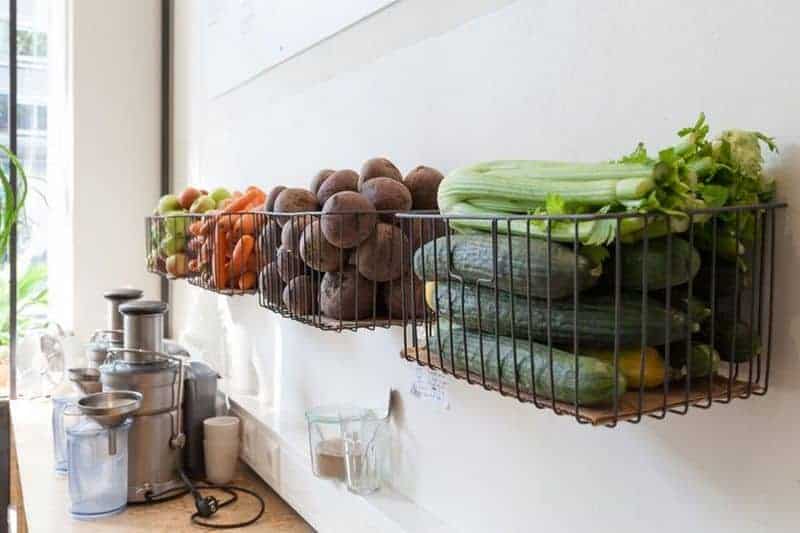 This is a fantastic way to know exactly what you have got. I'm guilty of hiding veg away and not using it up before it goes mushy. I think we've all heard the saying "out of sight, out of mind" and I know this to be true.
Check out this idea at The Owner Builder Network
Hanging Kitchen Organization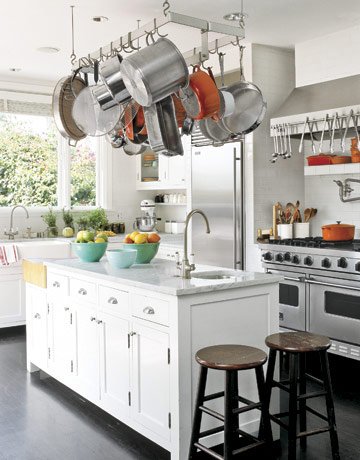 Use every bit of space you have by hanging pots & pans
You can get a ceiling rack like this one similar to the one pictured via Shelterness
DIY Pantry Spice Rack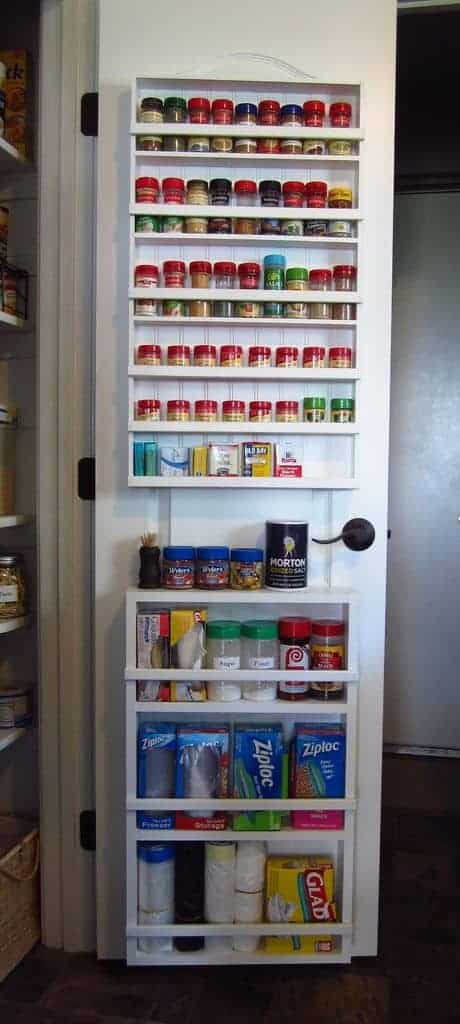 I have always wanted to get a bunch of spices for cooking but didn't want to make the kitchen look too cluttered. I love this look! Plus it even fits some other large items!
Check out this idea at Home Staging
DIY Hanging Chips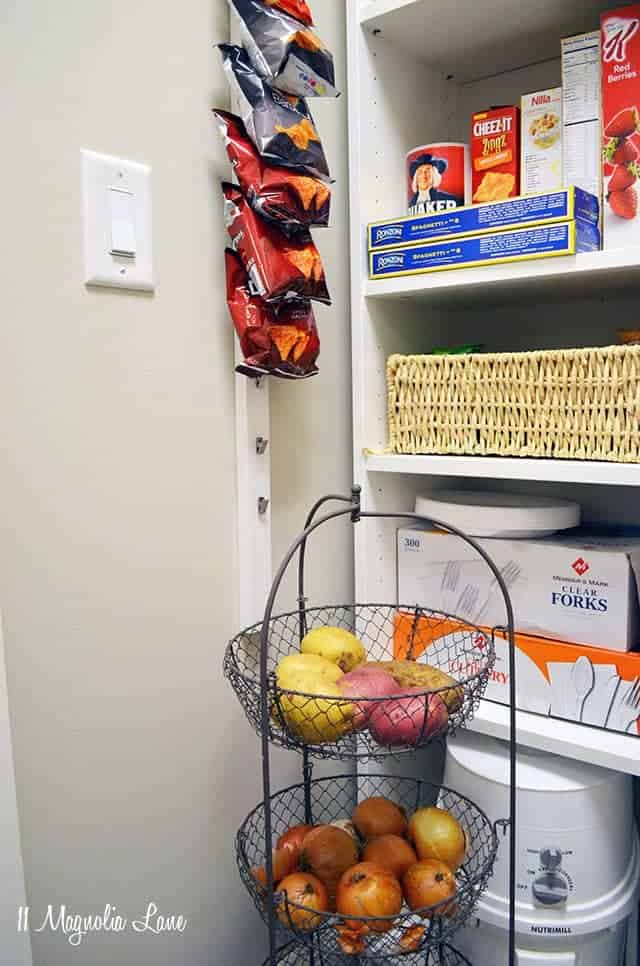 Both me and my son love chips so I am going to be using this as a way of storing our bags of goodies.
Check out this idea at Eleven Magnolia Lane
Pull-out Can Storage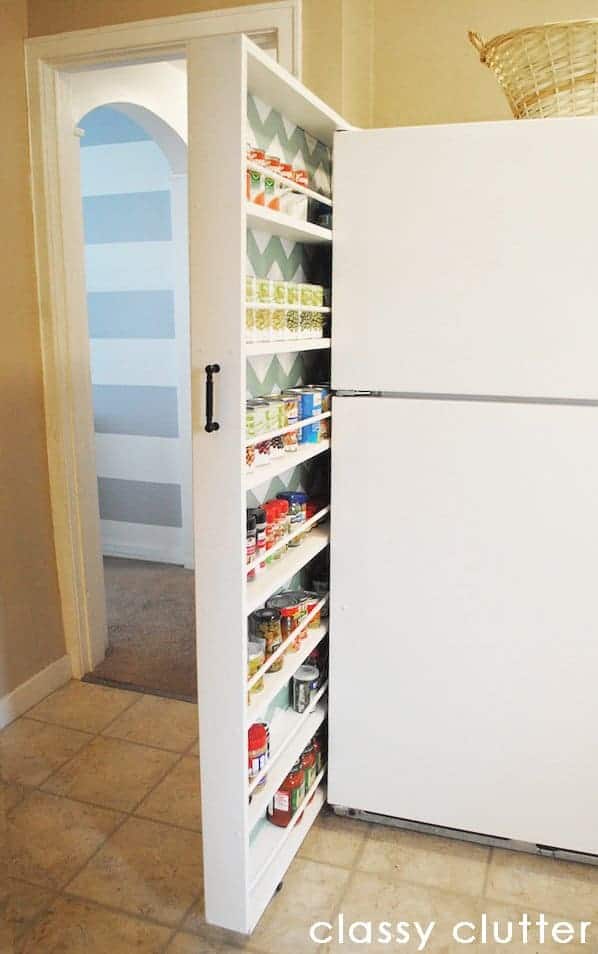 If, like me, you have a gap between your fridge and wall, then this DIY is the solution you need.
Check out this idea at Classy Clutter
Cabinet Door Conversion Chart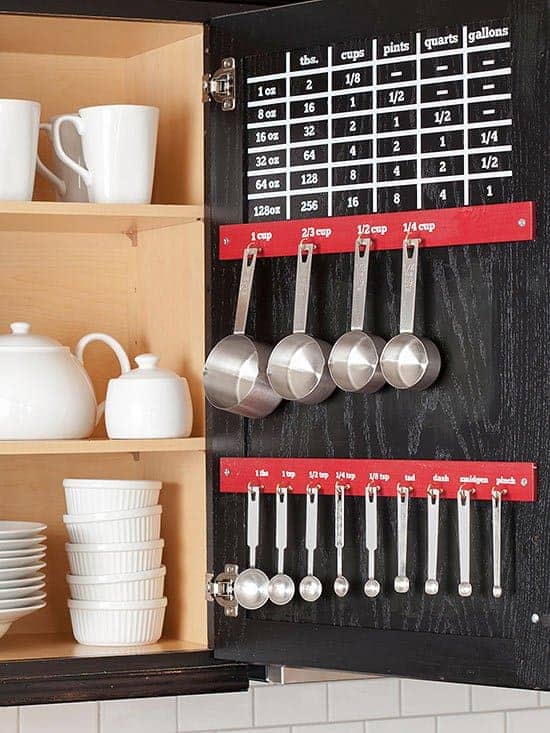 This is a brilliant way to add a conversion chart to your cabinet door using vinyl & a Silhouette.
Check out this idea at Infarrantly Creative
Space Saving Cake Stand Idea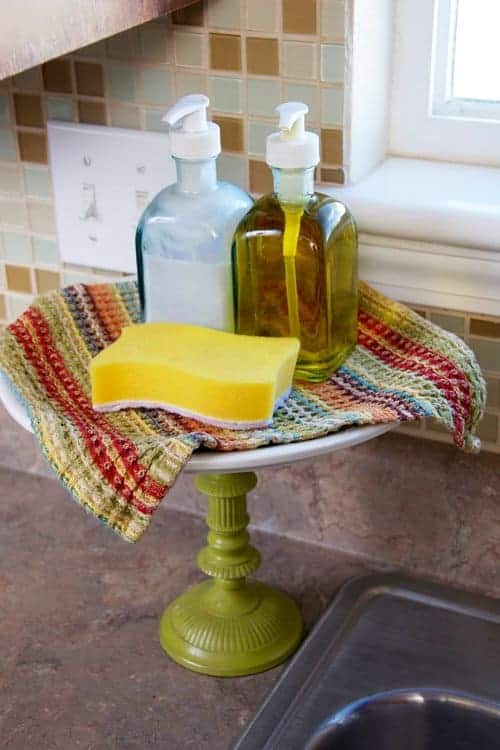 A cute & clever idea for repurposing a dollar store cake stand to save counter space.
Check out this idea at Natalie Wright
Drawer Organization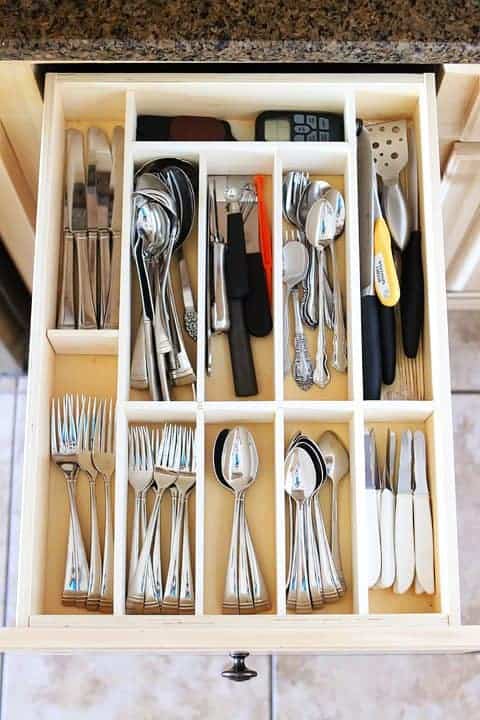 For less than $10 you can custom build a drawer divider, and keep everything in its rightful space.
Check out this idea at Kevin & Amanda
Coffee Station DIY Drawer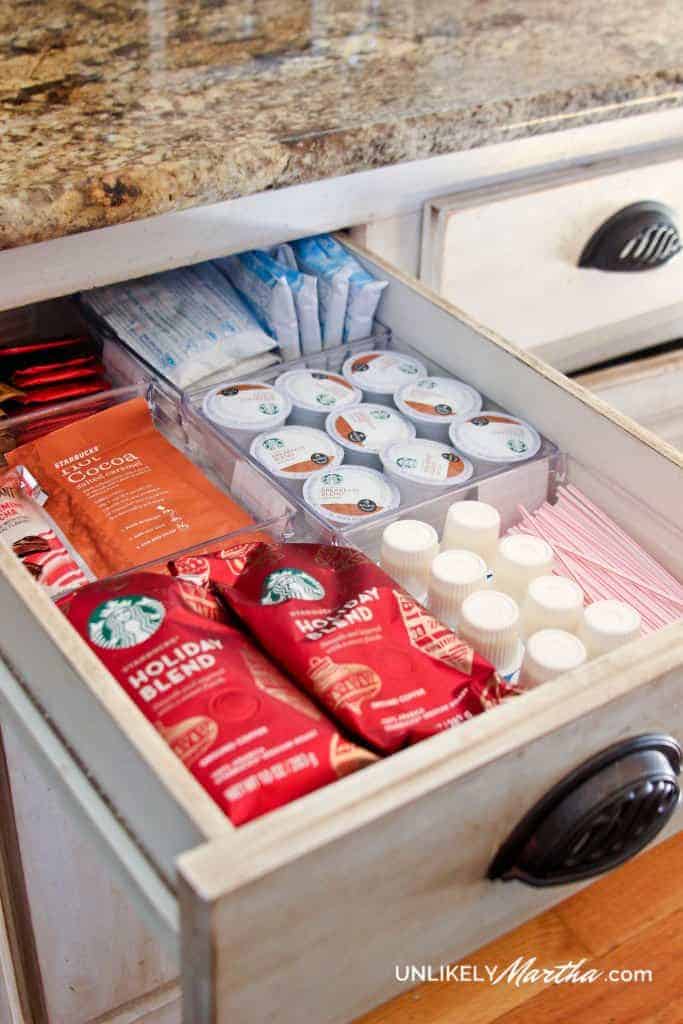 Here's an easy do-it-yourself way to organize your coffee supplies with clear bins from the dollar store!
Check out this idea at Unlikely Martha
Brilliant Under the Sink Organization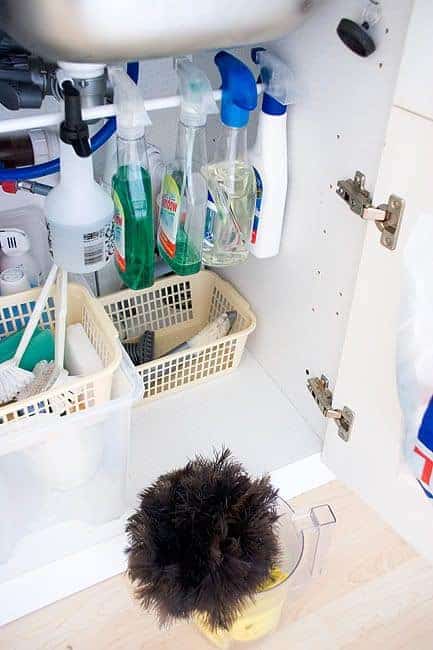 Put unused space to work by using a tension rod to hang spray bottles! While you're at it, hang a few hooks on the cabinet door to gold trash bags or small baskets for scrub brushes!
Check out this idea at A Thousand Words
Organize a Drawer Freezer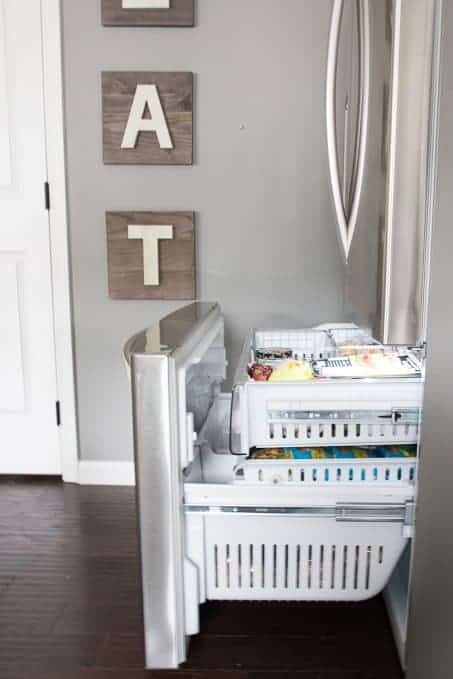 Freezer drawers offer a ton of opportunity for storage. The key is maximizing the space!
Check out this idea at Keys to Inspiration
Ikea Organizing Hack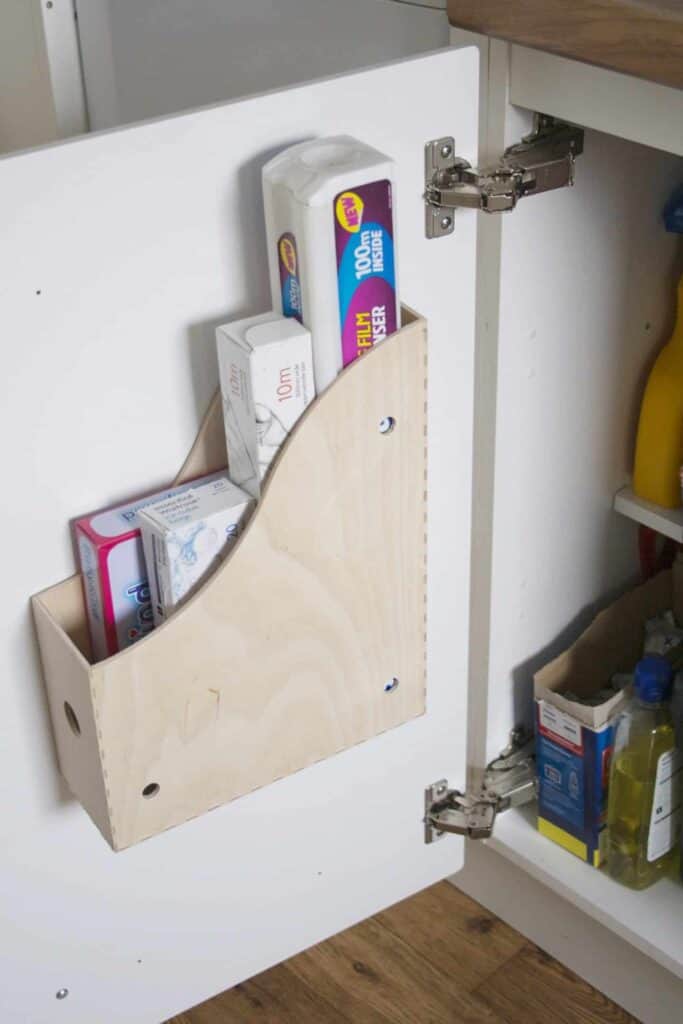 Use Ikea KNUFF magazine file on the sides of cabinet doors to hold aluminum foil, plastic wrap, and other boxes that otherwise take up space in the cabinet!
Check out this idea at Apartment Apothecary
Organized Corner Cabinet with a DIY Lazy Susan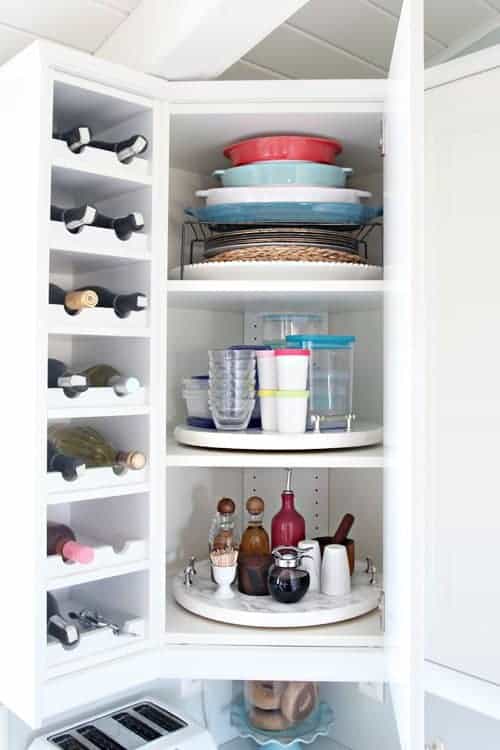 When I saw this idea for a glammed up DIY Corner Cabinet Lazy Susan I may have gotten a little too excited. Corner cabinets are the place where we lose everything.. well, not anymore!
Check out this idea at IHeart Organizing
Clear Up In The Fridge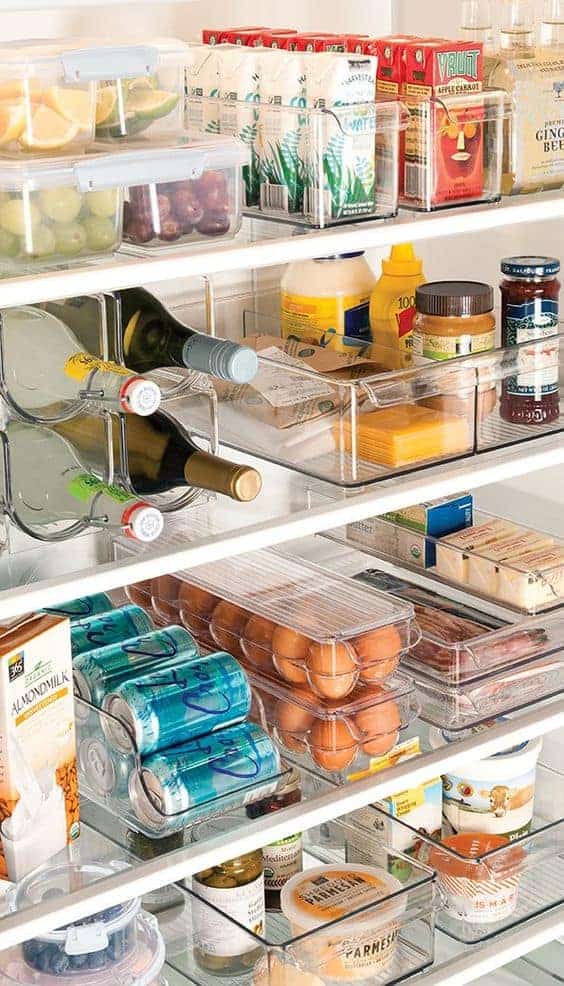 Store everything in clear bins – I love that they make it easy to spot what you're looking for, and if there's a spill you can wash them in the dishwasher!
Check out this idea at Shelterness
More Organizational Tips…
A Crazy Family strives to be the go-to destination for modern, savvy moms. Our aim is to share great tips, good food, recommendations, and helpful info from smart, busy moms just like you!