Essential Oils to Ease Pregnancy Symptoms
Last updated on: 9th January 2021
Pregnancy symptoms are vastly different for everyone.
You could be the type to never have morning sickness or any type of pain, and just suffer from the fatigue; or you could be the type that gets sick day and night, along with all kinds of aches and pains to go with the fatigue, or anything in between.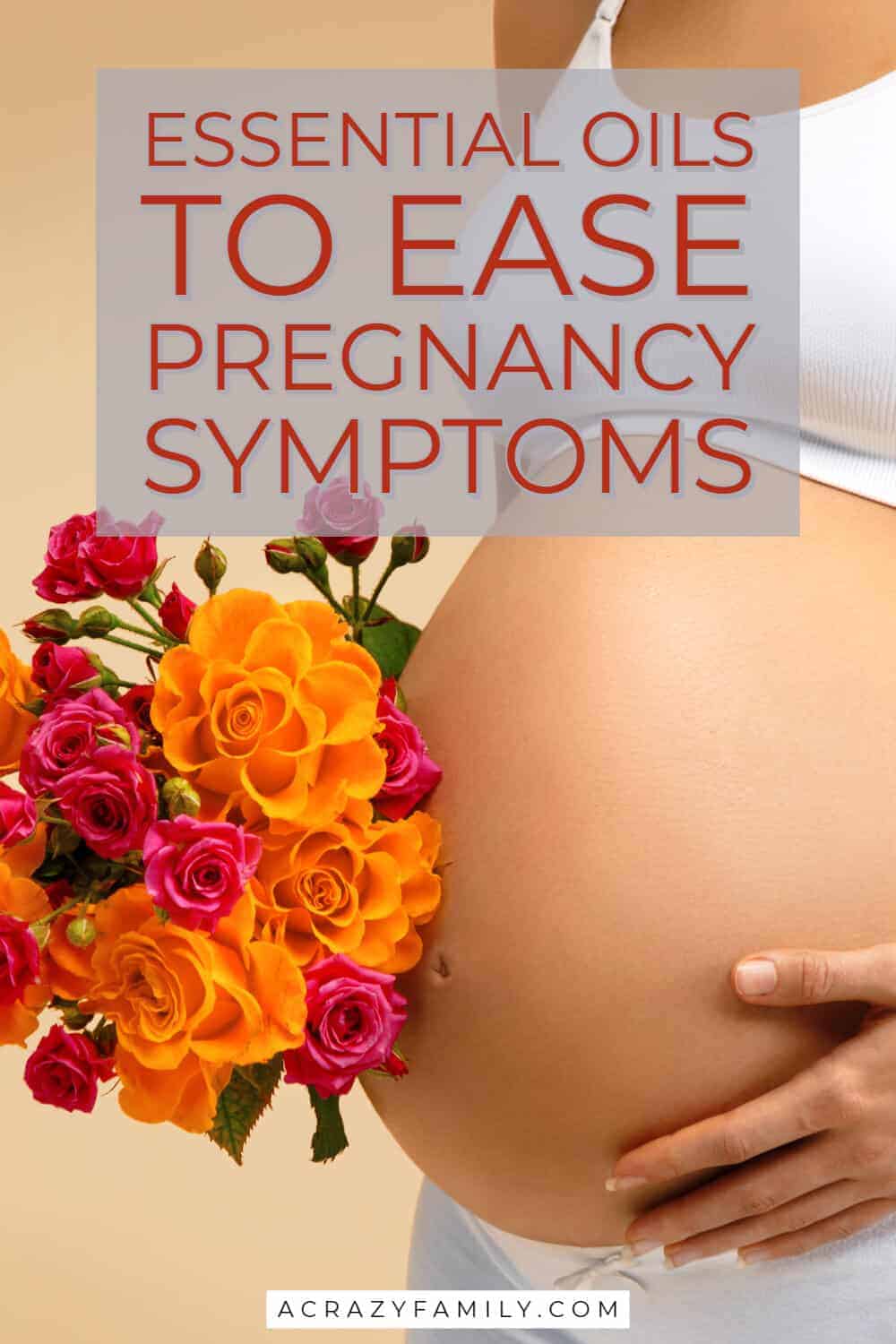 Luckily, there are some natural ways to help relieve many pregnancy symptoms with essential oils to help you feel better while growing your tiny human.
Before I get onto which essential oils are the best to use to help ease your pregnancy symptoms, I have to get one thing out of the way first…. and yes it is important, so please do take note!!
Essential oils to avoid during pregnancy:
Cinnamon, clove, rosemary, thyme, laurel, angelica, aniseed, citronella, cumin and clary sage (might promote uterine contractions)
Nutmeg (may react negatively with pain-relieving drugs during labor)
Basil (might contribute to abnormal cell development)
Sage and rose (may cause bleeding in the womb/uterus)
Juniper berry (might affect kidneys)
Now you know the oils you SHOULD NOT use during pregnancy lets check out the ones that you can…
The Best Essential Oils for Pregnancy
All of these oils listed below for pregnancy symptoms are widely assumed to be safe to use for pregnant women unless you are allergic to any of them.
Also, it is always best to use caution and common sense when using oils during pregnancy – think: less is more!
For Morning Sickness
Ginger oil
is one of the most widely suggested essential oils out there for morning sickness or nausea of any kind. It naturally helps to relieve upset stomachs and is perfect for those days and nights you can't seem to catch a break.
A lot of the citrus oils, including lemon
, grapefruit
, and orange
, are great for reducing nausea symptoms during pregnancy as well. They can help with anxiety and mood swings, too, so they pack a pretty good punch for any mood killers during pregnancy.
Peppermint oil
helps to relieve and reduce nausea of all kinds as well, including morning sickness. Rubbing ginger, lemon, and peppermint oils mixed with a carrier oil on your stomach have been said to help with the nauseous and crampy pain.
For Fatigue
All citrus oils are said to help with exhaustion and fatigue and are safe to use during pregnancy. You can take your pick of which scent you prefer and diffuse it to give yourself an energy boost and clear your mind to concentrate on things to be done.
Eucalyptus oil
combines pain relief with mental stimulation, making it a necessity for pregnancy. Combining it with other essential oils that help with fatigue and pain relief, such as geranium
, frankincense
, and cedarwood
, will give you a powerful blend to help keep you going in the pesky first and third trimesters.
For Back Pain
Combining peppermint and eucalyptus oils with a carrier oil helps to diminish overall back pain in the bones and muscles due to their cooling effects. You can also combine the kick of ginger with soothing lavender to help with really sore muscles all over.
Combining frankincense with cypress oil in a carrier oil also helps to kill off any inflammation and soreness from being too stiff, so those days spent resting in bed won't cause so much pain later on.
For Mood Swings
Lavender oil
is world-renowned for its calming effects. You can diffuse and apply it topically, and mix it in many oil blends, for a nice dose of tranquility during the madness of pregnancy.
Along with peppermint oil, it can also help to balance your hormones.
Sandalwood
is an expensive oil, but it helps to balance your emotions and mood very well. It has been documented throughout history how powerful its ability to stabilize moods and harmonize is. Inhale directly for immediate results.
Another effective (and delicious) oil for mood swings is vanilla
. Its airy but deep and intoxicating smell can lift your spirits immediately-but it might cause some otherwise unwanted cravings!
For Bloating
Peppermint, chamomile
, and ginger are all extremely helpful for alleviating bloating during pregnancy, and they are all considered pregnancy safe for topical use, so don't hesitate to mix them all or individually with a carrier oil and apply directly to your abdomen and rub in for some relief.
For Heartburn
Peppermint, lemon, ginger, and lavender oils are also great for treating and preventing heartburn.
The ingestion of oils is not recommended medically, as results can vary by individual, but all of these oils are safe during pregnancy and combined together in small amounts with an edible carrier such as coconut oil can yield a pretty powerful heartburn killer. You can also add drops to bottled water to ease indigestion.
For Headaches
Helichrysum
is another expensive oil that works amazingly for stubborn headaches and the stress behind them.
Paired with any of the citrus oils (lemon, lime, grapefruit, orange, bergamot), peppermint, lavender, eucalyptus, or chamomile will further enhance the effects, allowing you to concentrate, complete, or just sleep.
Morning Sickness Blend
3 drops ginger oil

2 drops lemon oil

2 drops peppermint oil
Dilute with a carrier oil of your choice to apply topically to the stomach area, or in water for aromatic use. DO NOT INGEST.
Mood Enhancement Blend
4 drops bergamot oil

3 drops cedarwood oil

3 drops lavender oil

4 drops chamomile oil
Dilute with a carrier oil of your choice to apply topically to the stomach area, or in water for aromatic use. DO NOT INGEST.
*Disclaimer: These statements have not been evaluated or supported by the FDA, and using these oils is at your own risk as all humans react differently to different things.
Looking for other essential oils benefits and tips? Check out these posts:
Have any questions about using essential oils while pregnant?
Vickie aka The Crazy Family Mom

Vickie is the creator of A Crazy Family. She is a stay-at-home mom of a little boy with a big personality. She loves to share real food recipes, parenting tips & encouragement, fun kids activities, and so much more! Plus she is thrilled to provide you with a space to celebrate all that is awesome (and a little crazy) in the world.