Edible cookie dough is a sweet treat that is so good it feels wrong! For the past decade, all we have heard is that we shouldn't be eating cookie dough, but I'm here to tell you, there IS a way!
What's even MORE amazing about the recipe I'm about to share with you is you don't need a mixer!
That's right!
You don't need a mixer to make this delicious coconut chocolate chunk edible cookie dough!
No stand mixer. No handheld mixer! Just you, a bowl, and a spoon!
When was the last time you made a luxurious dessert for you and your spouse that didn't require pulling out the stand mixer?
Can't remember? Me either! That's why I'm so excited about this, and you should be too!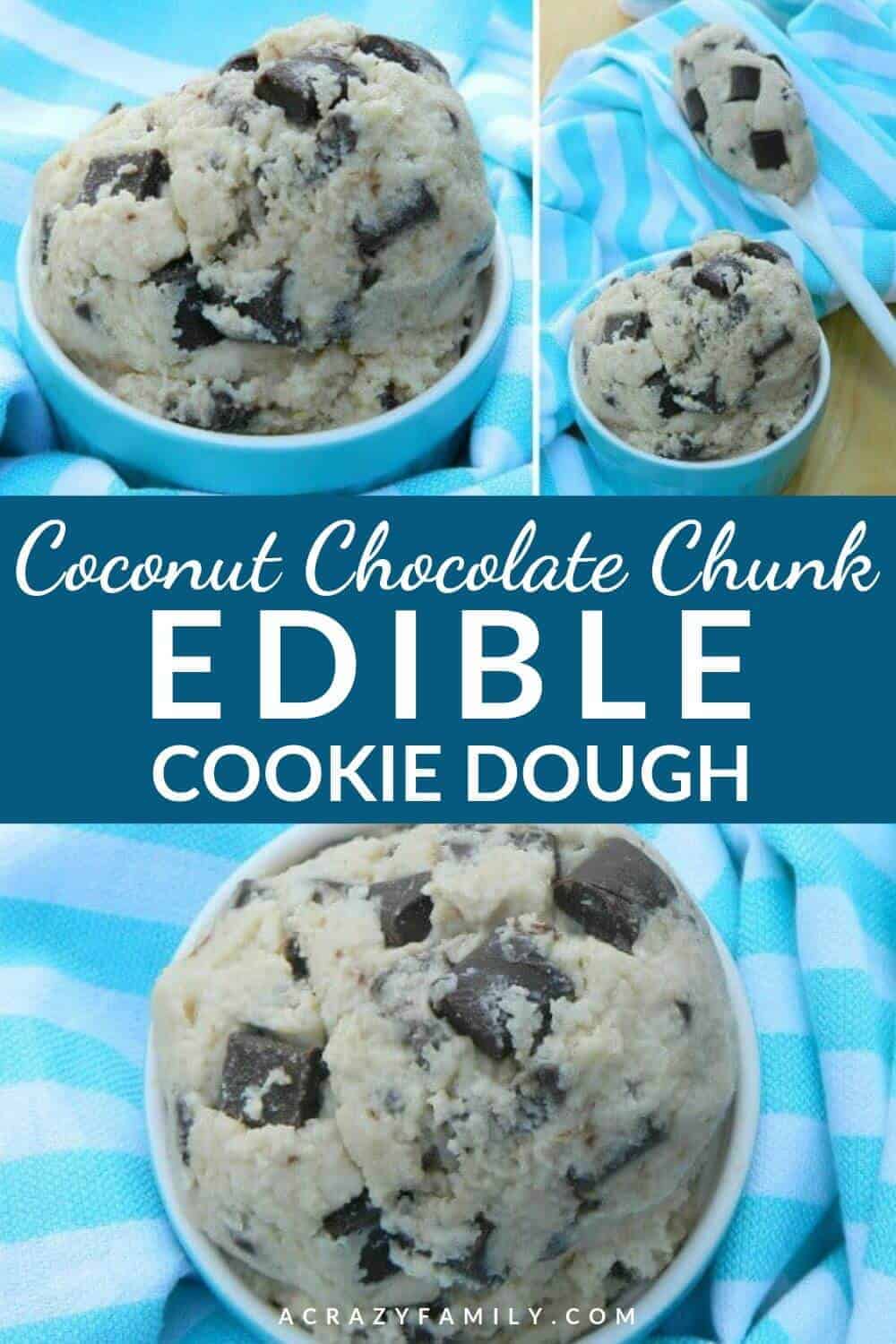 How to Make this Delicious Coconut Chocolate Chunk Edible Cookie Dough
Before you begin, go ahead and bring your butter to room temperature and cook your flour.
With edible cookie dough, not only do you need to eliminate eggs from your recipe, but you also need to cook your flour.
I have omitted much of the flour required by most recipes, but you still need to add a little flour to help maintain the texture we are all used to.
Spread one cup of flour out on a baking sheet or microwave-safe plate. Cook your flour in the oven for five minutes, or the in the microwave for two. Make sure you stop to stir the flour once or two times before it is complete. This will prevent clumps.
One more thing! I know, I know. But I said this was easy! It is! I promise. This is easy. There are just a few minor hoops we need to jump through before we start. After this, smooth sailing all the way! — If you don't have raw coconut flour or can't find desiccated coconut at your local grocer, you can desiccate the coconut yourself in the blender or food processor.
Pour two cups of sweetened coconut flakes into your blender and pulse until the coconut reaches the desired size. I like mine as small as I can get it in my NutriBullet. It's quick and easy, and the attachments don't take up too much space in my dishwasher!
NOW we're ready to begin! Are you ready for this easy recipe to actually become easy? Pour all of your ingredients (except the chocolate chunks) into a medium-sized mixing bowl. Stir with a spoon until it is completely combined. Fold in chocolate chunks!
You're done!
Serve this sweet dish immediately or refrigerate for later. This makes two indulgent servings, or four modest. If you want to fill an ice cream cup, as I have here, this recipe is the perfect dessert for two!
Why not download this recipe now and print it for later


[content-egg module=Amazon template=list]

[penci_recipe]