Do you wish you had more readers on your blog?
Are you tired of having your daily traffic numbers in the low fifties on a good day?
If I just described you, there still might some things you can do for your blog.
Here are a few things your blog needs to attract more readers.
Optimize your content for SEO
After you have written a blog post, the next step is to make sure your site is optimized for SEO.
Start by doing a keyword search or use a keyword research tool to decide which keyword you are trying to rank for, and then spend a little time optimizing your post.
Post your content on social media
If you are not posting your new blog posts on social media, you are missing a chance for free advertising!
Use Twitter, Facebook, Instagram, and any other social media platform you can to share your new blog posts when they go live.
After your posts have been published, repost them often to continue getting traffic to your posts.
Make your content easy to share
If a reader has read through your content and wanted to save it for later, or share it with a friend, the best thing you can do is make it easy for them.
To do this, make sure you have share buttons readily available for your readers to use when they come to your site.
Add subheadings and featured images
When preparing your blog posts, be sure to add a featured image and subheadings to each of your blog posts. This will accomplish two tasks.
First, it will make your blog post look more attractive to your readers and encourage them to read more about your content.
Second, subheadings will allow your readers to quickly scroll through the article if they are short on time, or get a glimpse of what they might be reading.
Tell your friends, fans, and followers
Once you've hit publish, you should be telling your grandmother, best friend, and even your followers about it!
If you have an email list, send them a quick update letting them know a new post is live.
Tell your friends and family members about your new blog post and encourage them to stop by.
Let your regular viewers know when a new post is live by encouraging them to subscribe so they don't miss updates.
Share in groups
There are dozens of Facebook groups that allow self-promotion. This means you have a unique opportunity to not only share your blog post with other business owners but potentially reach out to new readers.
Join Facebook groups that relate to your topic, and make sure self-promotion is allowed, and share your expertise!
For example, if you blog about saving money and living frugal, join some frugal living groups. If people ask about how to save money at the grocery store, and you have a post on that topic, share it!
[wpsm_divider top="20px" bottom="20px" style="solid"]
No matter how long you been blogging, if you follow these tips, you'll start seeing an increase in readers before you know it!
Do you have any other tips? Please share them in the comments below.
[wpsm_ads1]
[wpsm_column size="one-half"]
Enjoyed What your Blog Needs to Attract more Readers?
Share it with your friends so they too can follow the Jayandel Community!
[toc]
[/wpsm_column][wpsm_column size="one-half" position="last"]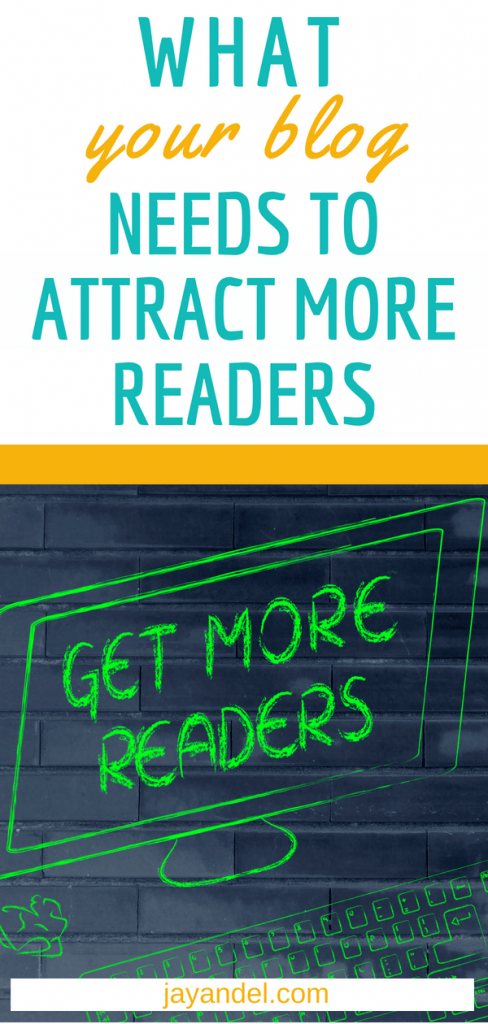 [/wpsm_column]