Some people love to grow plants and others shy away from even trying. But even if you've never grown anything before, this collection of plants you should be growing is worth a look!
Most of these links offer some great ideas for growing different foods. Several of them can even be started for free from the food you purchase at the grocer. Onions, celery, potatoes, and more can be started from scraps you might normally just discard.
Instead of tossing it away, why not try growing a plant?
Being able to grow your own food, herbs, and even medicinal plants like Aloe Vera is a wonderful thing. It can be quite comforting to know that you have yet another way to provide for yourself and for your family.
And this is a project that you and your children can enjoy together.
Imagine their excited faces as they not only see their plants grow green and beautiful – but begin creating food that they can eat!
15 Awesome Plants to Start Growing
Click on the links below to learn more about these amazing plants to start growing. Don't forget to leave a comment while you are checking out the tutorials to let my friends know you found them at Jayandel!
1. How to Grow Celery Indoors – 17 Apart
2. How to Care for Aloe Vera – Landee See Landee Do
3. DIY Whiskey Barrel Mint Garden – Chicken Scratch NY
4. Dos & Don'ts Tips for Growing Great Tomatoes – The Gardening Cook
5. How to Plant Corn – Weed-Free! – An Oregon Cottage
6. Growing Potatoes in Tiny Spaces – My Dairy Free Gluten Free Life
7. How to Grow Microgreens Indoors – Wholefully
8. Growing Sunflowers With Kids – Rhythms of Play
9. How to Grow a Pineapple – Delineate Your Dwelling
10. How to Grow Your Own Tomatoes – Jessica in the Kitchen
11. How to Grow Carrots – DIY Network
12. Growing Cantaloupe and Honeydew Melons – Bonnie Plants
13. Everything You Need to Know About Growing Beans – Rodale's Organic Life
14. Growing Onions Indoors – The Gardening Cook
15. Five Reasons to Grow Cucumbers on a Trellis – An Oregon Cottage
[wpsm_divider top="20px" bottom="20px" style="solid"]
Do you grow food plants? What is your favorite?
[wpsm_ads1]
[wpsm_column size="one-half"]
A tiny request: If you Enjoyed Awesome Plants to Start Growing Even If You've Never Grown Anything Before, please share.
I know most people don't share because they feel that us bloggers don't need their "tiny" social share. But here's the truth…
I built this blog piece by piece, one small share at a time, and will continue to do so. So thank you so much for your support, my reader.
A share from you would seriously help a lot with the growth of this blog.
Some great suggestions:[wpsm_list type="arrow" gap="small"]
Pin it! (I even made a pretty pin for ya!)
Share it on your Facebook Page!
Tweet it!
[/wpsm_list]
It won't take more than 10 seconds of your time. The share buttons are below  🙂
[toc]
[/wpsm_column][wpsm_column size="one-half" position="last"]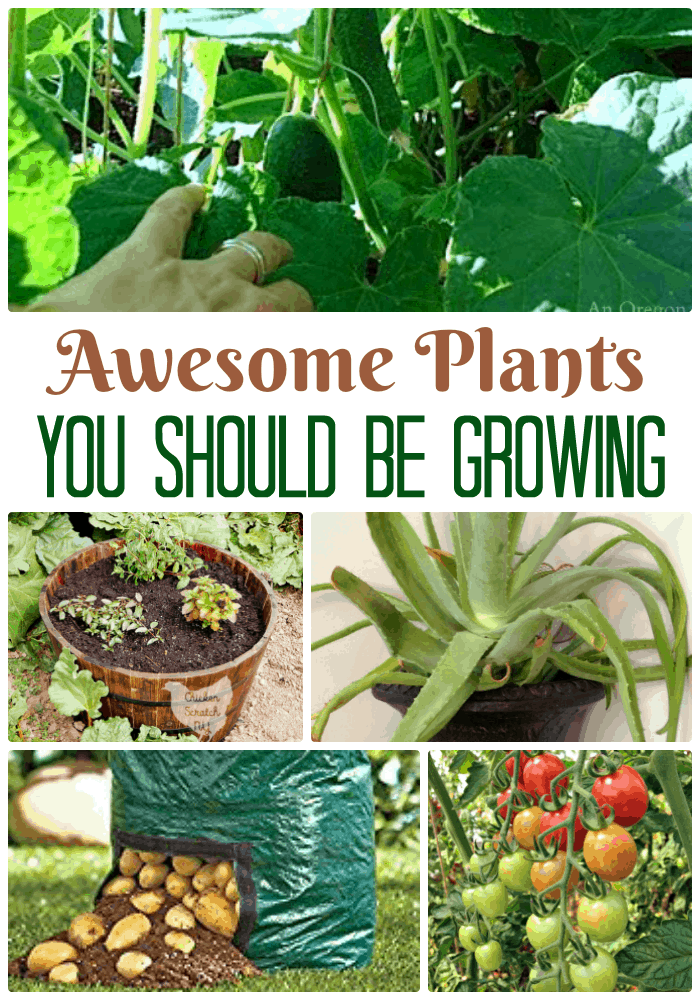 [/wpsm_column]