6 Awesome Amazon Prime Perks You Probably Don't Know About
Last updated on: 30th November 2021
While most Amazon Prime members are in it for the free two-day shipping and streaming video, there are so many other amazing perks to the subscription service.
If you're considering signing up for Amazon Prime or simply looking for a reason to renew your subscription, you're in luck!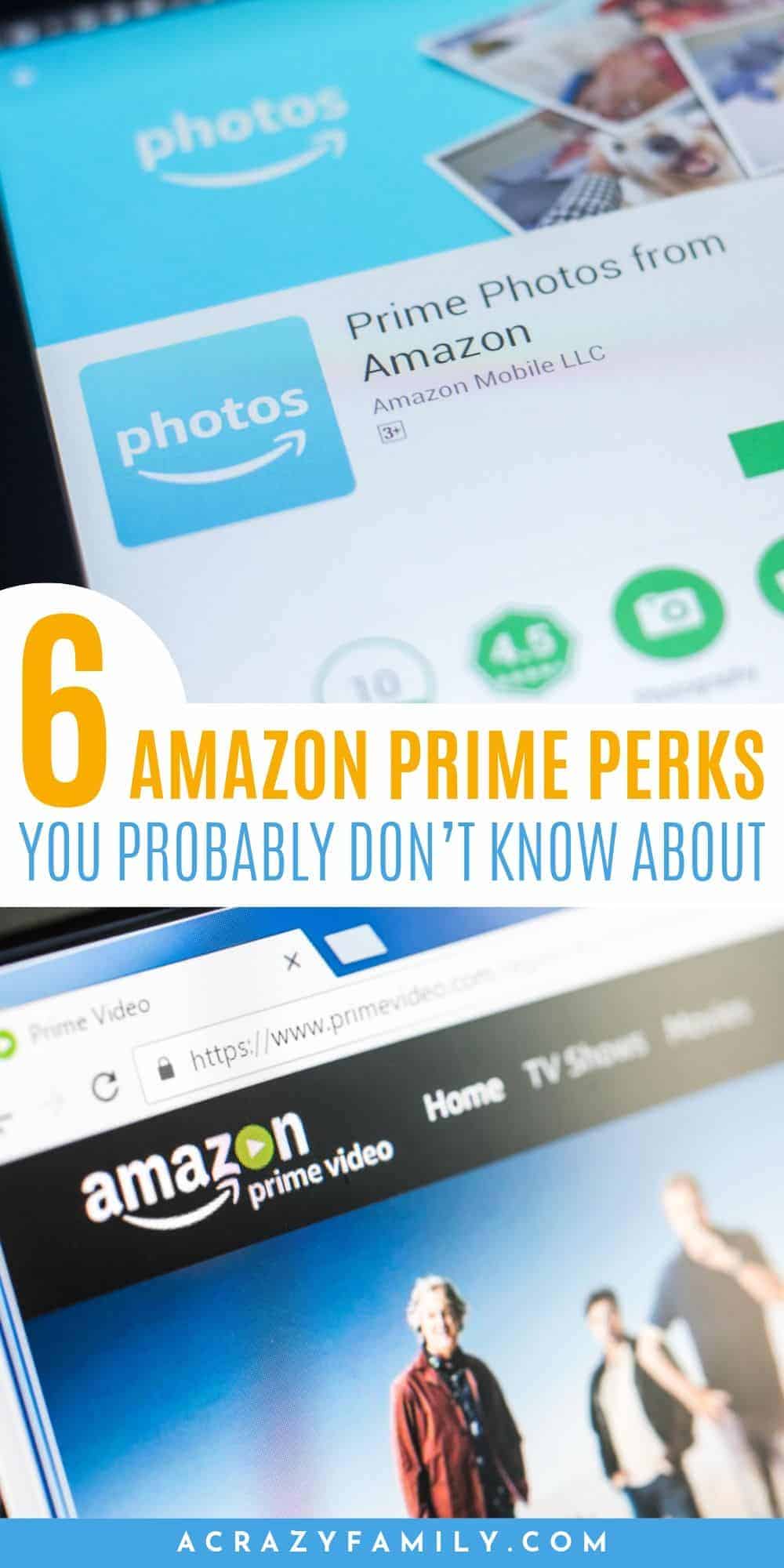 6 Awesome Perks Of Amazon Prime.
I have uncovered six amazing Amazon Prime perks you probably don't know about.
Once you check out these Prime secrets, you'll want to sign up immediately!
Prime Reading
Amazon started as an online book retailer, so it shouldn't be a surprise that Prime members get access to tons of free books as part of the subscription service.
Through Prime Reading, members can enjoy unlimited access to thousands of free books delivered directly to their devices.
That means you can read popular books, like The Handmaid's Tale, and magazines, like Martha Stewart Living, for free!
On top of the digital copies of the books, Prime members also get access to thousands of audiobooks for reading on the go.
And for access to even more reading material, check out the Kindle Owners' Lending Library, which allows you to borrow one book each month.
Prime members are also provided access to one pre-released book a month through the Amazon First Reads program.
Amazon Photos
Did you know you can get unlimited photo storage as a Prime member? With Amazon Photos, you can easily back up all your family photos in one handy place. And you can do tons of fun things with your photos once they're stored.
Whether you create slideshows to display on your Fire TV or get custom prints or wall décor created using your images, you'll have a blast taking advantage of this secret Prime perk!
Amazon Prime members also have access to 5G of free storage for other files through Amazon Drive.
This cloud storage option is handy because it allows you to access your files from any device, making it easy to backup your phone or computer and access everything you need in one simple place.
Food Delivery
You really can get everything you need from Amazon – even groceries! With Prime Pantry and AmazonFresh, you can have your groceries delivered right to your home. Prime Pantry is a service offered exclusively to Prime members.
Through this convenient service, you can order pantry staples, snacks, and toiletries to your home for the same price (or less) than you'd pay at your grocery store.
And you can use exclusive coupons and discounts to save even more money.
AmazonFresh, the site's grocery delivery service, is also a great option for ordering groceries online – but it's only available in select locations.
With AmazonFresh, you can order fresh produce, meats, and organic groceries and have them delivered to right your home.
Early Deals
Amazon is known for offering shoppers great deals, especially during the holiday shopping season.
These lightning deals are often time-sensitive – and Prime members are usually offered first access to deals before they're released to the public.
That means you'll have access to awesome Black Friday and Prime Day deals before everyone else!
Amazon Family
Amazon Prime members who also sign up for Amazon Family can receive exclusive discounts on the site's already low prices on diapers, baby food, and tons of other baby essentials.
To earn the discount, you're required to set up a subscription purchase, but that subscription can be canceled at any time without affecting the discount.
On top of the great everyday discounts, expecting parents can also earn a discount on their baby registry! Prime members who complete their registry earn 15% off their order.
Families that enjoy reading will love the service's newest perk – Prime Book Box.
This monthly subscription includes two hardcover books or four board books picked especially for your kids based on the age range you select. All you have to do is fill out a quick survey about your kids and Amazon will select awesome books for them to read each month!
Prime Membership Sharing
I think I've saved the best secret Amazon Prime perk for last – membership sharing.
Did you know that you can share your Prime Membership with other members of your household? To do this, you'll need to create an Amazon Household in your account.
Then, you can share your Prime membership with anyone who is also a member of your Amazon Household. And you can add up to 10 members to your household!
While you can't share all the perks of an Amazon Prime membership with members of your household, there are tons of amazing benefits to sharing your subscription.
Amazon household members can have access to your family library, shipping benefits, digital benefits (like Prime Video and Reading), and exclusive deals.
And while all this sharing is awesome, keep in mind that you'll also be sharing access to your Amazon payment info! So, make sure you only share your Prime membership with someone you trust.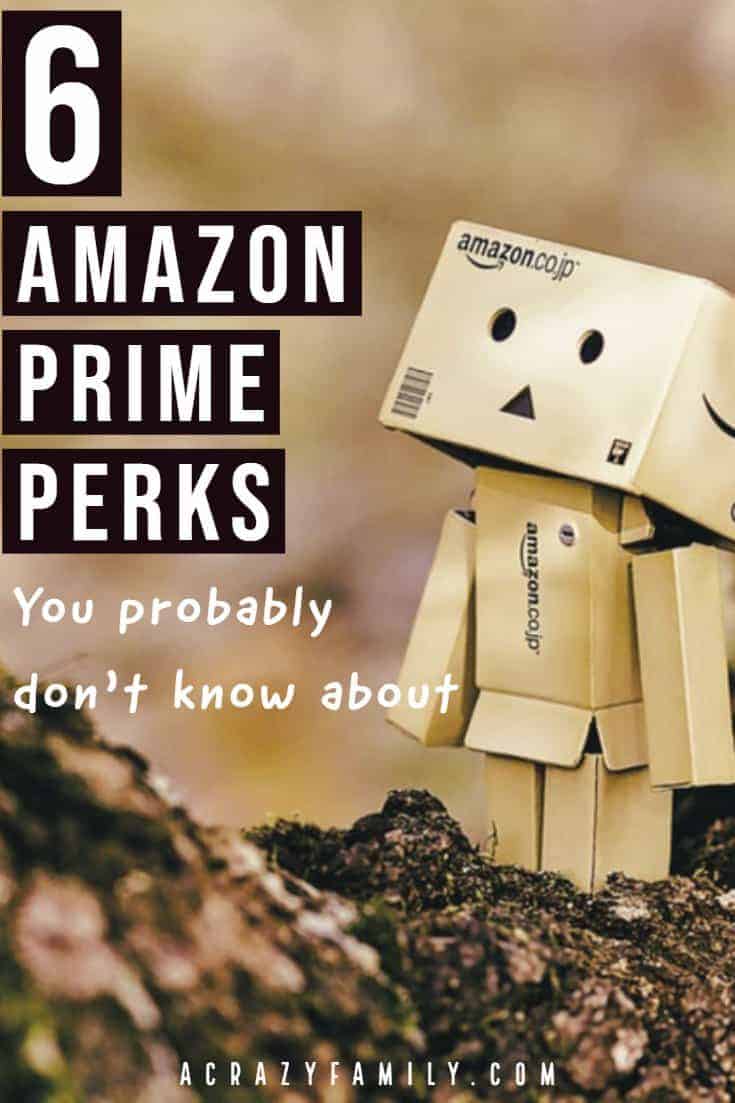 Vickie aka The Crazy Family Mom

Vickie is the creator of A Crazy Family. She is a stay-at-home mom of a little boy with a big personality. She loves to share real food recipes, parenting tips & encouragement, fun kids activities, and so much more! Plus she is thrilled to provide you with a space to celebrate all that is awesome (and a little crazy) in the world.